An entrepreneur by nature, Jason Ridgel started his first business at the age of 23, fresh out of college at Tennessee State University. He's dabbled in everything from owning a cleaning business, which was built to create jobs for marginalized communities, to founding two pain management companies and launching a clothing line. He's currently making a name for himself as the mastermind behind Guidance Whiskey, one of just a few Black-owned premium craft small-batch whiskey brands in the country. He launched the spirits brand in 2018 and has been building it rapidly ever since.
The American whiskey, which is aged for two years, distilled in Iowa and housed in Nashville, is now available in 44 states. Jason is continuing to build the brand with new products, such as the 100-proof whiskey he plans to launch this year, and through partnerships with lifestyle brands, fellow spirits labels, local restaurants and more. He's also using his success to help boost the careers of others through charitable work and personal mentorship. He serves on the board of Creatives' Day, a nonprofit for unsigned artists, and he founded Hydrate the Hood, an organization that provides alkaline water to underserved communities. Beyond that, he dedicates his time to mentoring others, with the goal of guiding 1,000 Black entrepreneurs in launching businesses of their own. We chatted with the whiskey maker about his creative process, his career path and what's next.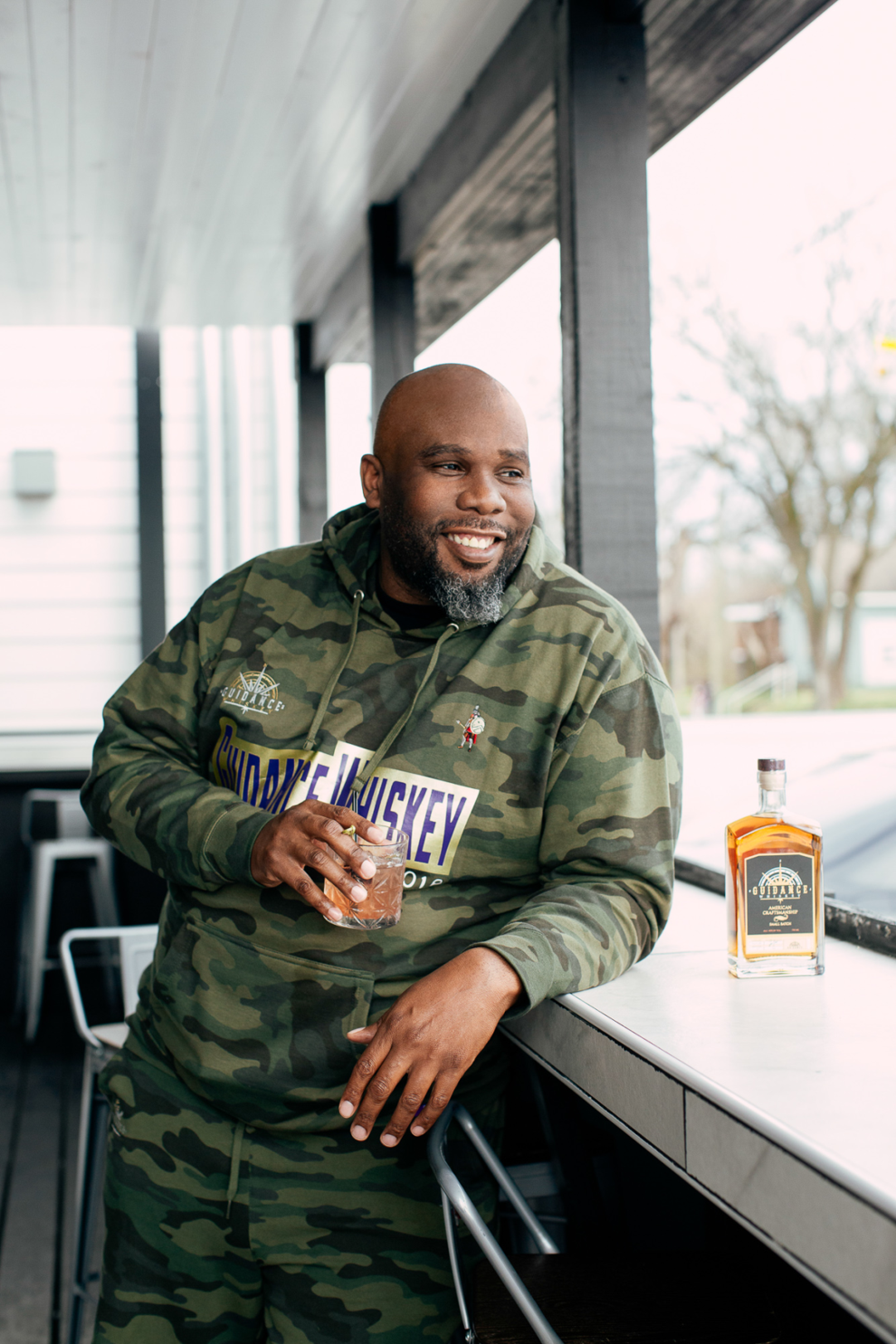 CREATIVE PROCESS
My creative process comes from life. I wish I could say I sit and come up with things through a specific process, but I'm inspired by things I see every day — music, movies, conversations, hard times and good times in life inspire me the most.
JOB PERKS
One of the coolest parts of my job is being part of the freshman class of Black spirit brand owners in this country. One of my favorite parts of the job is that I get to drink with people. I have a million new drinking buddies, and it's growing every day. In doing this, I get to hear stories and become a part of people's lives in a small way — or at least until the bottle is done.
JOB CHALLENGES
The hardest part of my job is navigating growth as a small business. As the demand for our products grows, it's tough keeping up with the expansion into different markets. I'm just one person, but I'm up for the challenge. I'm grateful for my friends and family who step up and help me.
BIGGEST INFLUENCE
My mother, Diane Robertson, has been my biggest influence throughout the years and still is to this day. She inspires me to follow my dreams, lifts me up when I fall short of achieving the dream and helps me work the dream when it comes to fruition. She continuously reminds me of who I am and prays for me every day.
EAT LOCAL
Willie B's is my favorite restaurant located in North Nashville. I love the food (I order the fish and grits, the Streetcar Pasta and the shrimp), the ambiance and the cocktails. I know the owner, so I know all of the hard work that went into this establishment, and that also makes it special for me every time I dine.
INDULGENCES
My favorite food is pizza. I can eat pizza seven days a week!
BEST ADVICE
My advice is to do it! But also, take your time. Uncle Johnny at Ole Smoky Distillery shared this wisdom with me. While on a tour, I asked the patriarch of the moonshine dynasty what advice he had for someone just getting started in the spirits industry, since his family had been making moonshine for decades and became the first licensed distillery in East Tennessee. He said people will try to get you to do different things, tell you how to run your business and how to make your hooch. But take your time and do your thing. That may seem inconsequential, but at the time, it was exactly what I needed to hear. The ambitious two-year "take over the world" plan evolved into a five- to 10-year vision to grow our legacy. Thanks, Uncle Johnny.
CAREER PATH
I never thought about the whiskey industry as a career until very recently.  Most businesses don't make it past two years. We've made it two years and survived in a pandemic; that must be more than just a fluke.
IN THE WORKS
Right now, it's #collabseazon. We're partnering with everybody right now. We've got a curated playlist on Spotify, a coffee partnership with Javaé Coffee and Tea, Guidance candles, cigars and our newest project, a ready-to-drink whiskey punch tea that will release in late spring.
FAVORITE DISTILLER
My favorite distiller is Red Boot Distillery because they gave me a chance when no other distiller would. I've learned so much from them. They continue to help me and any other small brand we bring to them.
FUTURE PLANS
We plan to launch our Guidance Whiskey 100-proof at the end of this year.  And one day, I dream of having a Guidance hot air balloon.