Rhonda Cammon has a full plate — and a full glass. In addition to being a wife, mother of two and a full-time registered nurse, she serves as the treasurer of the United States Bartenders' Guild, is a founding member and chair of the Nashville Bartenders Foundation, and runs three different companies in the food and beverage industry. Barseat is a mobile bartending and consultant company, Swig Culture Conference is a conference for mobile and off-premises bartenders, and Perfectly Cordial is a line of refreshing cocktail mixers for the at-home mixologist.
Inspired by her upbringing in Miami and the variety of cultures and cuisines represented there, Rhonda founded Perfectly Cordial in 2019 using fresh fruits, spices and herbs for her collection of mixers. "Perfectly Cordial is my childhood in a bottle," she says. "When creating Perfectly Cordial, I combined the fresh fruit that was so plentiful with the spices and herbs that were prevalent in everything we eat and drink in Miami." The result is a selection of natural, refreshing mixers in flavors ranging from Jalapeño Mint Sour to Hibiscus and Honeycomb. Perfectly Cordial releases new flavors seasonally, often sold in bundles with other products from local small businesses. Rhonda chatted with us about the perks (and challenges) of the job, her favorite local indulgences and more.
JOB PERKS
I was able to meet Carla Hall at the 2019 Les Dames annual conference. She took the time to sample the product and even purchased multiple bottles. She took a picture with me and has the warmest soul ever. My favorite part is meeting new customers that fall in love with Perfectly Cordial at the first sip. Their eyes light up, and a big smile comes across their face. It warms my heart every time and never gets old.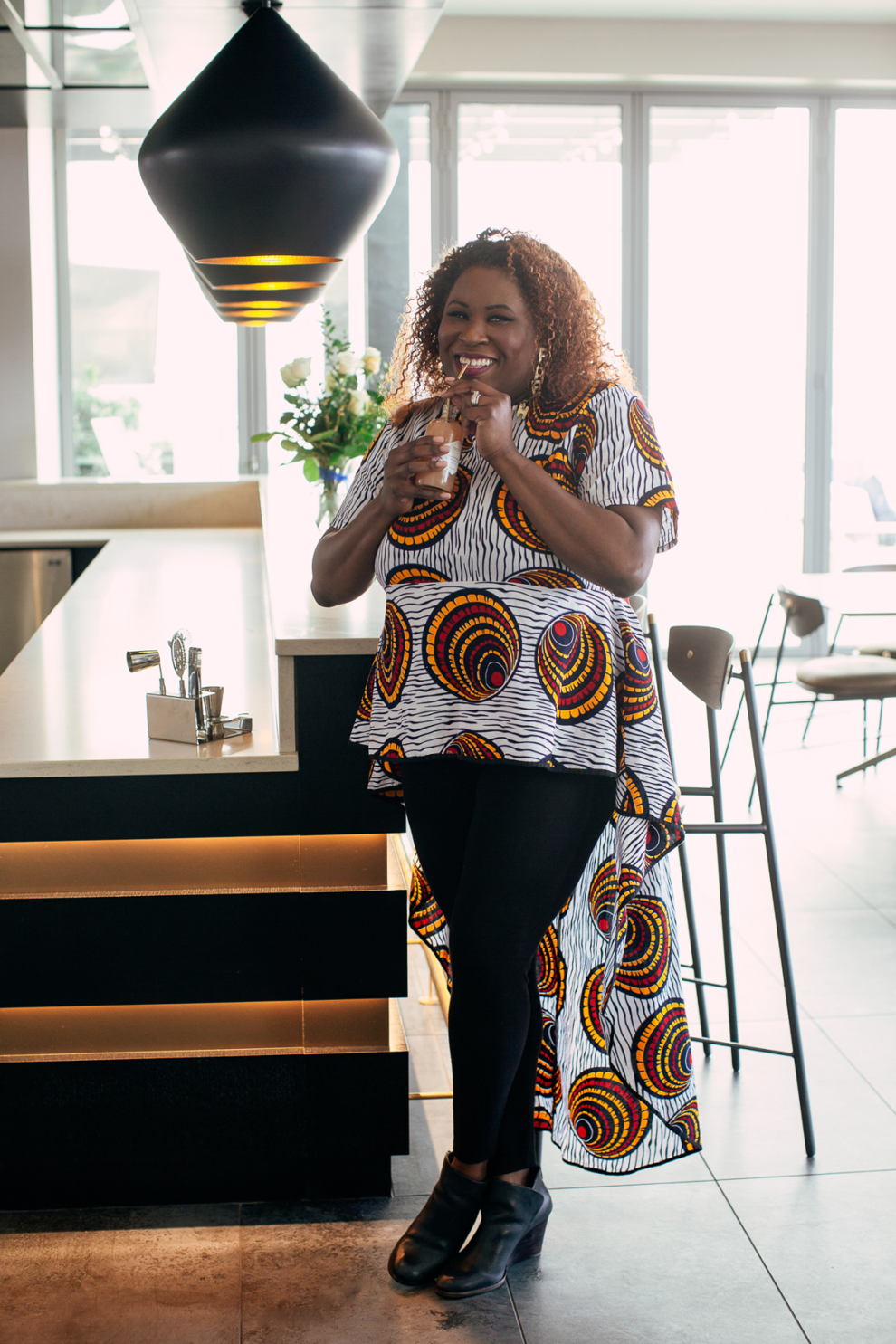 JOB CHALLENGES
The hardest part is wearing the multiple hats that the owner of a bootstrapped company must wear. There are days where there are just not enough hours in the day, and I made the decision that I would not sacrifice my family for the company. Very often, female founders are forced to work twice as hard and sacrifice twice as much as male founders. This often leads to inner turmoil and often hating the business you once loved. Much of these obstacles can be alleviated with funding. However, only about 3 percent of VC funding goes to women and only 0.64 percent of that goes to Black women. I am currently fundraising, applying for grants and reinvesting profits back into the company. As Perfectly Cordial grows, I am able to hire team members to wear one of the many hats sitting on my head.
INDULGENCES
These are my current indulgences: 1) Ice cream from Saturated Ice Cream (dairy-free, vegan, gluten-free and you can't tell). I can eat the cocoa and nibs for dinner five out of seven days without any issue or guilt. 2) The Birria taco pizza from Mijo Gordito. I would order this every Sunday for a month at their pop-up. 3) Perfectly Cordial Pear, Rose and Pink Peppercorn and scotch. I came upon this combination by accident and cannot stop drinking it on my cocktail days (in moderation). The slight smokiness of the scotch pairs well with the softness of the rose and subtle fruit of the pear. It's so refreshing.
BEST ADVICE
My friend Elke would always tell me, "You got this." You need positive affirmation because it will not always be a positive journey. Starting a company is a marathon and not a sprint. There will be ups and downs, but don't give up.
HUMBLE BEGINNINGS
My first attempt at the Caramelized Pineapple/Coconut Water was a true labor of love. I peeled 10 pineapples by hand, diced them, caramelized them slowly over a low flame, blended them and strained the juice twice. [I] made the spiced syrup separately and used coconut powder versus water. It was delicious, but it took me three days to make one gallon.
IN THE WORKS
I am working on our 2021 fall/winter collection. The flavor combinations are exciting, and I am on a mission to highlight other female makers by showcasing their products on the Perfectly Cordial website and social media.
FAVORITE FLAVOR
The Pear, Rose and Pink Peppercorn. It's the perfect combination of fruit, floral and spice [and can be] combined with anything from seltzer to sparkling wine.
TRY, TRY AGAIN
Cardamom Pear took about 20 tries. Pear is the most finicky fruit to work with. Too much acid, you lose the pear. Too much sugar, you lose the pear. Too much water, you lose the pear. Too much of anything and you lose the pear flavor.
FUTURE PLANS
I am currently working on a Perfectly Cordial ready-to-drink beverage. All the flavors of Perfectly Cordial in an easy, ready-to-drink format. I am also preparing for the second annual Swig Culture Conference taking place in Nashville November 7-11. The only conference focused on mobile and off-premises bartenders. We sold out of our 2020 conference and our 2021 virtual conference and had attendees from all over the world.