It all started with a marshmallow. And when that's your origin story, you know you're in for the sweet life. Sarah Souther moved to Nashville 17 years ago for love, but 10 years ago, she tried a homemade marshmallow at Arnold Myint's Cha Chah and fell in love again. She started making her own marshmallows and other delightful confections in a rented kitchen. Now, she operates The Bang Candy Company in Marathon Village. With no formal culinary education, she is living proof that, sometimes, the rogue approach is the best approach. 
Sarah's success is not simply a matter of a strong will to succeed, which she has; she also has a knack for desserts and a keen insight for how to tweak treats with unique flavors to pair perfectly with other dishes. With sweets such as chocolates with CBD and D8, flavored syrups for cocktails and chocolate-dipped marshmallows, Sarah has made Bang Candy a favorite for Nashvillians with a sweet tooth.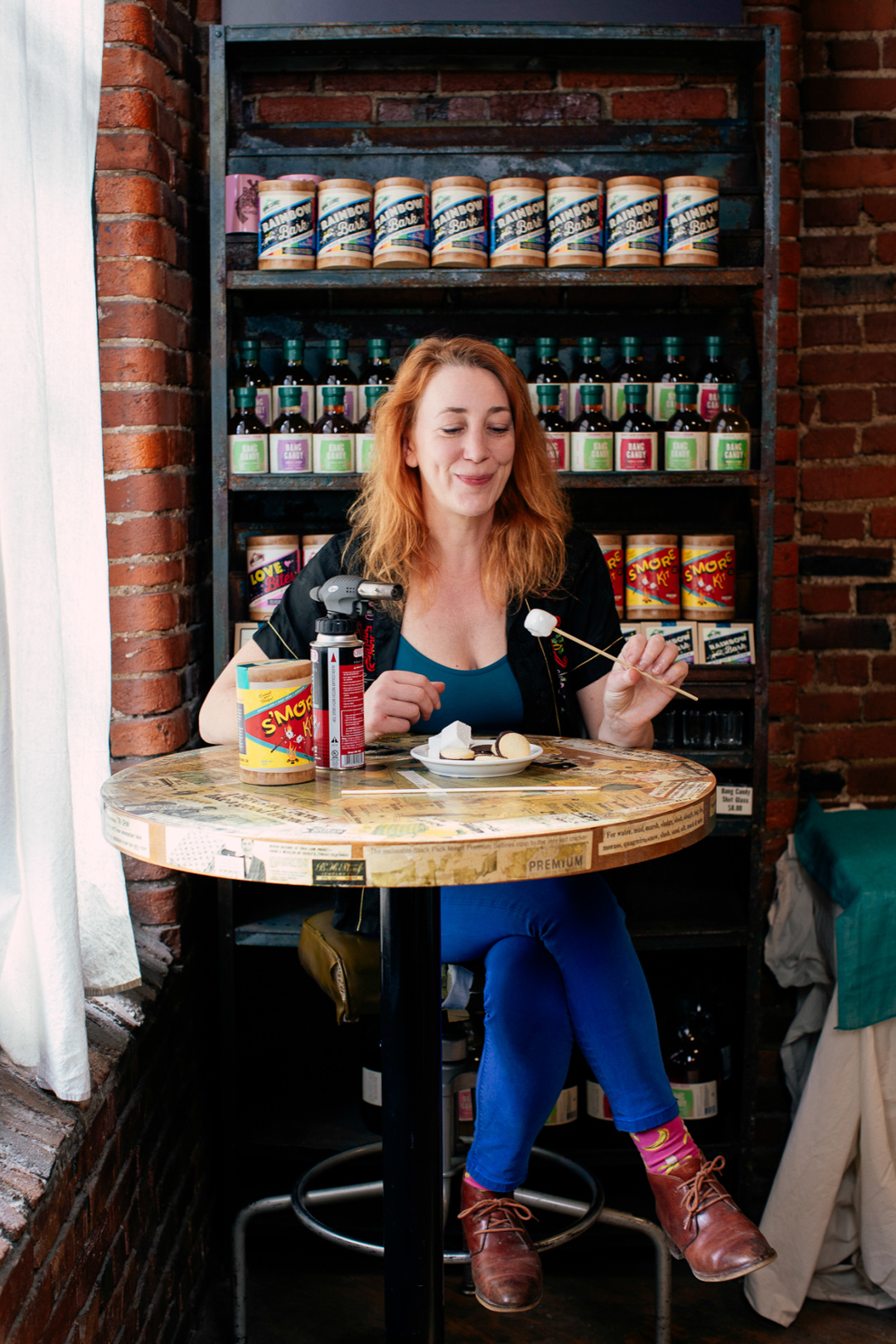 CREATIVE PROCESS
I find my inspiration all over the place: in conversations, books, ethnic supermarkets, paintings, ingredients, everywhere! My process is pretty haphazard. An idea usually stems from somewhere unsuspected, then I run with it and try to make it as fun as possible whilst also keeping my customers in mind.
JOB PERKS
I've really been spoiled by all the fun things I've been able to do because of Bang Candy, from interesting TV shows to making signature sweets for special parties. I've been honored to talk to students at Owen Graduate School of Management about entrepreneurship, thanks to the late Germain Böer, who always thought my rogue approach was quite hilarious. I've taught classes and made special delights for people's weddings and birthdays and collaborated with artists and all sorts of fun people. Really, it's all been quite wonderful, and I think I'm so damn lucky to have stumbled into this slightly ridiculous career.
JOB CHALLENGES
First and foremost, I am a child trapped in the body of a reluctant adult, thus all things paperwork-y are incredibly low on the list of things that should be done. Thankfully, I realize that, in order to make any progress, it's best to have someone on the team who loves doing the things I don't. And I'm very lucky that my right-hand man, Ben Burford, is ready, willing and able to tackle most of the yucky stuff.
BIGGEST INFLUENCE
Without [a] doubt, my biggest influence is my mum, Kate Nicholson. Growing up in the kitchen with her taught me so much about food. She learned to cook in France as a young lady and ran our home as a guesthouse, cooking decadent feasts for the guests in the evenings. It was a family affair — all hands on deck, so to speak — so I learned lots of technical things and also her flair for trying new things, experimenting with flavors and being generally inquisitive about food.
EAT LOCAL
It's far too difficult to choose just one. So many great restaurants in Nashville. So, I'll list a few: Mas Tacos' chicken tortilla soup; Rolf and Daughters' roast chicken; City House's belly ham pizza (with an egg, of course); and VN Pho and Deli's bun with pork and egg roll. And I have to mention the most amazing dessert I had at Locust in 12South a little while ago. I don't even know what it was called, but it kind of looked like a hamster/gremlin and involved so many delightful flavors and textures and surprises that I can't get it out of my head.
INDULGENCES
During the pandemic, I have become a scotch fiend. My perfect evening after work starts with drawing a nice, hot bath and enjoying a "small" glass of Laphroaig with one ice cube and a good book — absolute bliss!
BEST ADVICE
My advice for anyone wanting to get into anything is just do it! Don't waste your time waiting to be ready; just jump on it and make what you think is interesting to you. I'm glad no one told me anything or I probably wouldn't have even started. Just go for it!
HUMBLE BEGINNINGS
As children, we were not allowed to eat sweets, so any chance I got to mess around in the kitchen when my mum wasn't there involved sugar. I remember trying to make these meringue mice that I found in a cookbook. Not having any idea about meringue, they were an absolute disaster, but of course, I ate them anyway. I do vividly remember making brownies from the Reader's Digest Farmhouse Cookery book, which is a huge favorite of mine. It has recipes from all corners of the globe — from America came brownies! Big hit for a kid that wasn't allowed sweets.
CAREER PATH
It was 10 years ago. I had tried a handmade marshmallow at Arnold Myint's restaurant Cha Chah. I was totally transfixed by how delicious this handmade confection was in comparison to the store-bought variety. So, I attempted to make my own, which went well. And then, the fun of using the mallow as a canvas for flavor really excited me, and then, figuring out all sorts of other traditional candies that could be tweaked and changed to my own tastes. It was great fun, and when other people wanted to buy them, I really felt this was my calling. Coming up with the treats is super-fun, but then, developing the products, packaging and copy is really a blast.
IN THE WORKS
We are currently working on a new D8 chocolate. They are called D8 Dream Drops: Belgian milk chocolate with crushed honeycomb toffee, coconut, sea salt, popping candy and D8 produced by our friends at Tennessee Homegrown. Not only are they delicious but extremely effective!