What's your favorite holiday tradition? Setting the table. I'm not the most helpful in the kitchen, but I look forward to styling a pretty table for us all to enjoy our Thanksgiving meal together. I love finding new tabletop items every year to add to our heirloom pieces — tradition with a twist.
What's a must-have dish on your Thanksgiving table? Cornbread dressing. My father has a secret recipe he's made for years, and it's just not Thanksgiving without it. He's even made and frozen it for me ahead of time so that I could enjoy it when we weren't together for the holiday. It's that special.
What's your favorite part of Thanksgiving Day? I love packing into the kitchen with all of my family members while the food is [being] prepared. My sister and sister-in-law have kids, and it's such a joy to watch my nieces and nephews play with my children — all with a large glass of wine in hand, of course.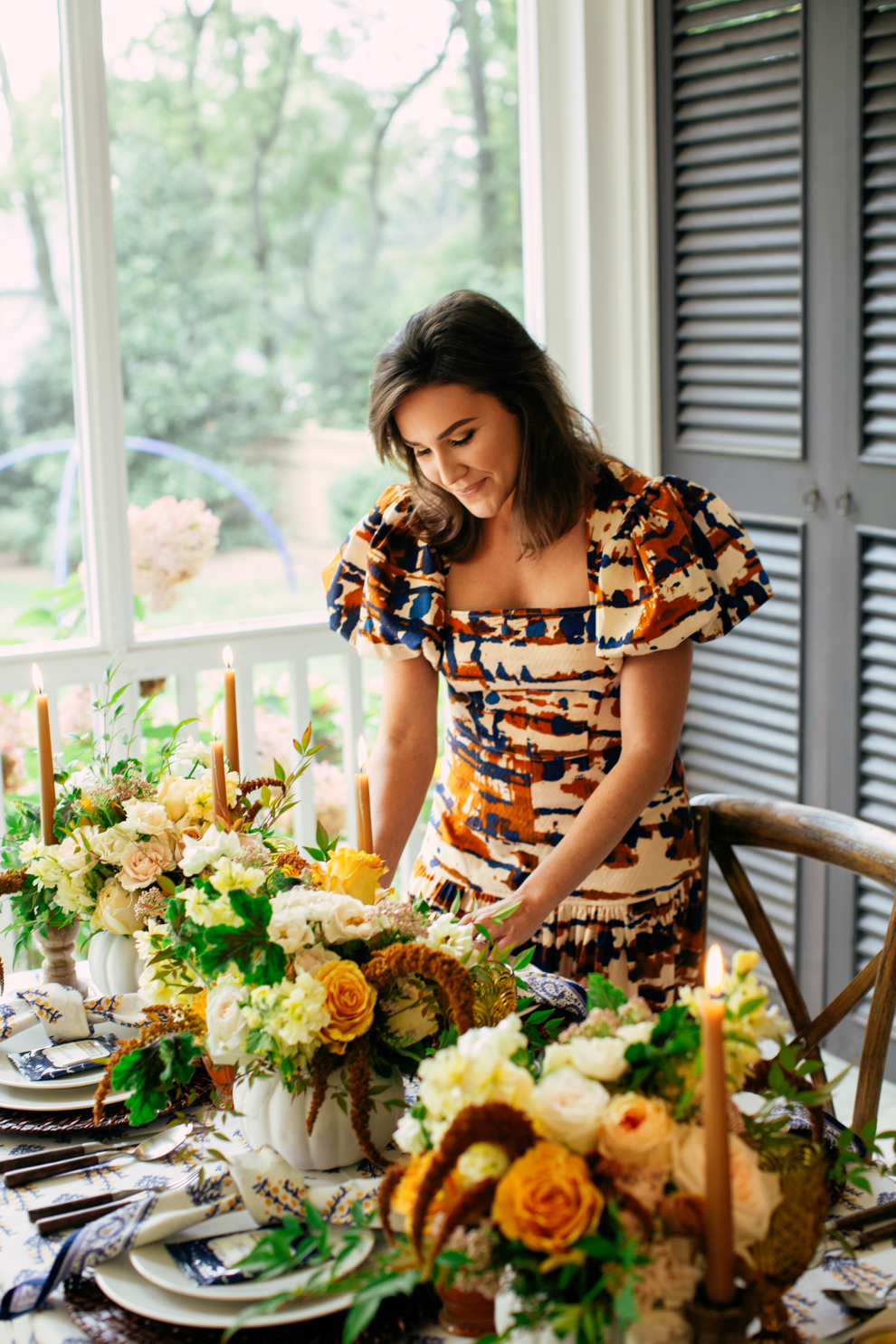 With everyone spending so much more time at home this year, what's your best advice for making the house feel special for the holidays? I'm usually against putting up holiday decorations too soon, but since we are spending so much time at home, I did my fall décor early this year. My kids love all of our decorations. It really does make the house feel more festive and is a lovely change from what we've been seeing constantly for months. I always have a scented candle burning, and now that the cooler temps have arrived, we turn on our fireplace so that we can all cozy up and enjoy this extra time together.
What's your best advice for entertaining or celebrating the holidays in a safe way? It's so unfortunate that many of our older family members and friends might not be able to celebrate with us this year. But for those who do gather together, I think the key is to wash hands, dine outdoors (weather permitting) and just be smart about who you have contact with. I plan on including a packet of wet wipes at every place setting this year — might as well just embrace the current situation!
What are your favorite seasonal flowers for holiday decorating? I got married in Nashville 10 years ago this time of year, so I can tell you just about every flower that's in season right now, ha! But dahlias are my favorite. They come in an array of colors, and the red and orange are perfect for fall/winter. I request them in just about every arrangement I order from now until December. 
What's your best tip for holiday centerpieces? Delegate. I love fall floral arrangements, so I always reach out to local florists to order something special for the dinner table. One of my favorite centerpieces comes from The Tulip Tree, Inc. Every year, they make floral turkeys that are over-the-top and a bit cheeky, which I love. Just remember, if you are ordering arrangements for your table, be sure to do so well in advance, as many florists will stop taking orders several days prior to Thanksgiving.
Are there any new trends for holiday tables this year? I've noticed more organic looks this year. From block print tablecloths and wood-handled cutlery to pewter charger plates, we're seeing more rustic and casual décor. I personally love a more approachable table; just because it's not as formal doesn't mean it's not as beautiful.
How do you typically dress up your Thanksgiving table? I set the table with my grandmother's sterling silverware and etched crystal stemware. I typically don't entertain with these items as they must be washed by hand, but for Thanksgiving and Christmas, you better believe they make an appearance. There's something very special about lighting candles on the table and watching the light sparkle against the silverware and glassware.
What's your best advice for meal planning for Thanksgiving? Start now. If you're not a cook (I'm definitely not), and your mom's not cooking (I'll admit that, yes, my mother still cooks the entire Thanksgiving meal for my family some years), then start placing your catering orders as soon as they start taking them; vendors do sell out! I've ordered our entire meal, turkey included, from Corner Market the past two years, and many caterers in town offer full meals or a la carte options for Thanksgiving. Whole Foods even offers holiday menus. Do your research in advance so that, when it comes time to order, you know where you want to go and are first in line. Early birds also get the better delivery windows and/or pickup times.
Do you have any Thanksgiving meal prep hacks? Call Mom. Just kidding — kind of. Again, I don't cook, so my entire Thanksgiving meal is catered or pieced together from premade options I've picked up from various stores and vendors. The food tastes better than anything I could've made, and it allows me to spend time doing things I actually enjoy and can handle, like setting and decorating the dinner table.
What local takeout items do you recommend to round out a Thanksgiving menu? I love Southern Baked Pie Company. They ship nationally and offer some of the best pies I've ever tasted. You can order them for yourself or send them to friends and family as a gift. They come fully prepared, so all you do is heat them up and serve! I have an entire blog post dedicated to the best premade meal resources for Thanksgiving. It's called "Delegate Dinner: Thanksgiving" and can be found on www.mrssouthernsocial.com.
How will your holidays be different this year? I think we all will have a new appreciation for actually being together in person this year. There might be Zoom calls added to our gatherings, but that's OK. I don't think what we're eating or what décor is on the table will matter as much this year. It will be a joy for me [to] spend time with friends and family I haven't been able to see in person for a while!