What's your favorite holiday tradition? Boulevard Bolt! A little bit of exercise before all that good food with great family.
What's a must-have dish on your Thanksgiving table? Libby adores country ham as a family tradition passed down from her grandmother. Dana enjoys anything she personally didn't have to cook!
What's your favorite part of Thanksgiving Day? Libby loves eating delicious food and watching football. Being an Australian with an American husband, Dana adores the Thanksgiving Day parade whilst drinking coffee before the chaos begins.
With everyone spending so much more time at home this year, what's your best advice for making the house feel special for the holidays? Putting up the children's homemade artwork has a beautiful feel, even if they are now in their 30s and home for the holidays. Or fill the house with the smell of baked cookies as a project to spend time with your children/grandchildren. A wreath on the front door is always such a great touch to come home to.
What's your best advice for entertaining or celebrating the holidays in a safe way? Limit your guest list to smaller, more intimate gatherings.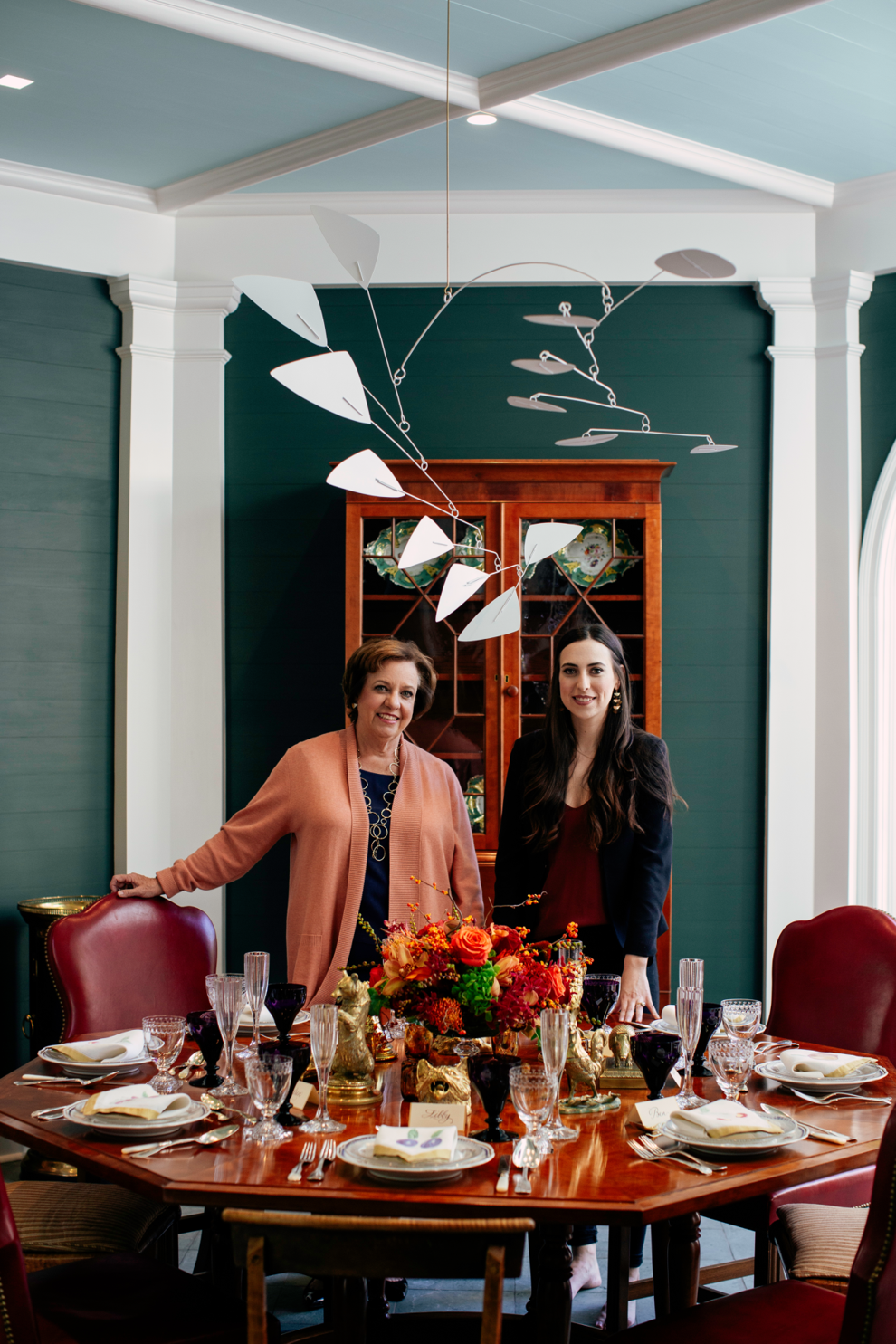 What are your favorite seasonal flowers for holiday decorating? We love more organic choices, such as berries, pods and bittersweet. For flowers, we adore coral garden roses and creamy dahlias for this time of year.
What's your best tip for holiday centerpieces? A pretty porcelain container from your home filled with seasonal fruit for color and a longer-lasting centerpiece.
Are there any new trends for holiday tables this year? Leaning into color and getting really personalized. For example, an alternative on place cards: Use individual hand sanitizer bottles with your guests' names, or use your husband's strange collection of antique inkwells, with each guest being a different animal.
How do you typically dress up your Thanksgiving table? Pulling out grandmother's china for a more formal and vintage feel — always a great conversation starter.
What's your best advice for meal planning for Thanksgiving? Make a general plan, and then, delegate pieces of the menu to your family, [which] allows everyone to feel more involved and [puts] less pressure on the host!
Do you have any Thanksgiving meal prep hacks? Set your table earlier in the week, or at least pull all your serving pieces out before the big day, and put a sticky note on what menu item will go on each dish. This allows you to check your inventory for anything missing and for others to be able to help you serve.
What local takeout items do you recommend to round out a Thanksgiving menu? John Howard at Sargent's makes an incredible lobster bisque, which is always a hit. Kristen Winston cooks fabulous twice-baked mini potatoes that we dream about all year. Johnny Haffner makes great cheese dreams, à la Julia Reed, to sate your family while they wait for the big meal. Dani Kates' yeast rolls are the perfect complement to your meal. Leland Riggan's caramel cake is always a wonderful way to end your feast.
How will your holidays be different this year? We both have small children to celebrate with this year. We are so excited to see the holiday season through their eyes and watch the destruction of our beautiful table designs in their wake. Libby has her first grandchild, Margaret Alyson Brown (Maggie), and Dana has her son, James Thomas Windrow.