In 2015, chef Julia Jaksic, who was living in New York City at the time, visited Nashville and went to the Iroquois Steeplechase. It made a lasting impression. So much so that it influenced the design — and name — of her newly opened Roze Pony in The Belle Meade Galleria, the sister restaurant of the popular East Nashville eatery, Cafe Roze.
"I didn't want it to be gimmicky equestrian," says Julia, who did most of the design herself, "but I wanted it to feel almost like a modern barn, so that was sort of the direction I went with. And I wanted to give it more of a brasserie feel. I think, for Cafe Roze, we think of it sort of as a bistro, and it's very approachable and affordable. And I think, with Roze Pony, the idea was to do something a little more upscale, especially at dinner."
Julia's business partners — Eric Lincoln, Rachel Tow and Owen Gibler — knew each other from the famed Employees Only in New York's West Village, where Julia and Eric are still partners and where Julia also served as executive chef. After that serendipitous visit to Nashville in 2015, Julia moved here and opened Cafe Roze. During the first two years of business, customers from the west side of town began asking for a restaurant in their neck of the woods, and the idea for Roze Pony was born.
Inside the cafe, which used to be a Subway, the space has been transformed. Wood and soapstone tables dot a striking geometric black, white and gray tile floor. A natural wood plank ceiling, iron accents and arches are a nod to horse stables and Belle Meade's history. A focal point of the 2,000-square-foot restaurant is a backlit mirrored bar accented by a pale pink wall. Julia, whose father is from Croatia, explains that "roze" means pink in Croatian. It is both restaurants' signature color.
There's a large counter for takeout, whether patrons just want a loaf of freshly baked bread or something sweet, such as a slice of flourless chocolate cake, a piece of black tea and honey poundcake, a lavender and honey scone or a blueberry streusel muffin. And not to be missed is an extensive selection of teas and coffees. While the menu is different from Cafe Roze, there is one beloved carryover: the signature cardamom rose latte.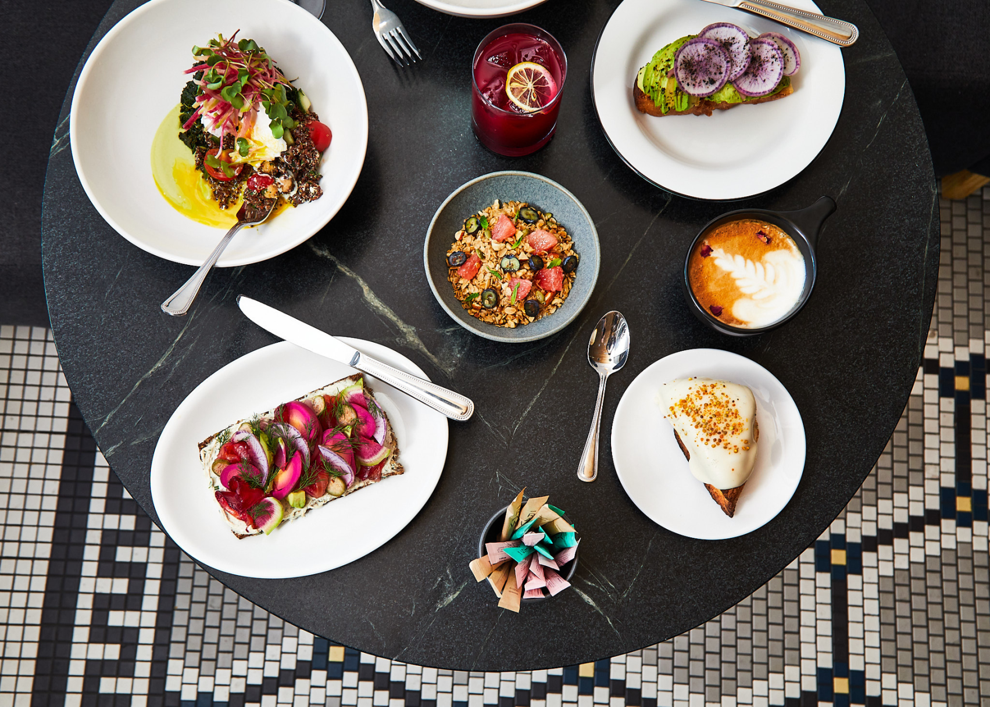 All-Day Dining
Like Cafe Roze, Roze Pony is open from 8 a.m. until 10 p.m. seven days a week. The breakfast menu features soufflé pancakes with blueberry syrup and powdered sugar. Lunch offerings include the popular pony burger — smashed patties with local cheddar, secret sauce and homemade pickles. For dinner, there's a lemon-roasted trout served with crispy potatoes and a New York strip with onion rings and house-made steak sauce. In addition to craft cocktails, beer and wine, martini service is offered tableside.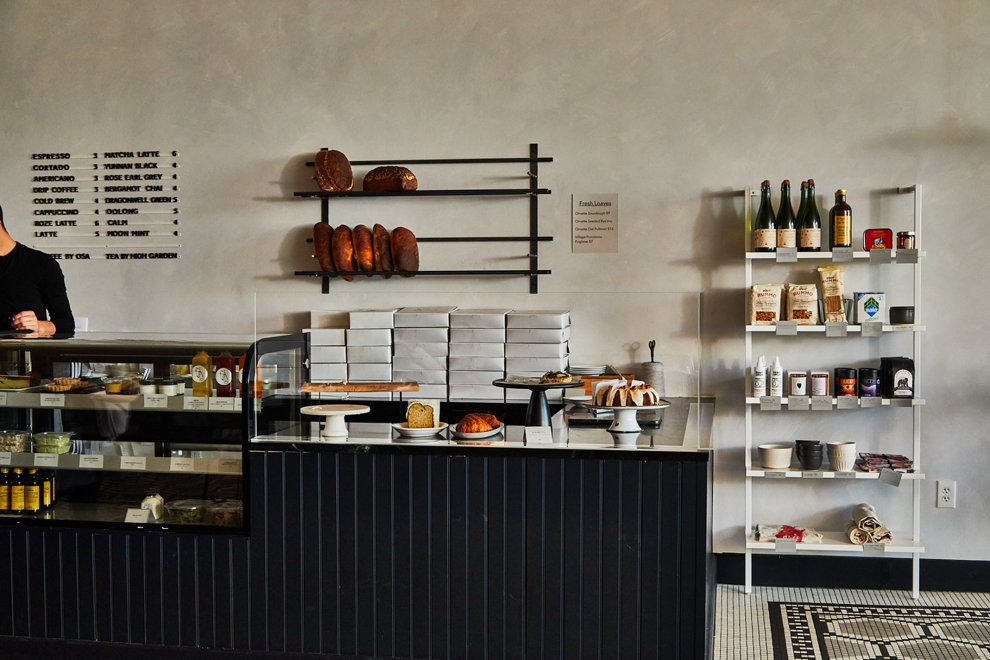 Stay and Shop
An area is set aside for local goods and collaborations. They carry pieces from Salt Ceramics; a T-shirt they made with imogene + willie; an apron they designed with Oil / Lumber; and, in a nod to Julia's old stomping ground, fragrances and candles from Brooklyn-based D.S. & Durga. After the "longest build-out ever," as the pandemic delayed production and deliveries, Julia says she's loving being part of a new neighborhood and is already planning box lunches for Steeplechase.
Photographs by Emily Dorio