Jay Jenratha started Deg Thai Street Food in a food truck, and as such, it has a small menu of delicious, well-crafted American-Thai fusion dishes, with their own takes on the usual pad thai, curries and stir-fries. They have recently found a permanent brick-and-mortar home on Nolensville Pike, but you can still find the food truck on Music Row Tuesdays to Fridays. Tailor Nashville's culinary creator, Vivek Surti, shares why he loves Deg Thai.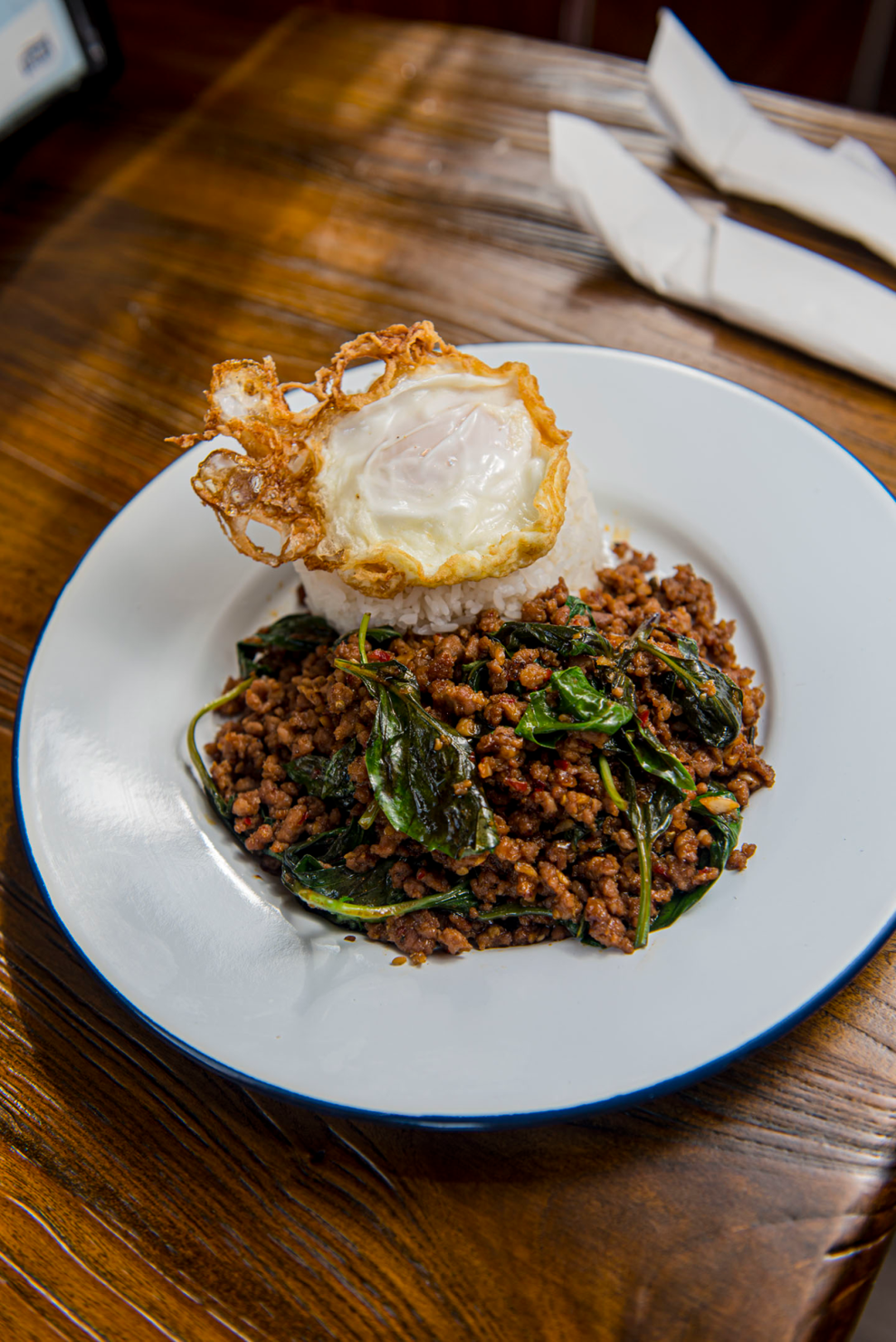 MY FAVORITE DISH
My two favorite dishes are the kra prao moo kai dao, which is a stir-fry of pork, holy basil, garlic and Thai bird chiles served with a crispy fried egg and rice, and the tiew tom yum goong, which is a hot and sour noodle soup with shrimp, lemongrass and kaffir lime. 
YOU SHOULD TRY
Both the Thai iced tea and the Thai iced coffee are fantastic. When you order food that has such a high level of spice, these drinks really help cool you down. 
FLAVOR PROFILE
Thai food is intoxicating to me, with all the spicy, sweet and sour flavors. It is bold, full-flavored and hits all parts of your palate: sweet, spicy, sour and salty. Deg Thai hits it all.
WHY I LOVE IT
Not only is the food great, but the people are awesome. Even through the pandemic, they forged ahead, opened a location and are offering dine-in, to-go, carryout, delivery and [are] running their food truck on top of that.
MY FAVORITE MEMORY
The first time I ever ate Deg Thai was when it was a food truck, maybe eight or nine years ago. They served a dish I had never heard of, khao mun gai, which is essentially Thai-style chicken and rice. When I stayed in Thailand for two weeks, I had khao mun gai almost every day.  
TIPS AND TRICKS
Get the chile tray and play around with it. Part of eating Thai food is customizing dishes to your taste. Need it spicier? Add some chile powder. Need it saltier? Add fish sauce. Sweeter? Add sugar. Sour? Add vinegar. Make it to your taste, and enjoy one of the best meals in Nashville.
3025 Nolensville Pike Nashville, TN 37211
(615) 707-3926