A few months before COVID-19 sent the world into lockdown, Martha and Malcolm Greenwood of Big Events designed a classic church ceremony and backyard reception straight out of a dream. The bride shared her vision of an intimate, understated and elegant wedding decorated in white and ivory with touches of slate blue and greenery incorporated into everything. Martha and Malcolm delivered the perfect setting for the much-anticipated nuptials with 250 guests — a number which would be impossible only a few months later.
As the bride and her family are longtime members of Woodmont Christian Church, the ceremony in the church's resplendent white nave — the aisle and stage lined with elegant greenery and an assortment of white flowers — was impeccable.
As guests arrived at the bride's house for the reception, they entered a welcoming foyer tent with wingback chairs and armchairs, tall floor lamps and a candle chandelier hanging above an overflowing floral centerpiece of greenery and white flowers. Everyone took a moment to sign an oversized marriage license in lieu of a guestbook as they mingled before entering the main event space.
The reception space — a spacious clear span tent with warm, natural hardwood flooring — felt like a grand solarium. Flowers and greenery from the Big Events floral design team were hung over wooden arbors and tables, and white drapes bordered the room and framed the entrances. String lights and crystal bell and teardrop chandeliers bathed the space in golden light.
Guests sat down for dinner at estate dining tables decorated with greenery, flowers and tapered candles under rows of crystal chandeliers. The five-tiered cake featured a smooth, minimalist design — the only ornaments being rings of frosting that looked like small pearl necklaces adorning the base of each layer and a few delicate pieces of greenery on the top, around the sides and at the base.
The popular Atlanta Allstars traveled to Nashville to play the hits while the wedding party and guests danced the night away on a white dance floor under a splendid canopy of greenery and a variety of chandeliers. Later in the evening, guests were treated to Bailey's milkshakes as a late-night snack before the bride and groom sped away on the groom's motorcycle.
Candlelight Dinner
G Catering designed the dinner perfectly for the setting: hors d'œuvres of gougères with bacon and tomato tartare or crostinis with housemade cashew ricotta and roasted grapes; an arugula and roasted butternut squash salad; entrées of either sliced bacon-wrapped chicken stuffed with Sage Derby cheddar and apples or red wine braised short ribs topped with a demi-glace.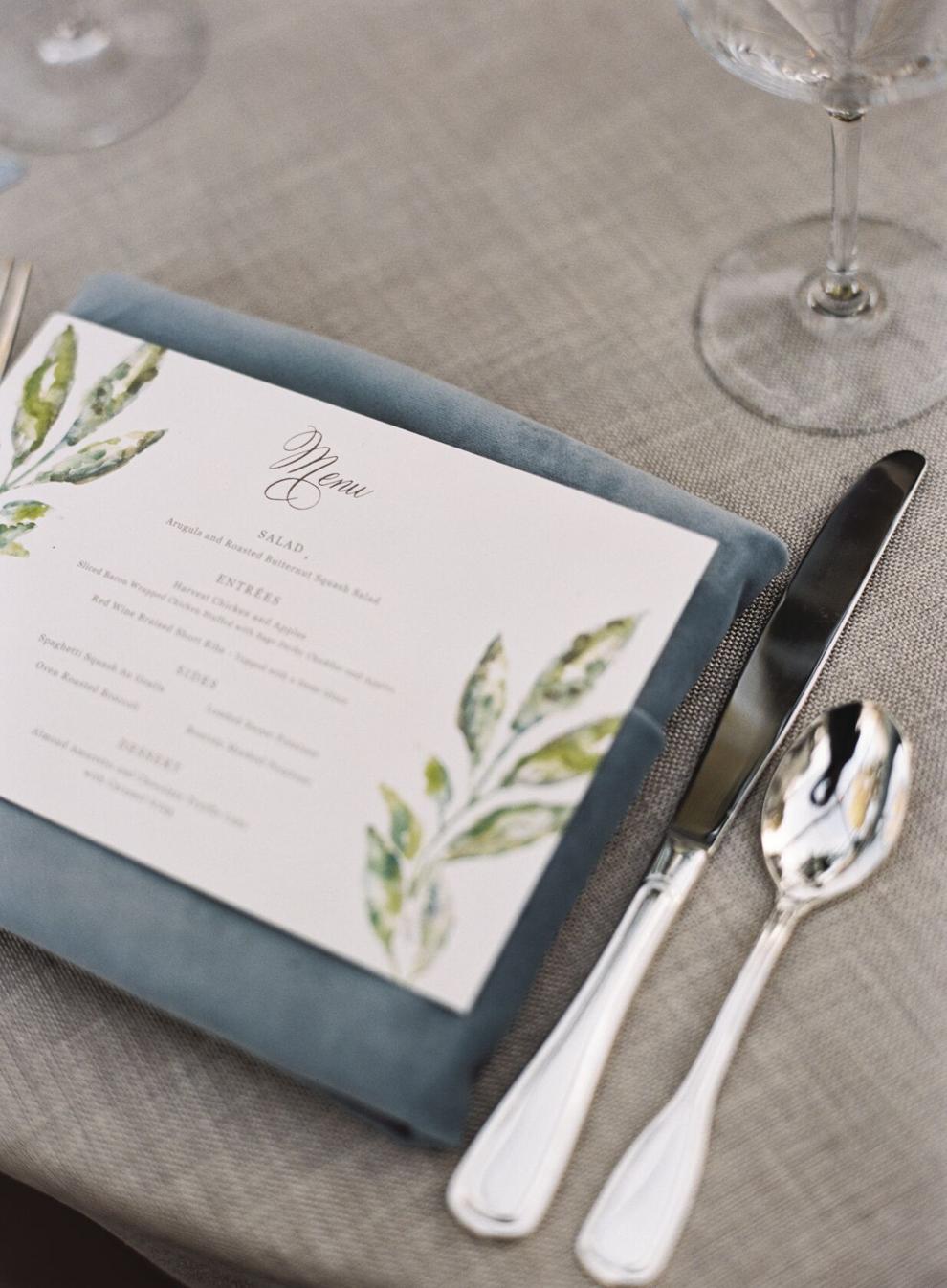 Matching Menu
The invitation and menu papercrafts, which also carried the wedding's prominent design elements of elegant lettering and watercolor greenery, were designed and created by local stationer Emily O. Holmes Custom Paper Lovelies and were a beautiful complement to the dining table décor.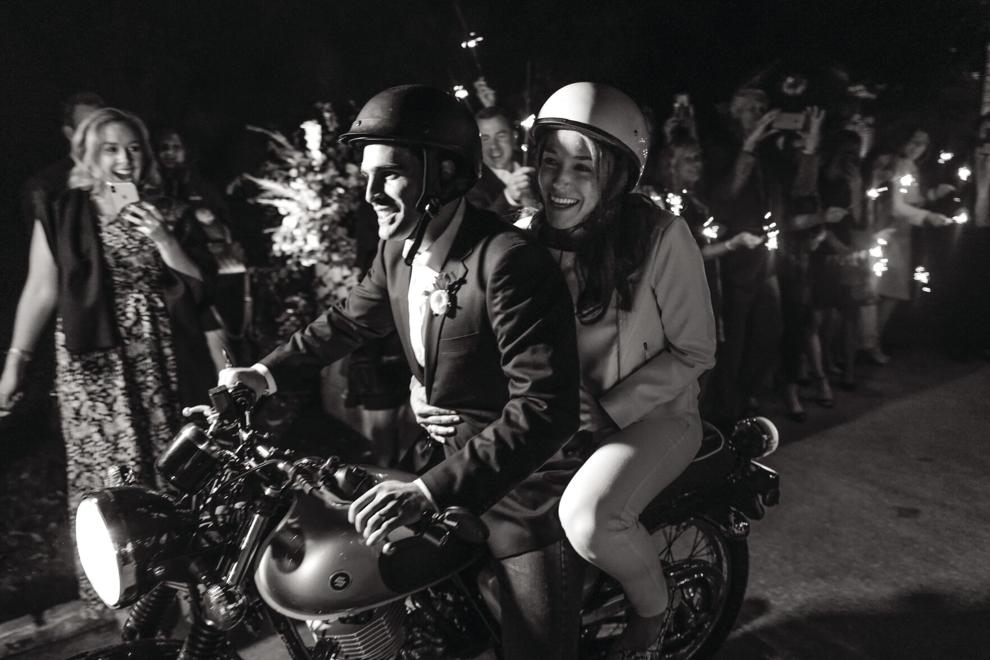 Just Married
As the evening drew to a close, the bride and groom stepped out to the groom's waiting motorcycle — he in boots, blue jeans and his tuxedo jacket and she in a white leather jacket, white jeans and white snakeskin heels. Family and friends cheered and waved sparklers as the newlyweds rode off into the night.