The Happy Hour's Clara Belden has a natural gift when it comes to helping people. Even in grade school, children would seek her out on the playground to talk about their problems. Originally on track to be a professional equestrian show jumper, she got her MBA from Vanderbilt's Owen Graduate School of Management and took a different path that led to the founding of The Happy Hour, a mental wellness company with a modern, intentional approach to talk therapy and life coaching. For two years, Clara led a series of pop-ups before moving to her new studio in the former Las Paletas storefront in 12South. The peaceful, spa-like interior is in calming shades of blue, with a lounge, library and garden for guests to use to relax or connect with friends.
"The Happy Hour is more than just therapy and life coaching," says Clara. "It's a place to connect with community and with yourself from a place of acceptance and curiosity. We're here to help you discover your happiest, most fulfilling life by meeting you where you are and helping you take those next steps."
With a team of licensed therapists and certified holistic life coaches, The Happy Hour offers more than one-on-one sessions. The roster of daily classes includes mindfulness and meditation, and wellness workshops, typically held once a month, build on the pop-up format, combining movement, such as yoga, and conversation. The Happy Hour also offers customized workshops for corporate and private groups. We caught up with Clara to talk about mental wellness, mindfulness and her favorite things about Nashville.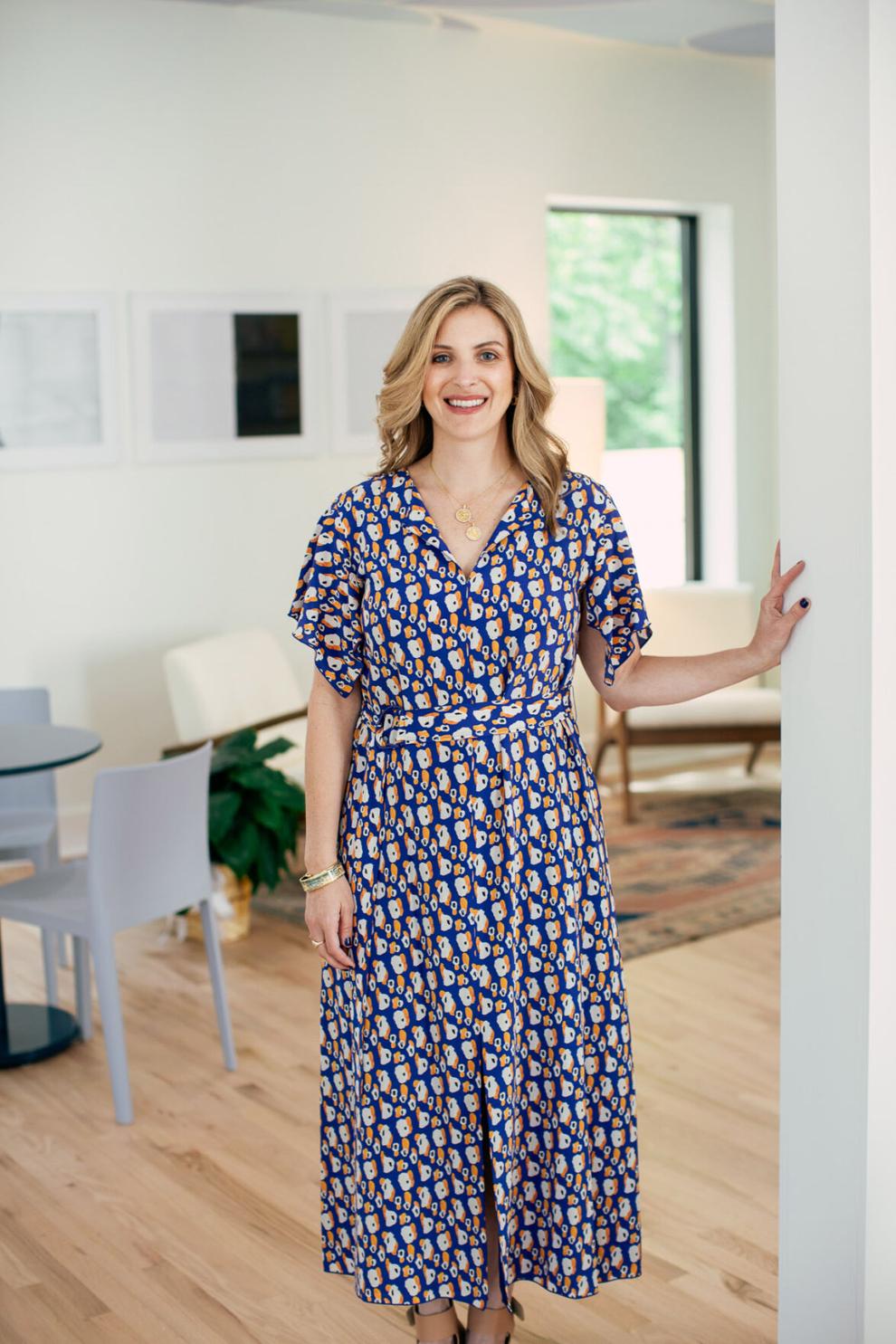 What is mindfulness, and what are some ways you help people achieve it? Mindfulness is about being fully present in the moment, without judgment. That last piece is key. So often, we categorize thoughts as "good" or "bad," which can create a lot of internal reactions, so when we practice mindfulness, it's important to label our thoughts as just that: thoughts. We help people achieve this by holding space for them to disconnect and slow down, physically and mentally. In our private sessions and classes we teach simple, two-minute breathwork, meditations and self check-ins that enable people to get present in the moment. These practices help to relieve stress and gain clarity in your emotion and in the moment.
When you have out-of-town guests visiting, where do you take them? I love to start the day with sharing some of the natural beauty that Nashville has to offer, which is usually a hike at Percy Warner. Then, we'll walk around 12South and pop into a few shops. I like to take out-of-towners for an early dinner at 5th & Taylor because the food is amazing and there's something on the menu for everyone — not to mention, the atmosphere is dreamy! We'll follow it up with a cocktail at Robert's Western World so they can see Broadway and take in a hockey game or concert at Bridgestone. If there's time, I also love to post up in East Nashville for an afternoon, exploring the restaurants and shops over there. It gives out-of-towners such a great feel for how unique the different pockets of Nashville are.
What's your favorite restaurant? Epice. Their food is so fresh, and their menu is interesting without going overboard to be quirky. They let the food speak for itself. The atmosphere and presentation of food is beautiful, and you can tell that the people working there care about what they are doing.
What's your favorite locally made product? Clary Collection's Renew + Repair Oil. The smell is so soothing, and it feels so luxurious — not to mention, it works great. It was my favorite treat for myself during both of my pregnancies.
What trait do you admire most in others? Vulnerability
What's one thing you want to cross off your bucket list? Traveling to New Zealand
What's the one thing you hope never changes in Nashville? The supportive community. Nashvillians always step up to the plate to help out their neighbors in times of need. We really saw that come through after the tornado in March of last year. I also felt this way opening The Happy Hour; other business owners were incredibly supportive when I was getting my start in the wellness world.