Arnold Myint grew up surrounded by food, literally. His parents, Patti and Win Myint, owned and operated International Market & Restaurant, Nashville's first authentic Asian market and Thai restaurant, for more than 40 years. He went from sleeping in a baby carrier next to the cash register to putting on roller-skating shows for customers, eventually becoming a competitive and professional ice skater before attending the Institute of Culinary Education. Since then, he's worked for a Michelin-starred chef, been a contestant on Food Network Star and Bravo's Top Chef, contributed to Buzzfeed Tasty and cooked for the James Beard House (seven times!). During all this, he ran his local restaurants PM and Suzy Wong's House of Yum and maintained a high profile for his very entertaining alter ego, Suzy Wong, who was crowned Miss Gay America in 2017.
The pandemic did nothing to slow Arnold down. From Palm Springs, Joshua Tree and Nashville, he chronicled his adventures — primarily cooking — on Instagram while also collaborating on his Sweet Chili collection with L.A. boutique company Meals Clothing, teaching classes on how to make new and classic Thai dishes, and working on a cookbook. Here at home, Arnold and his sister, Anna, are carrying on their parents' legacy and bringing back International Market across from the original location on Belmont Boulevard, and he gives back by providing Sunday night dinners to Nashville Launch Pad, a nonprofit dedicated to providing a safe place for homeless LGBTQ youth. We caught up with Arnold while he was planning his upcoming series of Zoom cooking classes, and he set aside his white "pepperrrrrrr" to reveal the best compliments he's received, his prized possession and his mentor.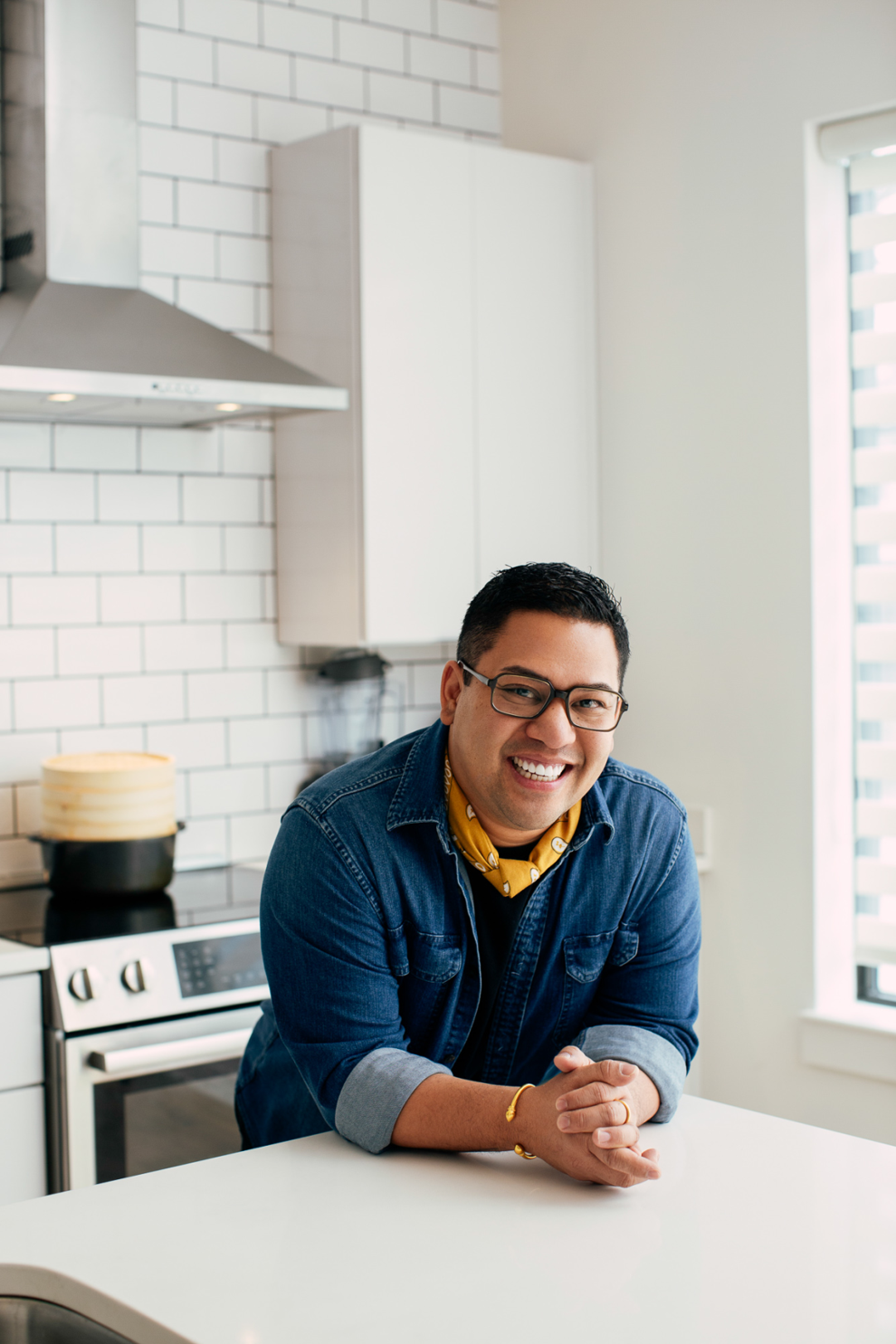 What are your plans for the return of International Market? Currently, the space across from the original International Market on Belmont is under major renovations and will hopefully open later this year. My sister, Anna, is actually taking the reins on this project. Of course, when the time comes, I'll be overseeing the food. Developing the menu has been a bittersweet process, as this is a tribute concept to our parents. The good thing is that, through this, I have connected with Thai food and culture in an incredible way. There aren't specific menu items I can point out as of yet, but there will be a lot of standout dishes. I've been working on celebrating the authenticity of Thai cooking and hope to share that, offering some classics from the original restaurant [and] some of my family's heirloom recipes, as well as nuances of modern Thai and, hopefully, funkier profiles for those willing to venture.
What's the most unusual ingredient you've cooked with in a TV competition? Interesting question, as I never really was given a "mystery basket" in any of my competitions. We always cooked what we wanted. I will say that, in one challenge, I had to present a dish that encapsulated a certain flavor trend/profile. I was given "Incendiary." And initially, I was going to char a salad, but someone else was charring a salad, so I ended up making a dessert: spicy chocolate coconut soup, banana brûlée and ginger snap. It was pretty "fire," as they say.  
Who is your favorite chef or mentor? This is a no-brainer. My mother. She was a visionary and made her mark by never compromising her authenticity. Her heart was larger than life, and her love was unconditional. Everyone she cooked for felt her magic. To achieve this is not what any formal training can do. Her voice and passion resonated through her food. That's pretty special.
What is important for people to know about Nashville Launch Pad? Nashville Launch Pad is a small organization that does important work by simply offering a place of acceptance and security. Sometimes, the simplest of efforts can impact a young person's life. I mean, it's tough enough to be a minority based on race, gender, sexuality or disability. Nashville Launch Pad takes away a little stress from the day, which I see as an opportunity to allow our friends to focus on other things to thrive in society.
What's your most prized kitchen possession? My cell phone, haha! Since I travel a ton, I have become dependent on my phone. It allows me to be in the kitchen, even from a distance. All my recipes and projects, all of my ideas and inspiration are in my cloud. I shoot my cooking videos and teach my Zoom classes all from this little machine. As far as cooking equipment, I have been loving my mortar and pestle lately. It was actually my mother's.
What's your biggest pet peeve in the kitchen? There are two things. I hate when someone does not prep properly and is running around during service. Please gather everything and make a plan so when it comes time to cook, your feet are planted and you need not go anywhere until your task is complete. Also, I cannot stand a messy kitchen. Clean as you go, people! Because let's face it, if you wait until the end, you'll end up doing the dishes the next day. Gross.
What is your favorite food to make for yourself? I love a simple chicken dish, be it a whole roasted chicken or, as of recent, breaking down the bird and using all of the parts over the course of a week, including making stock. I love this process, and for me, it's a calming ritual that keeps me focused.
What is the most memorable compliment you received on a dish? Just one?! Funny you ask this, because during my competition days, we were sequestered in our own rooms. I kept a Post-it tally board on my door of all the negative and positive comments from the judges. I actually have them all framed in my house in L.A. (the positive ones, of course). "I love that Arnold puts his whole heart into it." (Alex Guarnaschelli) "Now, this is cooking; there's the flavor." (Tom Colicchio) "His food falls from the clouds." (Giada De Laurentiis) "He's really good." (Bobby Flay) "You remind me of Ina Garten." (Bob Tuschman, former Senior VP/GM of Food Network)
When you have out-of-town guests visiting, where do you take them? Monell's, Bolton's, Never Never, Brown's Diner, Marathon Village
What cocktail have you made most during the pandemic? I actually haven't been drinking much during the pandemic. But I have sipped on a few Bangkok Fires from my friend Leah Cohen's cookbook Lemongrass and Lime. It's a super-easy-to-drink — maybe too easy — whiskey with chile-infused honey and lemon juice. And I just created this refreshing sparkling punch made of pineapple juice, lychee and ginger ale. It's perfect for the season.
What are some pantry essentials for someone getting into Thai cooking? As far as tools, you need a mortar and pestle and a steam basket. As far as ingredients: fish sauce, palm sugar and white pepper are pretty important. There is also a sauce called, quite literally, "seasoning sauce." This is a very common flavor used in Thai cooking that people do not know much about. It's like a lighter version of soy sauce; the brand I use is gluten free. Also, soy sauce, as western cooks know it to be, is seldom used in a Thai kitchen, but this seasoning sauce stuff is magic.
Other than your own, what's your favorite restaurant? Nom Wah Tea Parlor in Chinatown, NYC, is one of my two favorite spots. The family history and space is something that really resonates with me. I also love, love, love Kazu Nori in downtown L.A. It's simple perfection.
What's your favorite locally made product? The guys at Friendly Arctic Screen Printing & Design are incredible. The product is stellar and customer service is top-notch. I feel better about my life choices whenever I work with them. 
For some peace and quiet, where do you go or what do you do? I have a house in Palm Springs and also spend time in Joshua Tree. Ironically, I do exactly what I do every day. I go to markets, and I play with food. It's what I'm passionate about, and as much as it riles me up, it also grounds me.
What local event have you missed most? Recently, I was looking through some family photos and came across a black-and-white image of my mother over a smokey grill. It was an image featured in The Tennessean in 1986. The event was Summer Lights. Gosh, that was a fun time.
What is one luxury you can't live without? Massages. Need them. Crave them.
What are you currently reading? I am reading the Michelin guide to Thailand. I am bingeing a radio program on NPR called The Splendid Table, hosted by Francis Lam. Recently, he has been bringing attention to the demise of fast-casual Chinese American restaurants and their significance in popular culture.
What's one thing you want to cross off your bucket list? I would like to have my own cooking show.
What's the one thing you hope never changes in Nashville? With all of the progress of this city, I hope we do not lose the raw grit and drive of the people that make Nashville so great. I hope that, when we reflect on our great city, we are sitting in an independent, homegrown, mom-and-pop business doing such.