If there's one thing people know about Eric Adler Bornhop, it's that he can tailor a suit. He learned from the best, after all. After living and teaching abroad in Spain in 2012 and finding inspiration in the stylish street fashions of the region, Eric returned to Nashville and began training under iconic designer and master tailor Manuel Cuevas. A fashion legend, Manuel taught Eric the art and craftsmanship of tailoring. In 2014, Eric launched his own menswear collection, Eric Adler Clothing, at Nashville Fashion Week (NFW). Over the past eight years, Eric has honed his craft and garnered both industry attention — he was named the NFW's Fashion Forward Fund Recipient in 2015 and Nashville Fashion Alliance's Menswear Designer of the Year in 2017 — and recognition from celebrity clients, including Alan Jackson, Post Malone, The Brothers Osborne, Jason Isbell and more. In early 2020, he began designing and creating custom womenswear, as well. Eric opens up about his style philosophy, design process and more.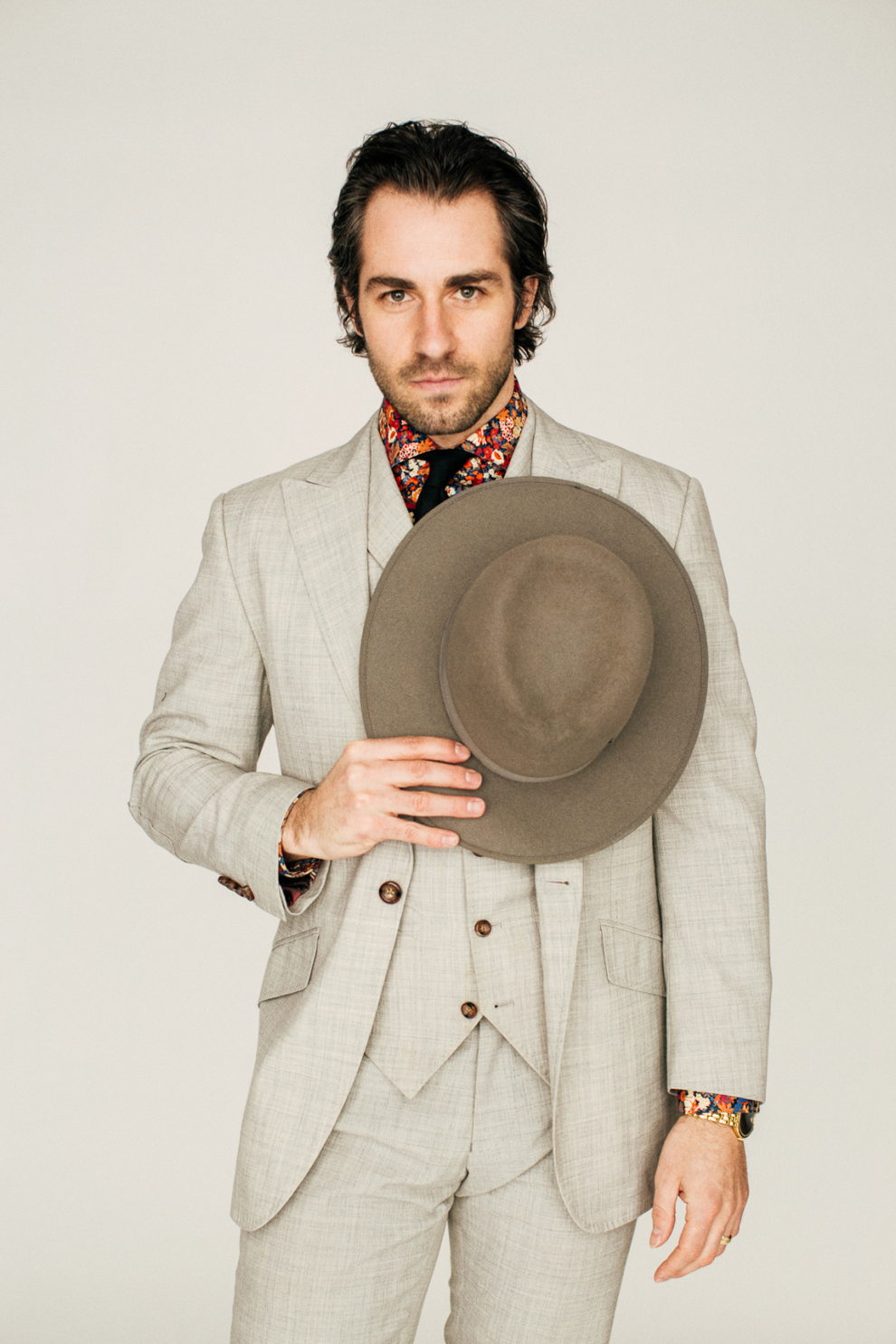 PERSONAL STYLE
My personal style has evolved since I began my career in fashion. It's a distilled version of both the avant-garde and classic. I would describe my overall personal style and design philosophy as "tastefully bold." I love to mix patterns and off-match colors. The clothes speak for themselves; you don't have to. 
DREAM CLIENT
In no particular order: Andre 3000, Prince, Anderson .Paak and Donald Glover because they are extremely talented and fascinating individuals that are style icons and have the ability to make anything they wear look good.
DESIGN PROCESS
I am inspired by the colors and textures of the natural world. There is so much beauty around us in Middle Tennessee that I feel it's natural to reflect what I see in my work. Inspiration comes at the most arbitrary moments, and my collections are inspired by memorable people or places I've visited.
JOB PERKS
I had the chance to make and deliver a star-studded suit to Little Richard at the Hilton Hotel, where he was living at the time, when I was a tailor at Manuel. It was uncanny because, within minutes of meeting him, he was reading my mind and acknowledging my personal traits. It was remarkably special because he told me he saw potential in me, and as a young designer, that meant a lot.
JOB CHALLENGES
The hardest, most rewarding part of my job is creating an incredibly well-fitting bespoke three-piece suit from scratch. I think the obstacle that has been personally most difficult to overcome is coming out of my introverted shell.
BIGGEST INFLUENCE
Tom Ford for his edgy, sexy, sharp, effortlessly striking designs; Thom Browne for his well-tailored, avant-garde designs and his unique take on menswear; [and] Tommy Nutter for his bold sartorial traditions that made waves on Savile Row and have outlasted his life.
BEST ADVICE
My advice for anyone that wants to get into fashion is to gain as much experience from every possible source you can before you decide what you want to do. I wish that I had worked for a larger design house that produced seasonal collections before I started my own business.
THE ERIC ADLER CLIENT
Lewis Lazare comes to mind because he is a well-read, daring dresser who is effortlessly gregarious. In general, unique individuals of all types that love to express themselves through fashion.
HUMBLE BEGINNINGS
The first thing I ever created was a skirt for my sister. It was a bohemian, floor-length skirt that had a floral/polka-dot pattern underneath a translucent coral cover. A more remarkable early design was a suit jacket that incorporated a combination of black and white pinstripes of different sizes with grey embroidery on the chest, back yoke and cuffs. It turned out to be one of my favorite creations that I designed and constructed when I was a tailors' apprentice at Manuel.
CAREER PATH
I moved abroad for a year to do some soul-searching, and I was doing laundry in my apartment in southern Spain when I experienced a moment of enlightenment and realized that I wanted to be a designer. Living in such a fashion-forward culture definitely inspired my decision to get into the industry.
IN THE WORKS
To be honest, I haven't had the most creative past year. Our shop in East Nashville was among the strip of homes and businesses that got hit by the March 2020 tornado, and [we] have been working from home ever since. In the meantime, though, I have proudly been working with a lot of exceptional gentlemen and women making custom suits, which is very rewarding. There's nothing like a sharp-dressed gent in a well-tailored suit.
FAVORITE DESIGNER
My all-time favorite designer is my mentor and friend Manuel, who gave me my start in the industry. He is a legendary man who has the creativity and vision to only make one-of-a-kind couture garments. His career has spanned over seven decades, where [he] has dressed some of the most iconic stars of the 20th and 21st centuries, including John Lennon, Johnny Cash and Elton John. Other than his immense wisdom and philosophical banter, I most enjoy his Old World process and the larger-than-life essence of his creations.
STYLE ICONS
Jeff Goldblum because he's upscale fashion-forward. A$AP Rocky because the guy can pull off any look and is always so colorfully dressed. He's a chameleon. Ryan Gosling always looks debonair on the red carpet. Locally, Alan Fry is a person that has never repeated an outfit twice. I would wager that he and Big Kenny have some of the most impressive and distinctive clothing collections in Nashville. These two are style icons.
FUTURE PLANS
I'm dreaming of finding a permanent home for Eric Adler Clothing. Right now, I love where we are, but I would love to settle in somewhere indefinitely and really create a unique customer experience.