Over the last decade, James Beard Award-winning chef Sean Brock has become a leading name in Southern cuisine, and one of his newest ventures in Nashville, The Continental, finally opened its doors this fall. Sean had the restaurant ready to go in September 2020 and had even begun accepting reservations, but the sudden spike in coronavirus cases in Tennessee stalled his plans. Now, the restaurant is officially open and serving up his unique style of American fare and fine dining.
With new takes on classic dishes from a bygone era, Sean brings more than Southern flavors to The Continental. Spanning the range of the continent, from oysters and caviar to venison and prime rib and from pâté en croute to Hudson Valley foie gras, you never know what you might find on the menu.
Located on the ground level of the new Grand Hyatt Nashville, with views of its historic neighbors, the Frist Art Museum and Union Station, The Continental offers the Nashville Yards a truly sophisticated dining experience. With a first-class train car aesthetic perfected by Nick Dryden of Dryden Architecture + Design that harkens back to a time when the Frist was a major post office and Union Station still hosted trains and their passengers, The Continental pays tribute to the great American hotels and restaurants throughout the 19th and early 20th centuries.
What to Expect
Reservations for the month open at 9 a.m. on the first day of the preceding month, so expect to make a reservation long in advance. While the menu is prix fixe, there are plenty of surprises heading your way throughout the evening. Some walk-in slots are available at the bar, but those are first come, first served. Either way, make yourself comfortable, because the full service will last about three hours, and the experience is well worth every minute.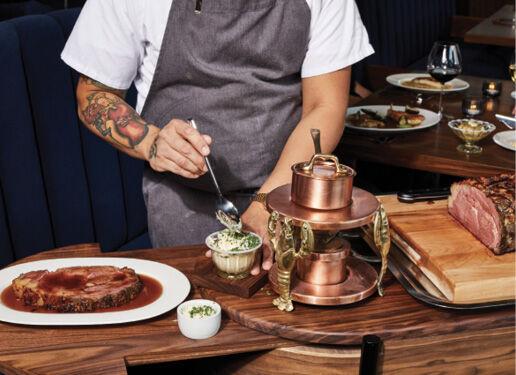 Why Visit
If you appreciate classic, continental American food and an elevated dining experience, The Continental is a master class in both. Many dishes are served with elegant tableside cart service, which adds a little theater to the meal without feeling like a sideshow. And every dish has a little Sean Brock twist on it that you won't find anywhere else. There is little chance you'll leave without a story to tell.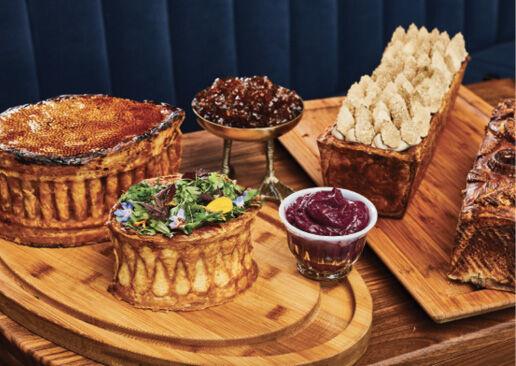 What to Order
With a prix fixe menu, the only things you need to worry about are the entrée and the dessert. For your first time there, you would be remiss if you didn't order the prime rib cart, which has a good chance of becoming your favorite steak in town. Make sure you take advantage of the incredible bar service, which offers a superb martini menu and a roster of classic cocktails.