Chef Trevor Moran knows how to concentrate big, innovative ideas about food into small, intimate dining spaces. The former chef of The Catbird Seat now translates his culinary ingenuity into Locust, a cozy 12South storefront with a menu headlined by dumplings and shaved ice desserts and dotted with dazzling accents, such as hand-cut noodles, charcoal-roasted oysters, beef tartare, shrimp toast, Dover sole and razor clams.
After a tumultuous inaugural year that saw Locust pivot to takeout, the eatery has opened the dining room, where Moran & Co. can now showcase the delicate origami of dumplings fresh from the kitchen before the steam has had a chance to cool. Whether it's grilled mackerel with roe and wild garlic; cucumber and gooseberry salad; or milky almond shaved ice with lemon thyme curd and warm salted caramel, expect to taste something you've never had before and now can't wait to taste again. There's a case to be made for ordering everything on the short menu and passing it around the table — maybe twice, depending on how many people are joining you.
Part of Benjamin and Max Goldberg's Strategic Hospitality family of restaurants, Locust's storefront — designed by architect Nick Dryden — swaps the gallery-like minimalism of The Catbird Seat for the cozy glow of a neighborhood eatery, with sidewalk dining, shaved ice takeout and occasional availability for walk-ins.
What to Expect
Dazzling cuisine plus limited seating and a four-day week (Thursday dinner, Friday through Sunday lunch and dinner) means you're going to want to make a reservation, so log onto Tock to secure a table with a $10 deposit and don't expect to linger at the table. Folks are swarming to get their hands on dumplings and shaved ice, so Locust limits lunch to 75 minutes and dinner to 90.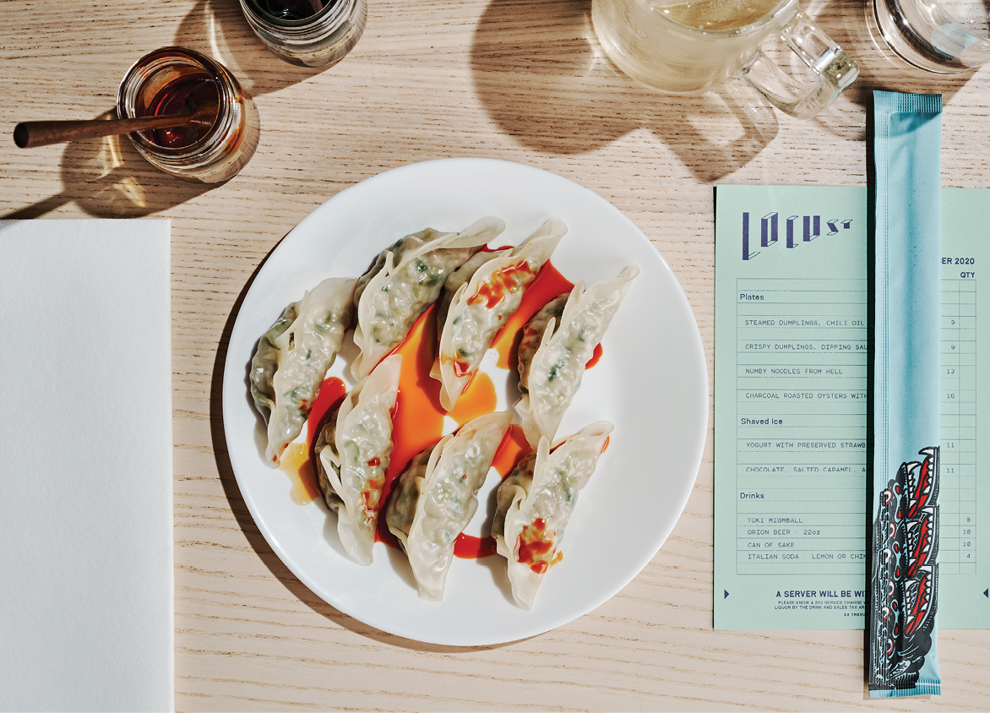 Why Visit
What's not to love about dumplings? Delicate and comforting, like little presents wrapped in dough — silky steamed or crisp pan-fried — they offer a decadent medium for Trevor and the dumpling gang to express their culinary creativity in bite-sized terms of fresh pork, sourced from Bear Creek Farm and cooked from tip to tail, utilizing the whole animal. A team well-versed in details of the menu can also guide the accompanying choice of drinks, such as sake, wine and highballs.
What to Order
Obviously, there are the dumplings, which might be stuffed with pork and laced with chili oil, for example. Then, there is the rotating roster that might include beef tartare with warm rice, peppery mayo and toasted nori; hand-cut cold spicy curry noodles with egg; or scallop-stuffed chicken wings with broth. Top it off with shaved ice infused with chocolate, passion fruit, cherry sauce or salted caramel, available for dining in or takeout for a walk in the neighborhood.
Photographs by Andrew Thomas Lee and Camille Tambunting