The skies are clearing and the weather is warming up, making it the perfect time to enjoy a cocktail outside. And what better to pair with your favorite libation than a phenomenal view? There's a plethora of rooftop bars in Nashville, with more added each year, so there's no shortage of spaces to enjoy a scenic view with a good friend and a drink in hand. We rounded up a list of five new and noteworthy places to add to the list of rooftop bars worth visiting this spring or summer.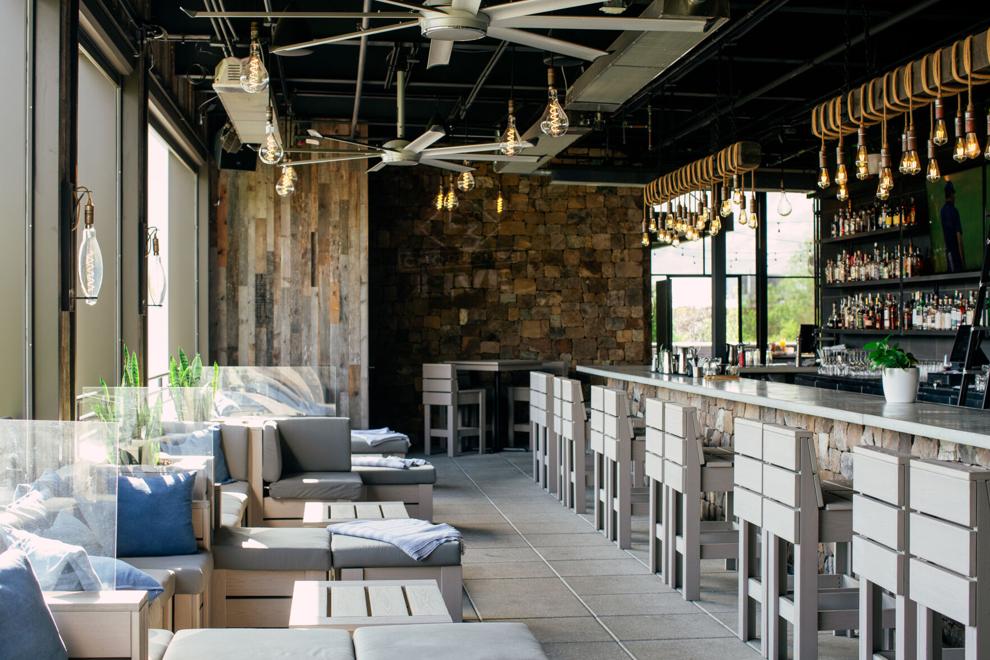 E3 Chophouse
While most of the city's rooftop offerings have you surrounded by skyscrapers, E3 Chophouse provides a nice change of pace from its perch on the corner of 21st and Wedgewood avenues. Overlooking Hillsboro Village, the steakhouse's third-floor bar is the perfect spot to enjoy an expertly prepared cocktail, weekend brunch or a multicourse dinner. With indoor and outdoor spaces that include fire pits, couches, bar seating and high-top tables, E3's rooftop experience is elevated in more ways than one. The full menu, which includes seasonal cocktails, an extensive wine list, hors d'œuvres, hand-cut steaks, fresh seafood, shareable sides and more, is available on the rooftop, and the restaurant recently announced Saturday brunch service, so you can literally enjoy this space morning or night.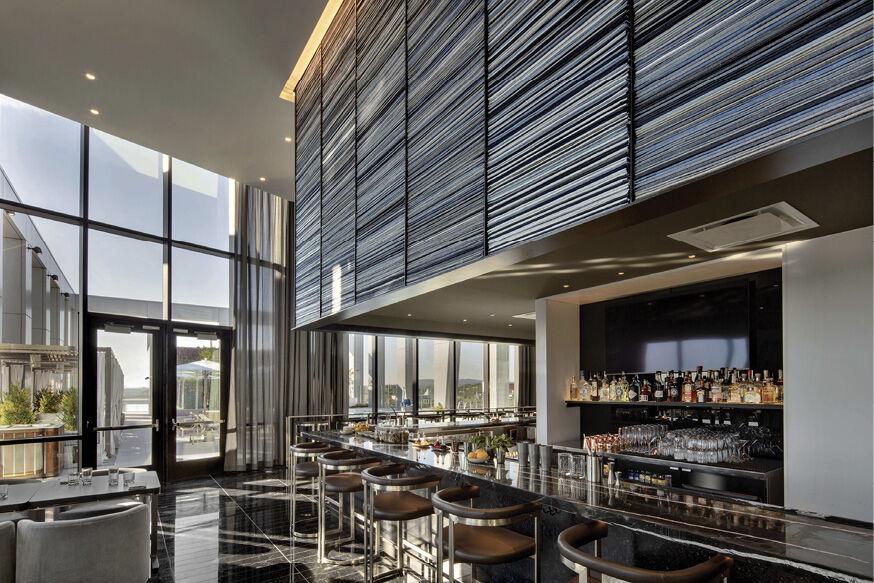 Denim
Step off the elevator onto the 21st floor at Denim, The Joseph's rooftop bar, and get swept away by stunning views and spectacular service. The gorgeous pool makes a handsome centerpiece for luxurious cabanas that provide privacy and social distancing. Seasonally inspired craft cocktails, such as the Adult Swim — a crisp vodka concoction with hibiscus, ginger, lime and prosecco — are backed up by an impressive list of wine and spirits. The sky-high destination recently added lunch service, available Tuesday through Saturday, with a casual menu from James Beard Award-winning chef Tony Mantuano that includes mussels, pizza and steak frites. Whether it's drinks with friends or a romantic dinner, Denim is always a great idea.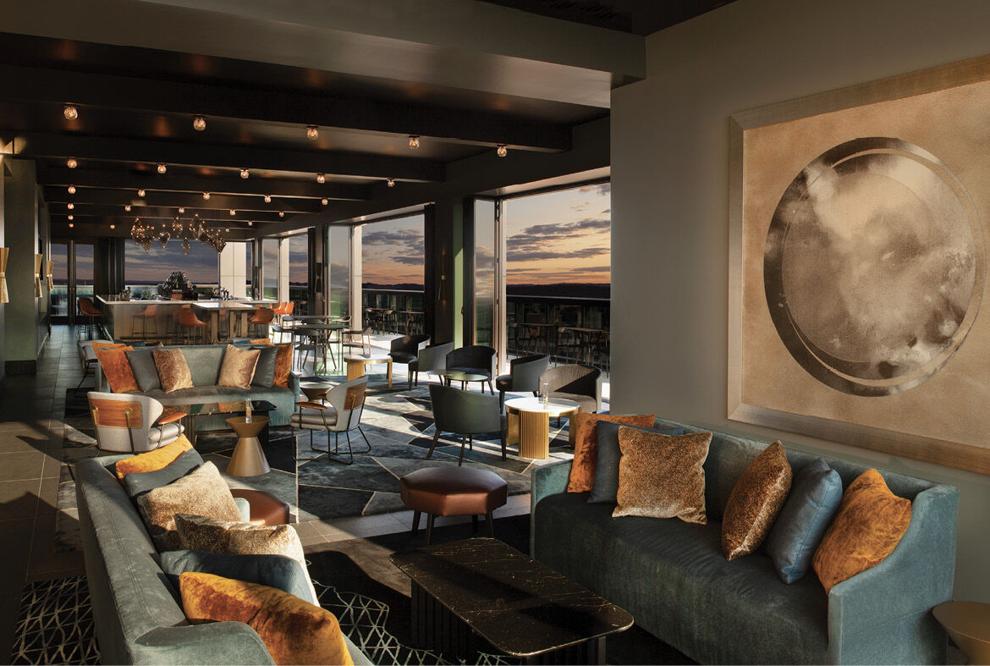 Lou|Na
Named for the Louisville & Nashville Railroad, Lou|Na sits 25 floors high at the top of the new Grand Hyatt Nashville and offers creative small plates and cocktails to enjoy while taking in the stunning views of downtown Nashville and the surrounding hills. The menu also features an extensive list of wines, beers, spirits and intriguing mocktails that sound delicious even when you would typically opt for something a little stronger. And if you're so inclined, there's a short list of cigars available, as well. With collapsing floor-to-ceiling windows, there's always plenty of comfortable, open-air seating, whether you're inside the building or on the large patio next to one of the fire pits. The elegance and vibrance of the décor and atmosphere will make any evening at Lou|Na a special experience.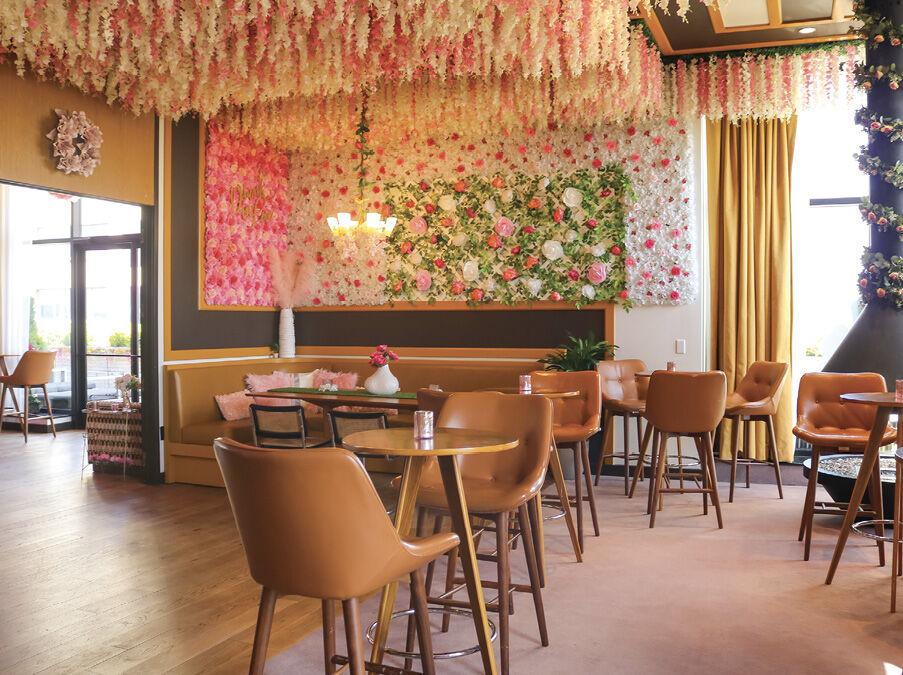 Bouquet Bar
The Fairlane Hotel already afforded guests a great space to enjoy cocktails, bites and downtown views from Ellington's Mid Way Bar & Grill on the fourth floor, but in the last year, they've created yet another gathering spot on the top floor. What was formerly the hotel's chic penthouse suite is now home to a blooming pop-up called Bouquet Bar. Decorated from top to bottom in pretty pastel florals, the hotel is a springtime sanctuary for enjoying a drink with friends and soaking up sunset views in downtown Nashville. In addition to the floral-inspired cocktails, there is a small selection of appetizers, including a hearty cheese and charcuterie board, perfect for sharing. Bouquet Bar opened in early March, but it isn't the first themed bar to occupy the space. Last winter, the penthouse was outfitted for Christmas at the holiday-themed Misfit Bar. Bouquet Bar will close at the end of May, but the hotel will be hosting more unique pop-up experiences in the months to come.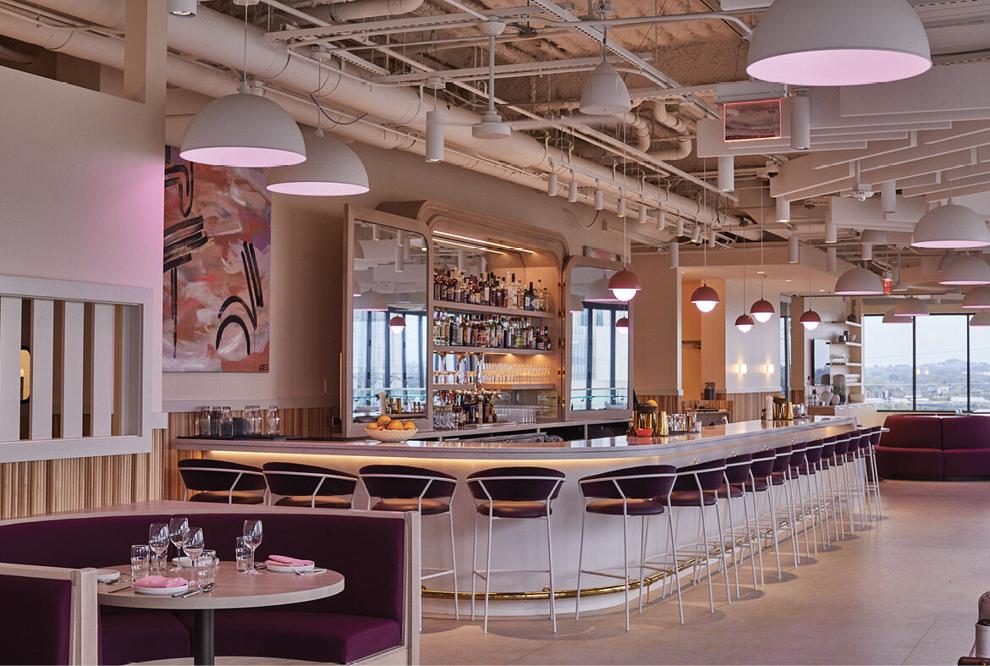 Zeppelin
As one of the newest rooftop bars on the block, Zeppelin is already attracting hip after-work crowds who enjoy great cocktails paired with modern design. Defined by a clean white palette, the space is accented with pink and purple hues and lined with walls of windows that can be fully opened when the weather is nice. A wide patio, with comfortable seating and fire pits, affords views of the Tennessee State Capitol to First Tennessee Park. Classic cocktails with an interesting spin, such as a brown butter old-fashioned or a gimlet-daiquiri hybrid, are served alongside original concoctions, such as the the Gold Rush, a refreshing blend of whiskey, pear, lemon, ginger, turmeric, honey and absinthe, served up in a coupe that's been painted with gold dust. The tapas-style menu is dominated by shareable plates, like steamed mussels and steak tartare, but also includes a few heartier entrées, like a patty melt or a New York strip steak, in case you're having so much fun you want to make an entire night of it.