On a Saturday afternoon in a secluded corner of a Brentwood city park, white paper lanterns dangle from a wrought iron stand flanking a wooden table. Its surface is covered with strategically placed tulle and greenery, along with hurricane lamps with a rich patina and colorful, fresh flowers in Mason jars. White plates adorned with hearts sit atop black-and-white plaid chargers. As if to beckon guests to stay a while, there's also a white fringed throw and large sherpa pillows for lounging.
For Jam Stewart and Stuart Currie, the architects of this picturesque scene, there's much more to a picnic than just packing a basket. The owners of Picnic PopUp, which launched a little over a year ago, had been thinking for a while about starting a company that would elevate picnics to a whole other level. It would also allow the client to just show up — no more frantically searching for the bug spray or forgetting the sunscreen. Then, the pandemic hit and they put the idea on hold.
"I'm six months into COVID," says Jam, "and I'm like, this isn't a back burner idea. We should be doing this. People are going — we felt it — stir crazy. I thought, if I walk my neighborhood one more time, I'm going to lose my mind." So, in June of last year, the pair joined a growing nationwide trend of companies that plan and bring to life a client's vision for the ultimate outside gathering — or in some cases, inside.
On Valentine's Day, Amanda and Jason Moss, who live in Westhaven with their two children, ages 6 and 11, enlisted Picnic PopUp for a romantic dinner for two outside. A snowstorm derailed their plans, so they had to pivot. Instead, they had a festive family indoor picnic with red and pink balloons, pale purple tulips, Valentine's Day-themed pillows and a dessert charcuterie board from the company's partner, WillCo Wine and Cheese. "For me — and I think for a lot of people and parents out there — after this year we've had," says Amanda, "it's like, where can I make magic? Please just let me make magic for myself, for my family, for my kids. And I thought, this is magical."
Whether it's planning a picnic to celebrate a grandparents' reunion with family they haven't seen in over a year or celebrating a couple's wedding anniversary, Picnic PopUp can help a client choose from an assortment of themes or the customer can design their own. They can either provide their own food or order from WillCo, so guests don't have to worry about anything except showing up and enjoying the setting.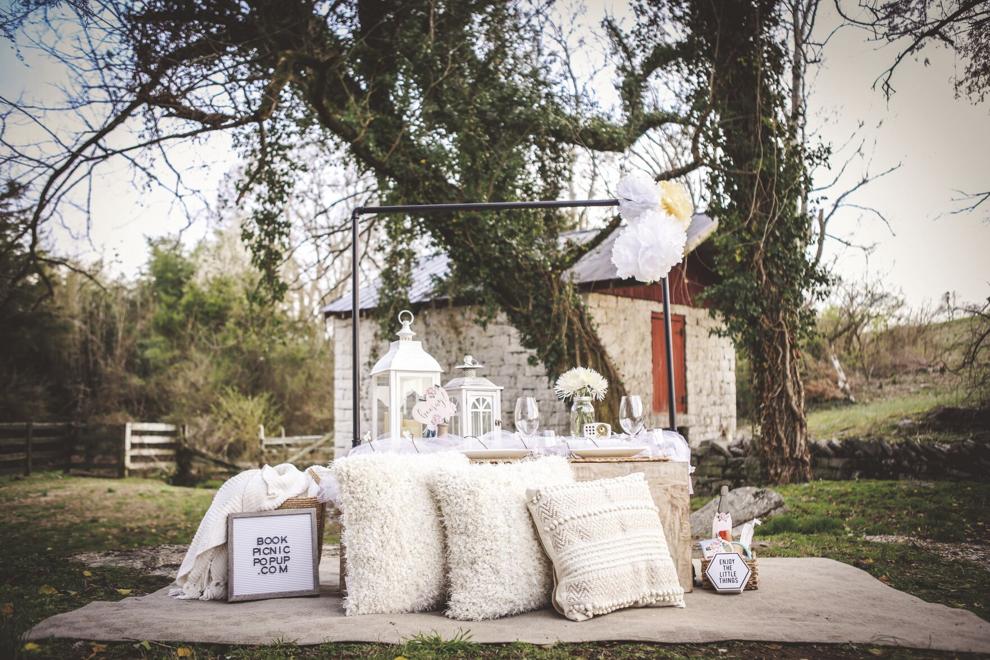 Icing on the Cake
Picnics for four start at $215 and last two hours. They can be personalized by adding extras, such as a charcuterie board from WillCo, balloons, a retro Bluetooth radio speaker, a bubble tent and a 6-inch custom cake. Photographers may be booked to preserve the memories. Jam and Stuart create the quintessential backdrop and then leave, returning just in time to pack up. Clients can add a third hour, which Jam says is a nice option if they want to invite additional guests.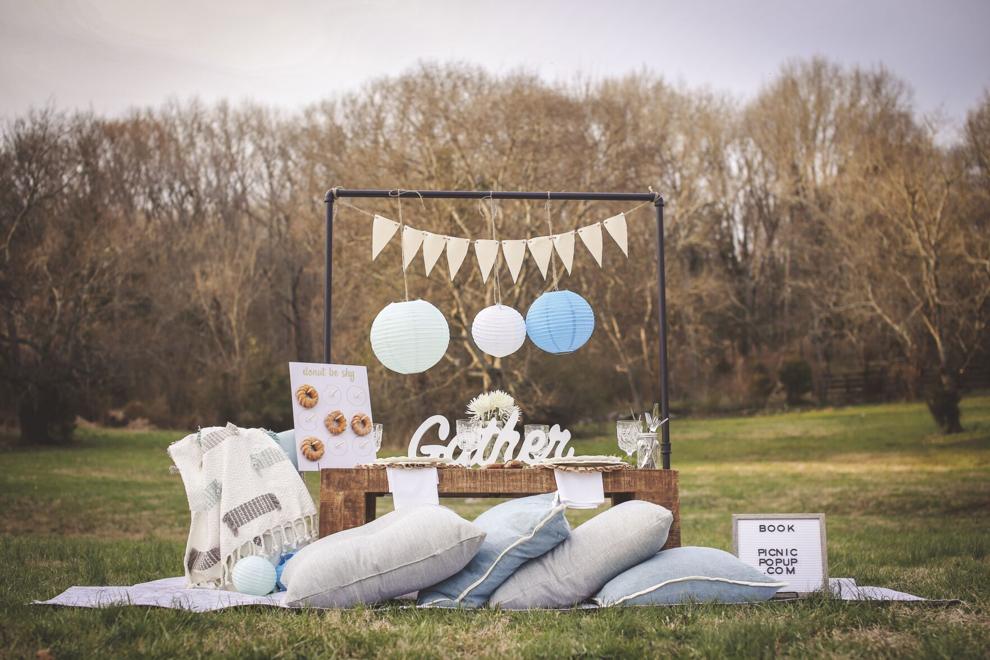 Theme Party
There are a half-dozen themes to choose from, which can be combined and customized. The Picnic PupUp caters to four-legged family members, offering pup party hats, dog treats and, of course, water bowls. Clients frequently want to include their pets, so aspects of PupUp can be incorporated into other themes, such as Southern Charm, which features decorative bird cages, fresh flowers and Southern-style place settings. There's even a Slumber PopUp, which includes individual tents, twin bedding, luxe linens, plush throw pillows and balloons.
Romance Language
Perhaps the most popular theme, Just a Kiss, includes a rustic table, strings of fairy lights, fresh flowers and plush pillows. Fitness model and personal trainer Dallas Stephens surprised her boyfriend, singer-songwriter Levi Hummon, with a romantic picnic at Marcella Vivrette Smith Park in Brentwood to celebrate their one year anniversary. "It was amazing quality time with no distractions and no scrolling on social media," says Dallas. "It was great. It was cute and romantic. … It was just a different kind of date."
A Little Backstory
Jam, whose day job is working in corporate affairs, grew up in Chicago, and Stuart, a professor at UT, spent his childhood in a small town outside Cambridge, England. He has fond memories of his family packing up the picnic hamper and heading to a beach or park to spend the day. The couple, who live in Franklin, are particularly taken with the idyllic settings at the many public parks around Middle Tennessee and intend to showcase them by creating the perfect picnic.
Photographs by Eric England and MagnifyU Photography