The newly built, majestic limestone building at 2020 Belmont Blvd., with its architectural pedigree and perfected acoustics, has the hallmarks of a world-class, multi-use performance venue. Part of Belmont University, The Fisher Center for the Performing Arts might also be one of the world's largest classrooms.
"It is absolutely where students can learn everything from the very, very basics of ushering and ticketing, taking it all the way up to managing a theater," says Chaz Corzine, executive director of the Fisher Center.
The meticulously planned $183 million venue, located where International Market used to be, took four years to build and opened last September. It was designed by ESa architects, who also designed the Schermerhorn Symphony Center. It is named for recently retired Belmont President Bob Fisher and his wife, Judy. The area in front of the building, highlighted by fountains, is called Dickens Plaza after former board of trustees Chairman Marty Dickens and his wife, Betty.
When guests first walk into the building, they'll enter a three-story grand foyer with gleaming granite floors, fluted Corinthian columns, and soaring double-height windows. It can accommodate 500 for a seated dinner. All the spaces may be rented out for weddings or events. There is both a catering kitchen and a warming kitchen on-site. Sodexo is the in-house caterer. There are two ballrooms that are "identical visually and, sonically, completely different," says Chaz. "This one [the South Ballroom], you can put an acoustic piano or a violin in here and have lots of echo. … The one down there [the Brad and Kimberly Williams-Paisley Ballroom], sonically, is completely dead, so you can put a band in there. They're designed for two different types of uses."
The ballrooms have multitiered brass chandeliers that are smaller versions of those in the lobby. The walls and curtains, in various shades of blue, complement the herringbone Brazilian chestnut floors. "There's a slight spring to them so our [dance] students can rehearse in here," says Gage Baxter, director of external affairs, referencing the South Ballroom during a recent tour. "Our musical theater students could rehearse in here, too, to choreograph. This is a great space."
"Both ballrooms, identical in dimensions, are the same space as the stage, without the wings, so they are ideal for rehearsal," adds Chaz. The performance hall, modeled after European opera houses, has four floors and 1,727 seats. With a focus on comfort as well as beauty, it is outfitted with plush, blue, roomy theater chairs that allow for plenty of legroom.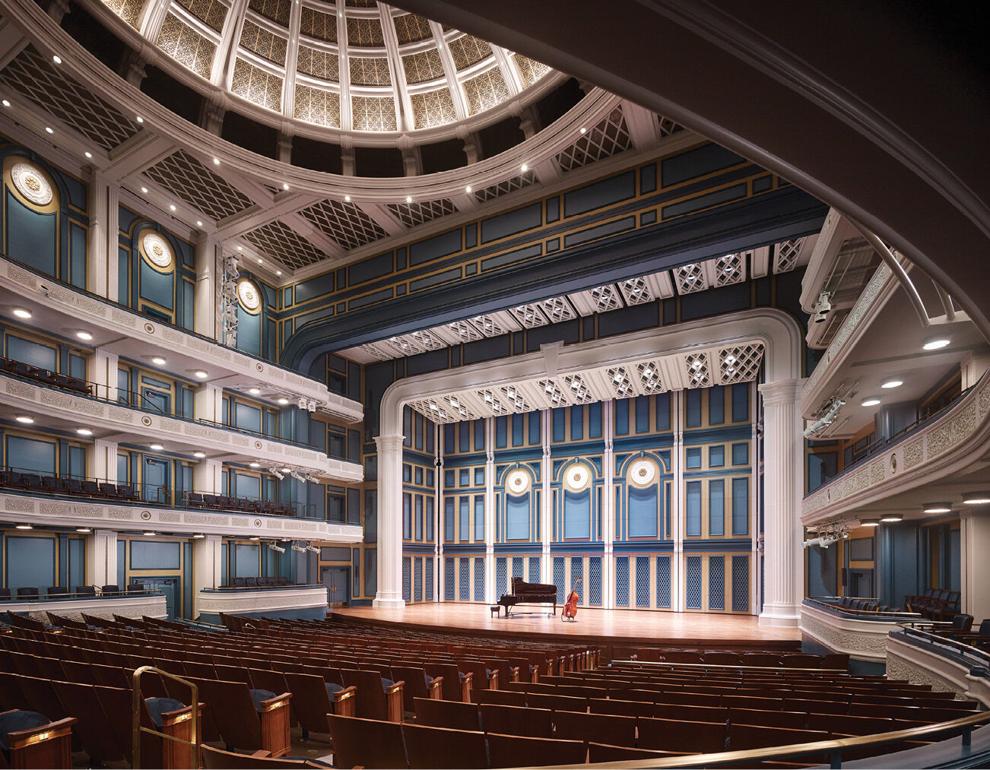 The Stage Is Set
The stage area is incredibly versatile, with an orchestra pit that can accommodate up to 80 musicians as they perform below the stage in the case of a musical or dance performance. The Nashville Ballet and the Nashville Opera have both held performances in the new center. But if, say, a symphony orchestra were performing, the musicians would typically be onstage. A custom-built orchestral shell — a movable structure composed of sidewalls and ceiling enclosures — helps push sound forward, making for a pitch-perfect classical performance.
The Sound of Music
Acoustics were a main consideration in the design of the performance hall. The Connecticut-based company Akustiks, who also consulted during the construction of the Schermerhorn, was brought in. Even the decorative plaster adorning the tiers of seating aid with the acoustics. The texture helps to break up the sound much better than a flat surface, says Chaz. The design of the ceiling — a dome that looks like stars twinkling on a clear night — recreates the constellations on the night in 2000 that Bob Fisher became president.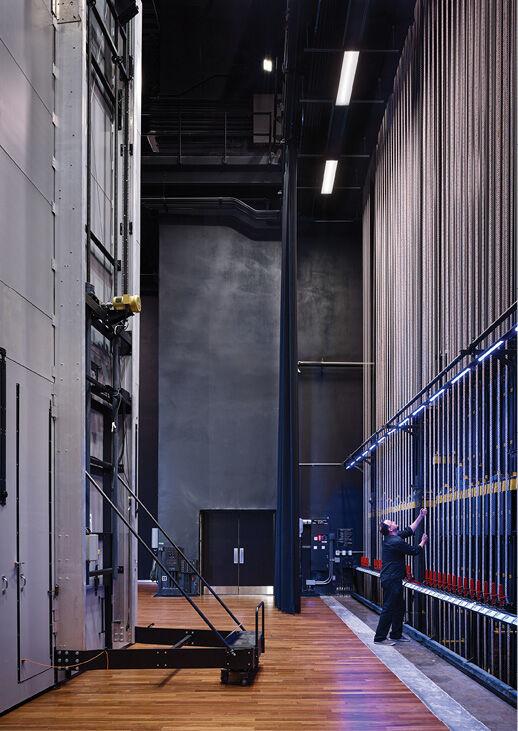 Backstage
There are seven dressing rooms — two with full baths so artists can shower after a long day of rehearsing or being on the road. There is also a wardrobe room nearby, which includes storage, sewing and laundry needs for varying sizes of productions. And of course, what backstage area would be complete without a green room outfitted with audio/visual components so artists never miss a cue? Also nearby is a rehearsal space with a sprung dance floor that, like much of the building, can serve multiple purposes.
Photographs by Nick Merrick at Earl Swensson Associates