Anyone who believes that you have to rough it to enjoy a rustic vacation hasn't enjoyed a stay at one of Holly Williams' charming rental properties. In addition to owning the luxury fashion boutique H. Audrey and modern-day general store White's Mercantile, the talented singer-songwriter also runs White's Mercantile Room and Board, a hospitality company that delivers memorable escapes at historic Tennessee homes.
Scrolling through Holly's social media, you'll soon realize she has a passion for renovating homes — 10 in the past five years, to be exact — but by no means is she a flipper. She is motivated by a love of bringing old buildings back to life, restoring them to their original beauty and preserving their stories for the future. She credits her grandparents June and Warren White, whose welcoming home was a wonderful mix of family heirlooms, new pieces and antiques, as her inspiration.
It's in that spirit that Holly restored and decorated Fox Country Farmhouse, Center Hill Cabins and Sweeney Cottage, the three Room and Board getaways available for rent. Each property reflects Holly's personal decorating style of blending classic, timeless design with fun patterns and color for an unexpected flair. That "flair" shows up in bold wallpapers ranging from deep green florals to British hunting scenes, floor tiles in rich patterns, ceilings painted in dramatic shades and antiques and rugs sourced from all over.
For modern comfort, each house has a fire pit, gourmet kitchen and appliances, cozy fireplace, soaking tub and, to ensure a good night's sleep, luxury linens. Guests will find the homes stocked with her favorite board games, coffee table books and stemless wine glasses from White's Mercantile. And what would a stay be without a Gibson guitar or two for guests to connect with their hidden songwriter?
It is more than growing a business to Holly. "Getting to be creative is a massive reward in itself," she says. "I'm deeply grateful whenever a project begins, because I love the challenge of it, and whenever it ends, because there is nothing more gratifying than knowing that there is another house saved and revived!" Fortunately, Holly is sharing the stories held by White's Mercantile Room and Board with those of us seeking a little peace and quiet in a relaxing and beautiful setting.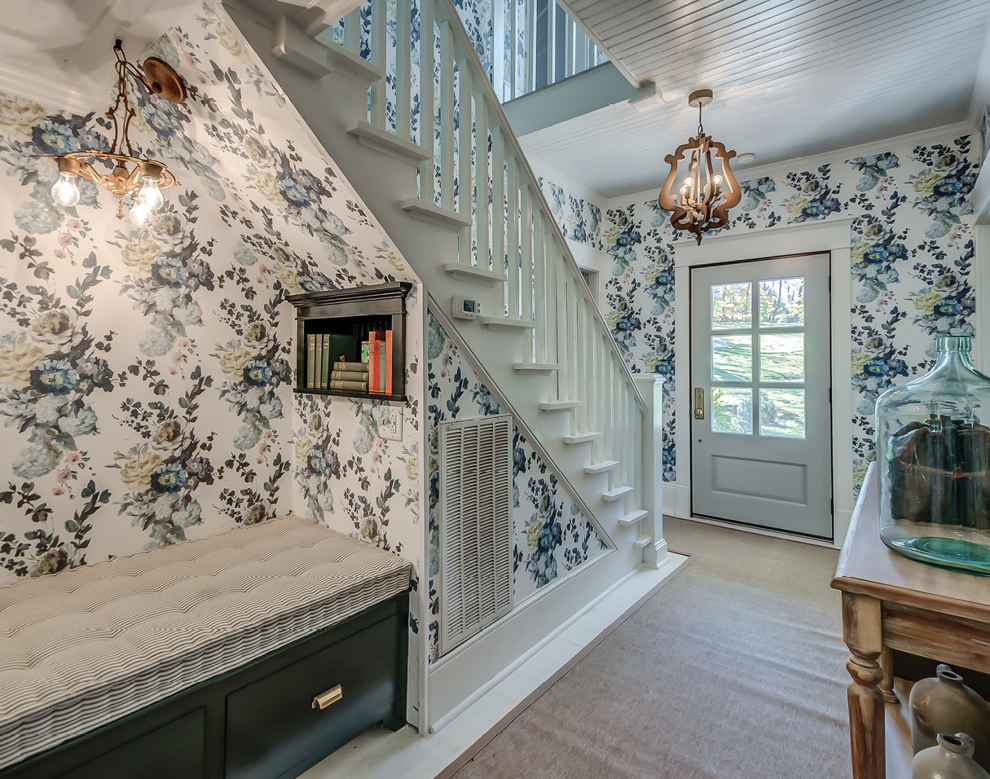 Take a Chance
Holly uses wallpaper in all her homes, including the Room and Board houses. She loves the way it adds so much character to a space and transforms it much faster than any art or décor can. That's certainly the case with this vivacious floral Seraphina paper from Designer's Guild, which fills the foyer and the second floor hall. She says her decision to put it all the way up the stairs is "one of my favorite risky moments!"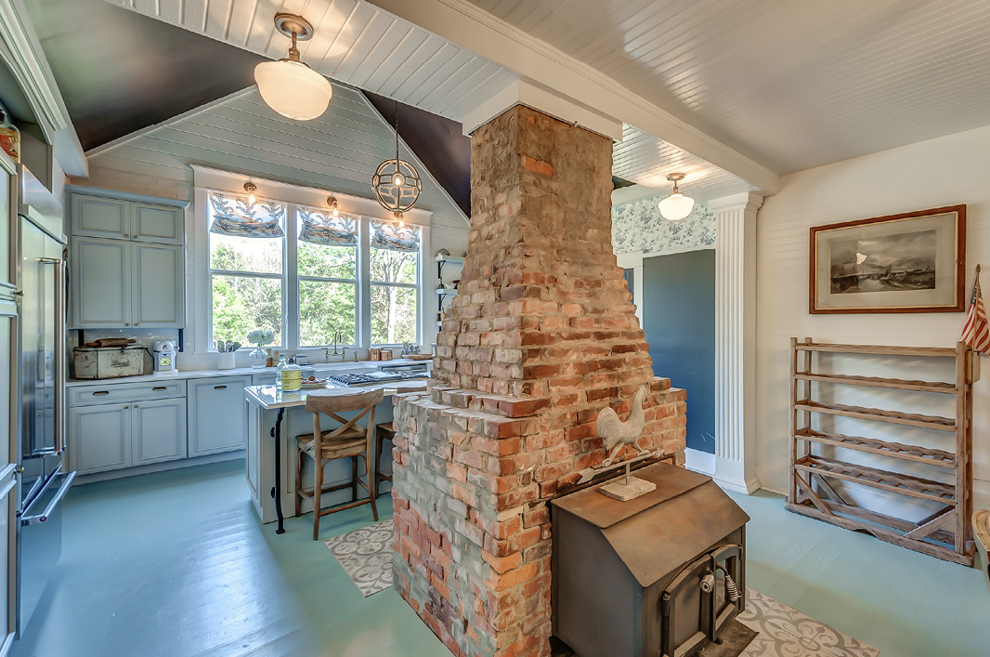 First Step
It all started with the two-story Fox Country Farmhouse located in Cornersville. Holly immediately fell in love with the 1860s home sitting on 8 acres when she found it on Craigslist. While it has been fully renovated, original features, like the beadboard walls and ceilings and pine floors, were simply cleaned up and given new life with paint. In the kitchen, the old fireplace takes center stage among modern, stainless steel appliances.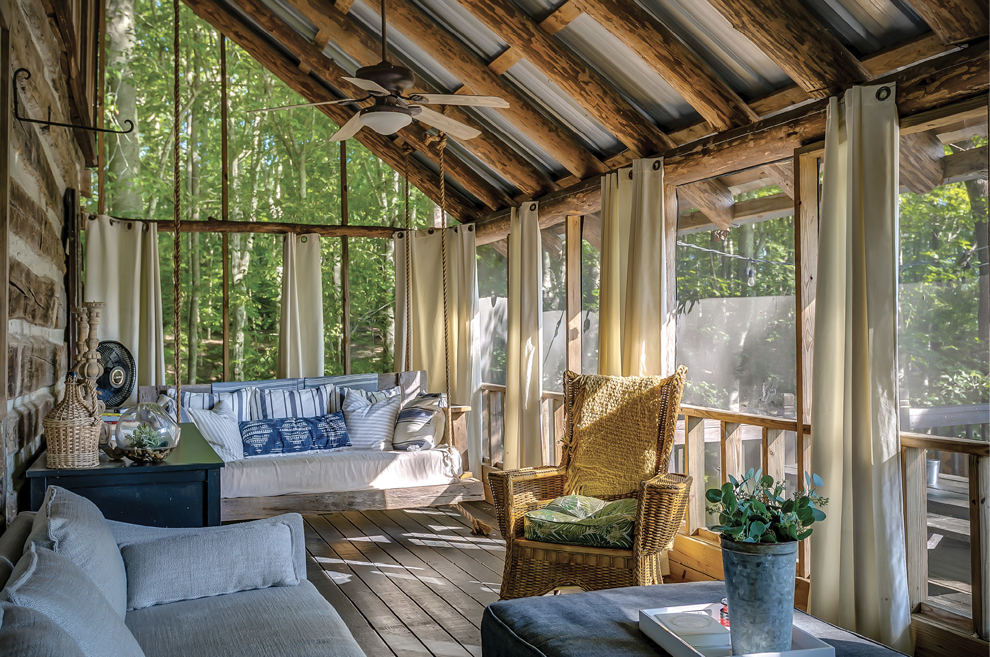 Point of View
All of the properties have at least one porch, but according to Holly, "The dreamiest porch in the world is the screened-in porch at the cabins at Center Hill, especially during a rainstorm on the tin roof!" On clear days, guests can lounge on that main cottage's bed swing and take in ridge-top views of the lake, valley and surrounding woods. And at night, moving to the back deck guarantees a perfect spot for stargazing.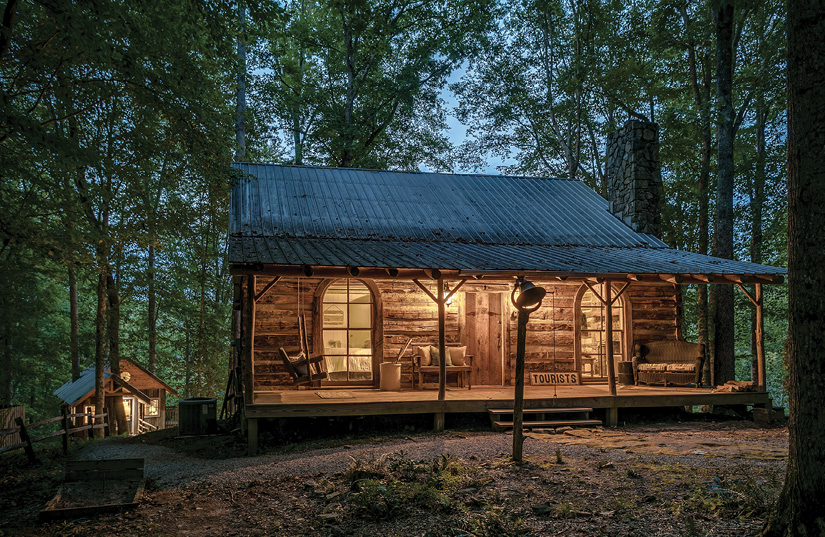 Rule of Three
The three buildings at the Center Hill Cabins are on the smaller side, making the cozy site perfect for a family or friends getaway. While more neutral in palette than the other properties, Holly brought in splashes of color with bright rugs and textiles. She is known for scouring local antique malls, including favorites GasLamp in Berry Hill and Serenite Maison in Leiper's Fork, for the great finds that give so much character to her projects.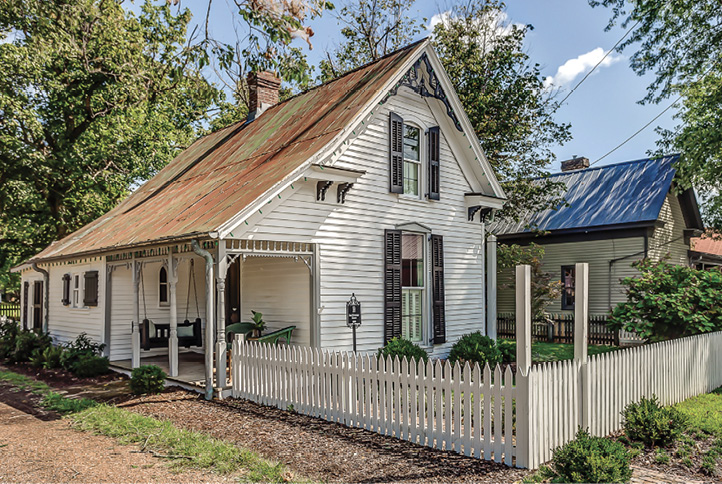 Step Back in Time
Built in 1892, the Sweeney Cottage is the only nightly rental available in Leiper's Fork Village and is located steps away from the music, food and shopping the quaint town is known for. The small Victorian captures the essence of Holly's style, with its antique furniture and accessories and delightfully patterned wallpaper. She renovated only where needed and preserved where she could in order to let the history shine through in this stunning home.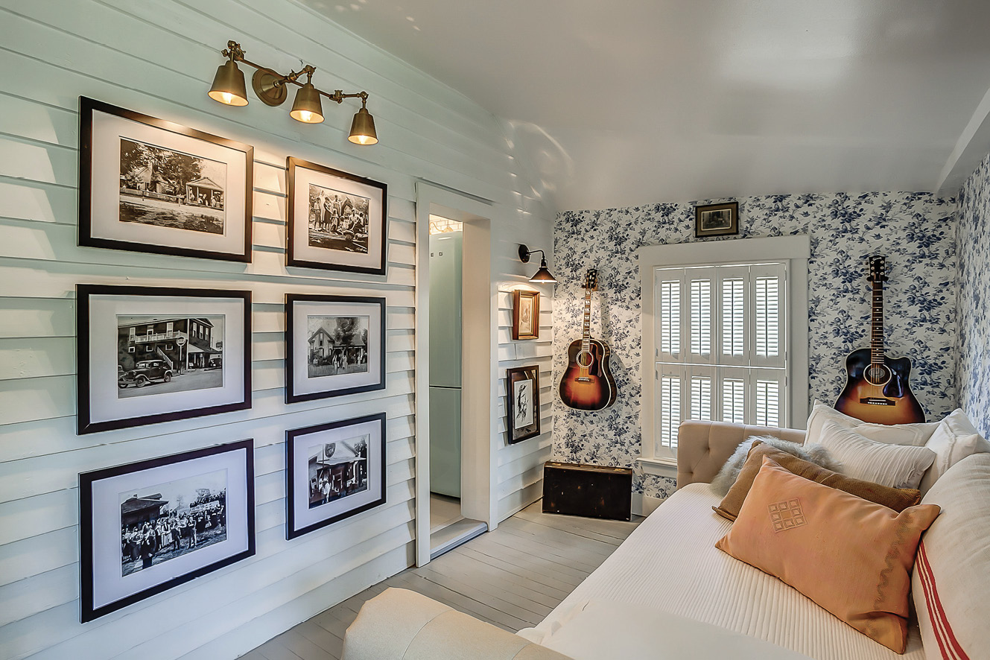 Something Old 
It's one of Holly's rules: Every home needs something old. She also maintains it doesn't have to be expensive. It can be as simple as investing in some beautiful, old framed pictures to add character and warmth. Holly is also a big fan of antique Turkish rugs, vintage silver bowls and old mirrors, especially when hung in groupings.
Photographs by Jay Winter, Home Pix Media