Pam and Steve Taylor can walk out onto the terrace of their newly built house perched on the side of a mountain in Sewanee and see a herd of buffalo, belonging to a neighbor, roaming the pasture below. Stella, the couple's golden retriever, and William Blaze, their Welsh corgi, can often be found enjoying the afternoon sun on the nearby boat dock on the lake.
For the couple, both lawyers recently retired, it's the perfect setting for a second home and a new chapter. "In looking for a home, we're not beach people," says Pam. "We're not golfers. We realized what we really like are the mountains. Once we started looking, we thought, Sewanee is an hour and a half from Nashville. It's accessible. You can go back and forth whenever you need to or want to." Having the university close by, with its various programs and activities, was also a draw.
"We decided we wanted a bluff mountain-view lot and started looking," says Pam. They found a 6-acre piece of property in a new community, Myers Point, and in 2015, they purchased the land on which to build their dream home — a three-bedroom house with spectacular views from every room.
The Taylors enlisted architect Van Pond, landscape architect Ben Page and interior designer Ralph Cadenhead, all of whom they have worked with for years. The 4,500-square-foot Arts and Crafts-style house features an open kitchen, two guest suites and an impressive wine cellar.
"They didn't want the typical cliché mountain house with lots of antlers and plaid blankets and that kind of thing," says Ralph. "They wanted something that would be appropriate for the mountains and still be very comfortable and livable but sophisticated, as well."
The main consideration was how to most effectively bring the outside in. "We wanted every room, if possible, to take advantage of the views," says Pam. "That was the main focus. And we wanted it to be open. Steve very much wanted it to be big and open, which is very different from our Nashville house, because our Nashville house is 110 years old, and it's just a different style."
Most of the square footage is utilized in the living spaces. The kitchen, with two islands — one Calacatta Gold marble, the other, honed black granite — opens up into a large dining and living room area, highlighted by a limestone fireplace. A favorite room of the house is a screened-in porch with a pitched roof, soaring ceiling and stone fireplace.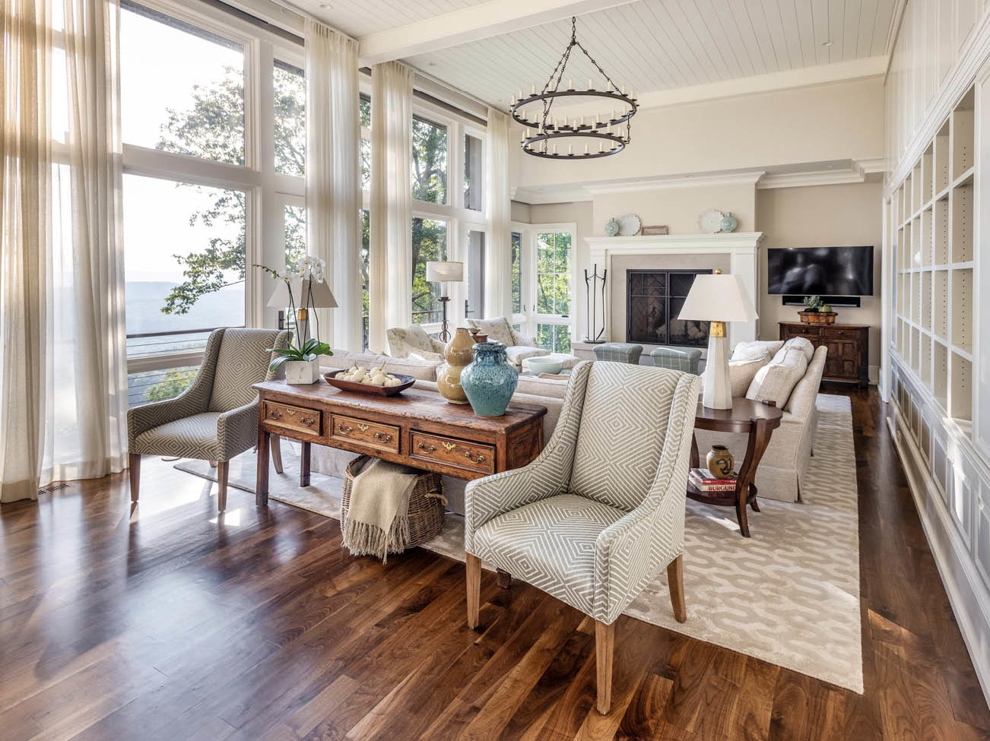 Complementary Colors
The color scheme for the main living area started with a patterned oatmeal and leaf green linen fabric featuring magnolia blossoms. It was used for accent pillows and club chairs that flank two oatmeal chenille sofas. "On the inside, we didn't want to do anything that would stop your eye from immediately looking to the outside," says Ralph, who chose primarily neutral colors, accented with various shades of blues and greens to echo the trees and the sky, which are in plain sight.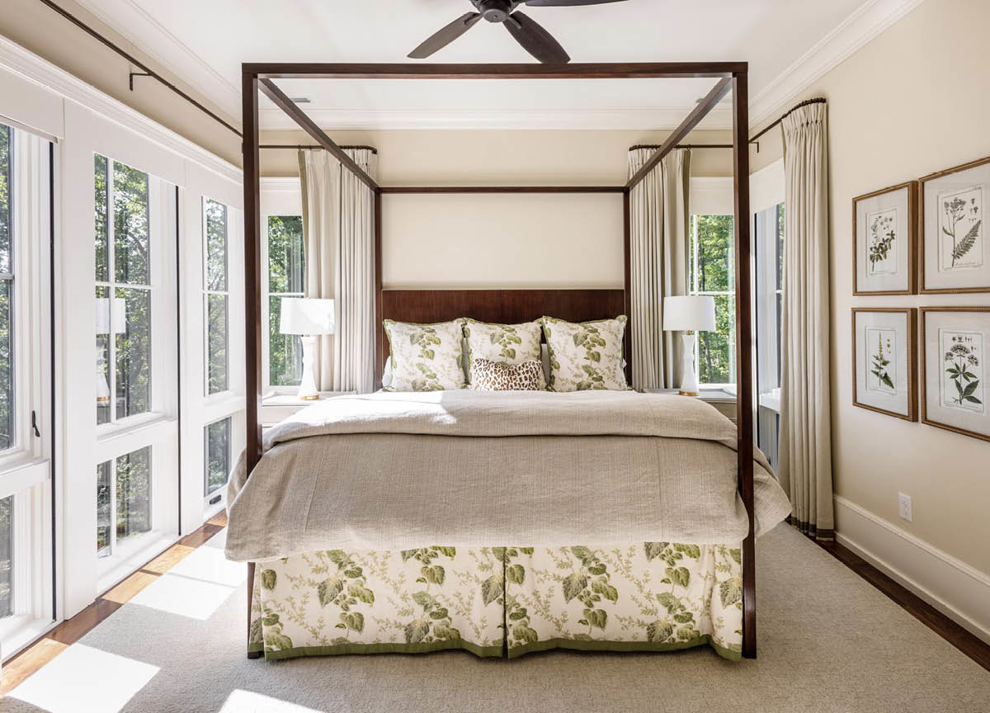 Rooms With a View
The master, with a canopy bed and sitting area, is on the main level, and the guest bedrooms are on the lower level. Like the rest of the house, the bedrooms showcase the spectacular sunrises, sunsets and everything in between. "You do not get tired of the view," says Pam. "And it's certainly beautiful [in the fall] with the colors beginning to change. It's beautiful in the spring. We actually find it pretty in the winter, when it's gray and foggy and raining."
Photographs by Reed Brown