Seven years ago, Kathryn and David Brown moved into a true Nashville gem. Completed in 1965, the French Regency manse was designed by Edwin Keeble, the well-known architect responsible for dozens of notable homes, as well as downtown's iconic L&C Tower. As anyone who is lucky enough to own a Keeble would do, Kathryn and David respected its historical significance by making only modern mechanical upgrades while keeping the interior — including the original floors — untouched.
The Browns entertain often and wanted the outside to function as well as the inside, whether for two or 200 guests enjoying everything from casual cookouts to formal seated dinners. They assembled a team that included architect Jamie Pfeffer, landscape architect Gavin Duke, arborist Tom Powers and interior designer Monty Smith to assist them in accomplishing these goals. Together, they conceived a plan that was for more than just gardens but one that revolves around outdoor living. The result is a comfortable, contemporary feel with multiple outdoor "rooms" that complement the tone of the existing architecture and blend seamlessly into the surroundings.
Referring to Gavin, Kathryn says, "You can talk about how you like to live — the things you like to do in your home — and then, he dreams these beautiful, magnificent venues, vignettes and rooms. His ability to adapt to different people's personalities and the way they live is such a gift." To bring Kathryn's outdoor vision to life, Gavin and Tom first installed a backdrop of magnolias, cedars and hollies to provide structure, texture and year-round interest. Within that evergreen framework, Gavin designed spaces for the interior courtyard, fire pit, the pool and pool house. The use of limestone brings areas to life and stays cool enough, even in the hottest months, for anyone who wants to kick off their shoes and explore barefoot.
In addition to hosting friends and family, the Browns have opened their doors for nonprofit events, including the Swan Ball Patrons Party, where the tent fit perfectly — just as planned — on the performance lawn. While the pool house, with two bed swings on the porch, is a popular spot for cocktails, Kathryn adds, "We use all of it." One look around and it's easy to understand why.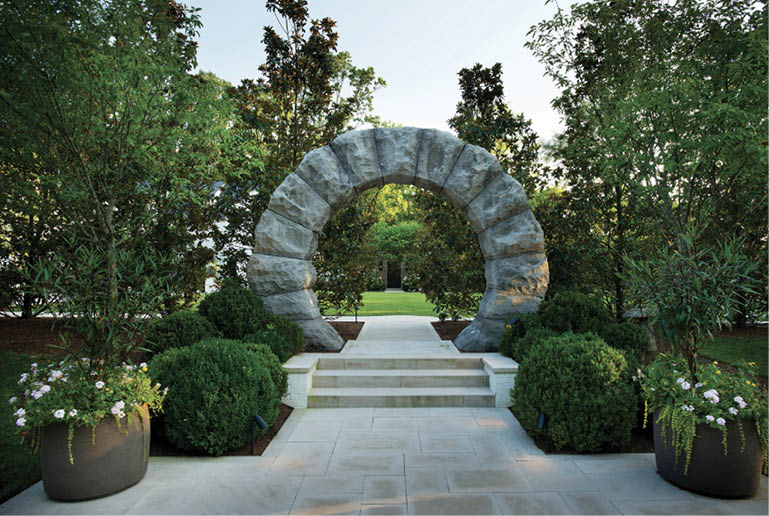 Art in the Garden
As much a dramatic sculpture as functional element, the moon gate makes a beautiful statement in the yard. Gavin designed it based on Kathryn's inspiration photos of the traditional Chinese garden feature. Similar to the earliest gates of stacked stone, this one is built of single stones. Masons hand-chiseled each piece of Texas black limestone on site. In its conventional purpose, the gate makes an enchanting passageway, from the performance lawn to the pool house.
A Room for All Seasons
The Browns added on the roomy, screened-in porch, which blends seamlessly with the original house. They enjoy it year-round, thanks to sides that cover the screens, heaters built into the ceiling and the generously sized fireplace. Monty sourced inviting and comfortable pieces to accommodate frequent visitors. When warmer weather rolls around, the doors swing open, and the party spills out onto the interior courtyard.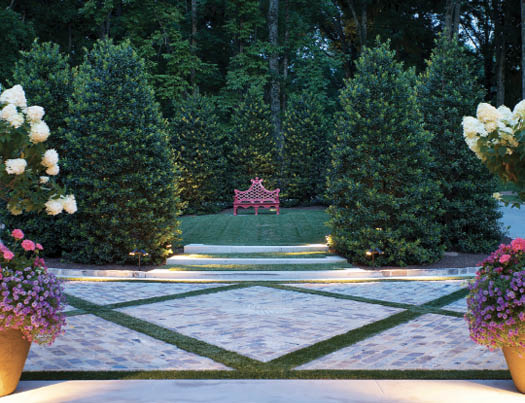 Take Another Look

Whether beginning a new project or revamping existing gardens, Gavin says it is important to consider how outside spaces are viewed from the inside, and he practices what he preaches. Kathryn appreciates the beautiful perspectives from every window, including this view to the front of a "secret garden," where a bench that belonged to her mother is surrounded by hollies.
Photographs by Reed Brown Photography