Built in 1917, the Belle Meade Apartments building was designed by renowned architect Edwin Dougherty, who was also responsible for the Belle Meade Country Club located across the street. An excellent example of the Elizabethan Tudor style of that period, the three-story structure was listed on the National Register of Historic Places in 1984. The classic features that earned its designation are as equally stunning on the inside as out. Only a handful of people have been fortunate enough to live here over the past century, and the current owners of this condominium are among them.
The residence, which was at one time two apartments, retains the original architectural features: oak floors, fine woodwork, pocket doors, distinctive windows and elegant mantels in the Adamsesque style. But it needed restoring and updating to reflect the couple's active lifestyle. They knew to call interior designer Mary Follin, who has a specialty in interior architectural detailing. Mary has extensive experience with renovations and is known for her fierce attention to detail.
Mary respected the special features of the home and, for the most part, didn't move or change anything. Instead, she refreshed the space with added color and depth of texture to give it a contemporary feel. When it came to furnishings, she combined her clients' favorite antiques with new custom pieces and rich fabrics and wall coverings. They chose colors that stream throughout the apartment, allowing spaces to flow seamlessly together while remaining interesting and original on their own.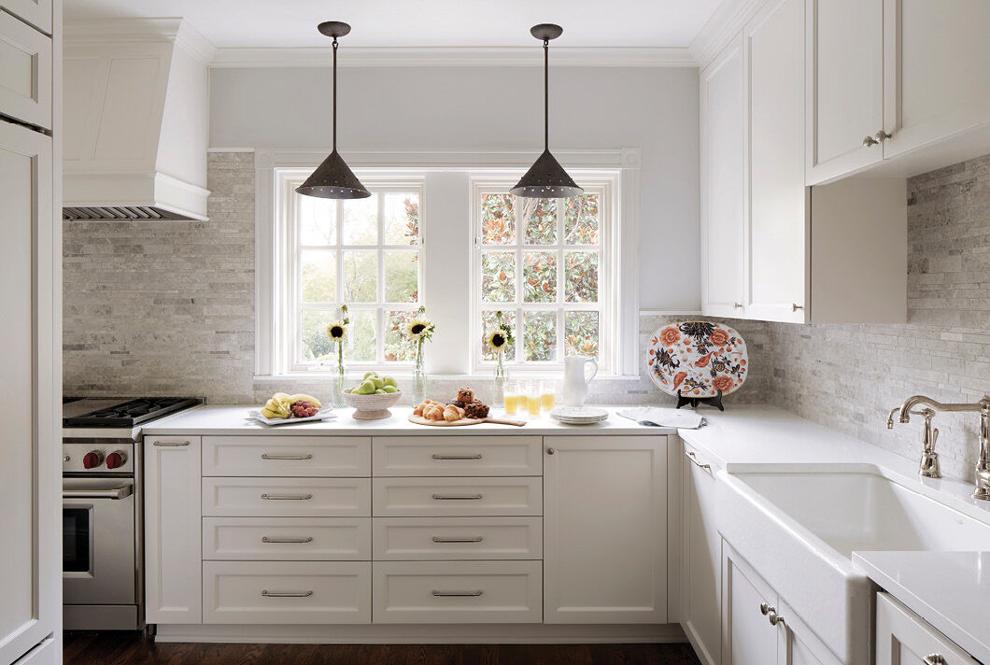 The only major renovations took place in the kitchen and master bath. Solid brick interior walls covered in plaster presented the biggest challenge during the process, particularly with respect to plumbing and electrical concerns, but the rooms needed to be completely gutted for functionality and aesthetics. In the kitchen, a dark pantry and oddly configured island were replaced with quartz countertops that blend seamlessly with a marble backsplash. Since the kitchen looks out over the tops of old magnolias, no window treatments were necessary, but lighting was added to provide detail. The master bath had similar issues and is now an open, refreshing space.
The project took a little more than a year to complete, and the owners have settled into their new home with an extraordinary architectural environment that also reflects their years of collecting and brings a fresh look to their life. In fact, they tell Mary how much they enjoy it every time they talk.
Mixing It Up
The living room and adjoining dining room reflect Mary's approach to respecting the home's architectural integrity while bringing in new furnishings for today's living. For the former, she enlisted decorative finish artist Daryl Garrison to bring life to original features. He put a modern glaze on the beams of the tray ceilings and restored the mantels. For the latter, she ordered new furniture, rugs and window treatments that are traditional in feel but contemporary in color to mix with the owners' antiques.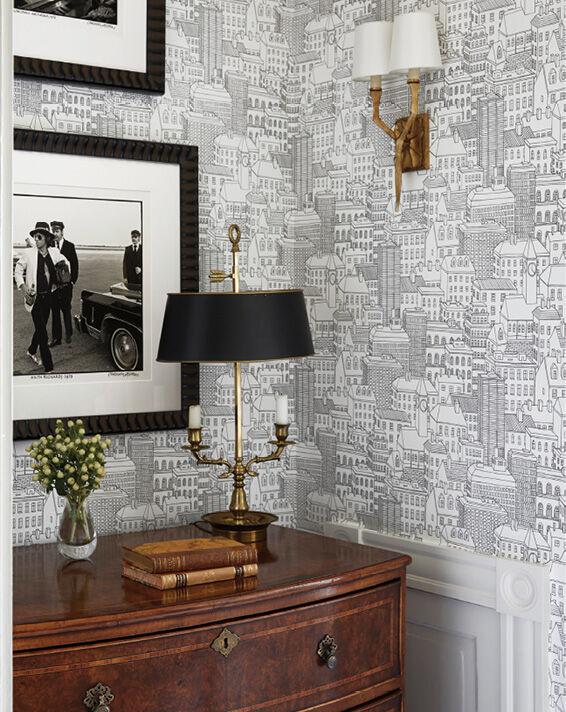 Personality Plus
Mary believes printed wallpaper used all over any room gives it personality. That is certainly true in the guest bath. The owner traveled extensively throughout the world in her career, and this charming print reminds her of the many cities she's visited. It makes a wonderful backdrop for an antique burled walnut chest and a portion of her husband's extensive collection of rock 'n' roll photography. This small space is but one of the examples of how Mary chooses papers and fabrics that reflect a client's lifestyle, past and present.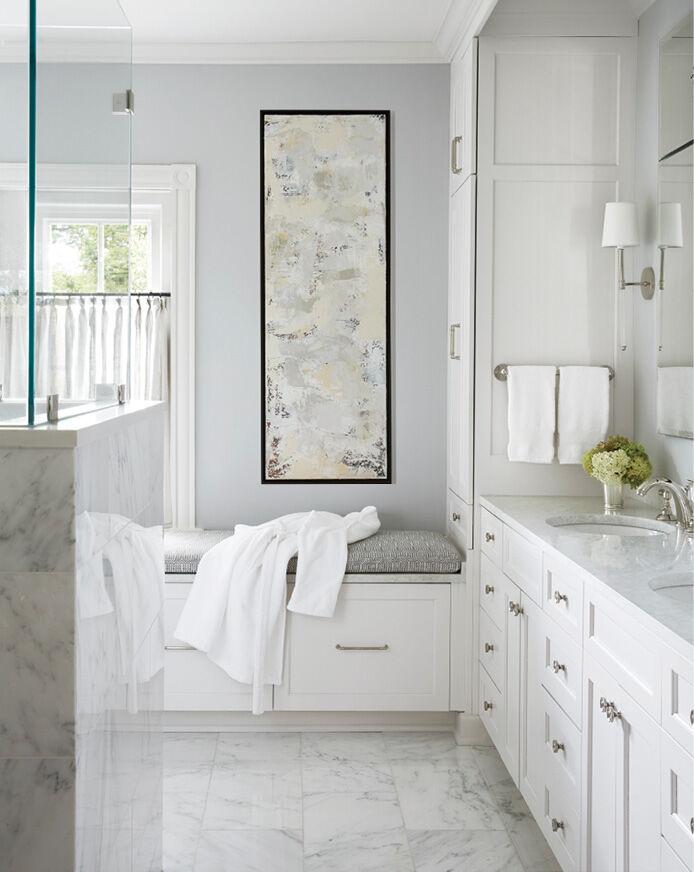 Coming Clean
The owners inherited a master bath in dire need of help. After being completely gutted, it is now fresh and clean. Double sinks and a marble countertop replaced a wall of built-in cabinets, and a large walk-in shower — with lower tile walls for privacy and upper glass ones for light — functions much better than the old square tub. The couple travels frequently, so Mary gave them a packing shelf with deep drawers underneath for more storage along the window wall.
Photographs by Zeke Ruelas