To say that Andrea and John Crist's Elmington home was move-in ready is an understatement. When the couple arrived to their new house after relocating to Nashville from Tampa, Tanya Hembree of Onyx & Alabaster had the home painted, furnished and ready for the family of four to settle seamlessly into their new life.
The couple purchased the property — a spec house from Focus Builders directly across from Elmington Park — a few months before moving to town, and Tanya got to work immediately. She partnered with the builder to take the already beautiful new construction and transform it into the "modern farmhouse with a Nashville bend" that the couple dreamed of. She updated cabinetry, changed hardware, lighting and faucets, and did all of the interior design. The end result is a house that's both functional for a family with young children and incredibly chic and contemporary.
The project started, quite literally, at the front door when Tanya decided to change out the original green door for a black one. That simple design decision helped dictate the tone and feel of the rest of the house. Settling on a neutral palette, comprised primarily of black and white with metallic accents throughout, Tanya worked with Andrea and John to sort through their existing pieces and to select brand new furnishings. The couple weighed in on major decisions, like furniture and art, but left all of the smaller design decisions up to Tanya's discretion.
Taking into account the couple's two young children and two beagles, Tanya chose durable fabrics and materials for many of the rooms to keep the home inviting and accessible to everyone. The clean and comforting aesthetic carries into the outdoor spaces as well, with an expansive living area on the front porch and a remarkable outdoor dining and sitting area in the backyard. The outdoor living spaces were particularly important to the family after living in Florida, where they had a pool. Tanya installed turf in the backyard to keep it looking green year-round and added cement pads for contrast. She helped design a brick wood-burning fireplace and grilling area, surrounded by cozy seating. Nearby, a covered dining area allows for al fresco meals in nearly any weather.
"We adore the outside space," John says. "We can use this back area 12 months a year, whether it's hot or cold. It's very versatile out there. It's very comfortable."
The partnership with Tanya and the Crists is an open-ended one. Although she created a welcoming dream home upon their arrival in Nashville in 2018, she's continuing to update the property as they go. "This is an ongoing relationship with them," Tanya says. "We are always doing something new."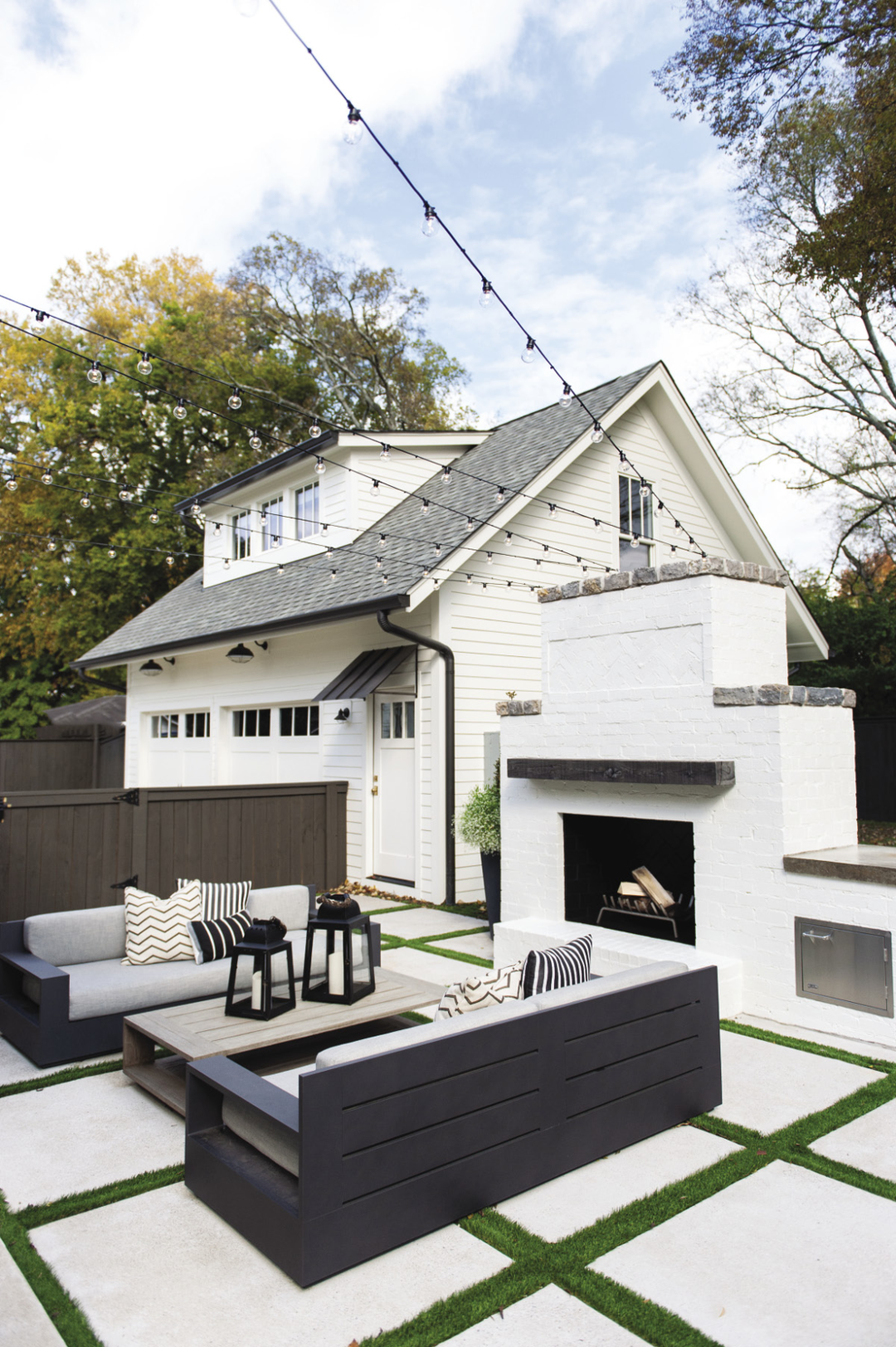 The Great Outdoors
The family wanted a functional outdoor space, so Tanya designed a seating and cooking area in the backyard. "I had an idea in mind and she took that idea and made it 10 times better," John says of the white brick fireplace, Big Green Egg cooking station and seating area. Even the string lights come with a remote control to make setting up as easy as can be.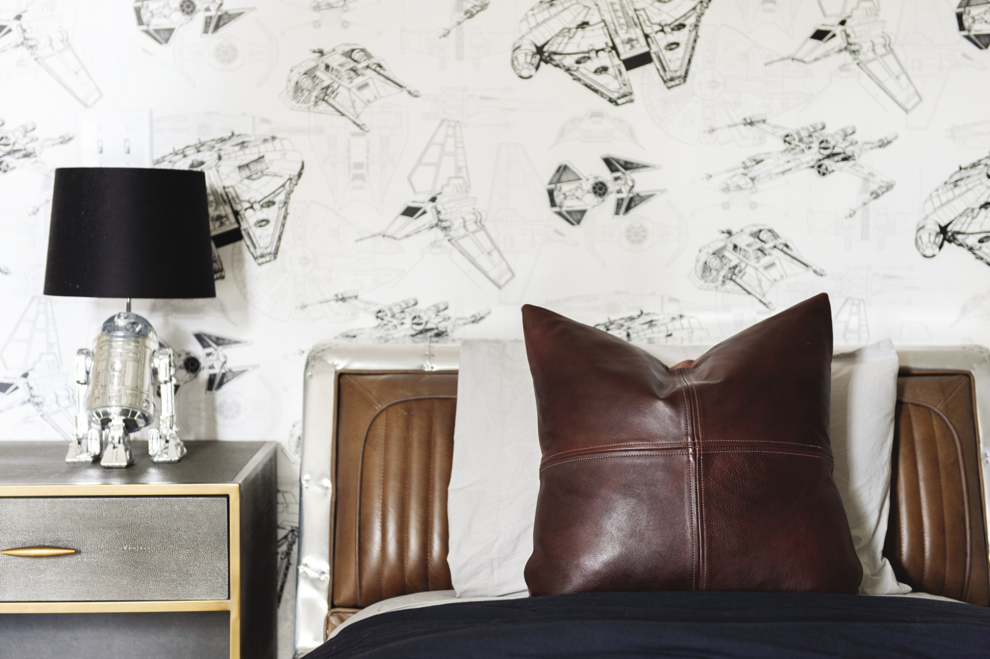 For the Boys
Andrea and John's son is a Star Wars fan, so Tanya designed his bedroom with the movie franchise as an inspiration. "We certainly wanted it to be classy, unique and not your typical character-themed room," she says. She chose an understated Star Wars wallpaper from York and accessories like an R2-D2 bedside lamp, balancing it with subtle nods to the theme like the Aviator Storage Bed from RH Teen with an aluminum exterior, exposed screwheads and leather accents.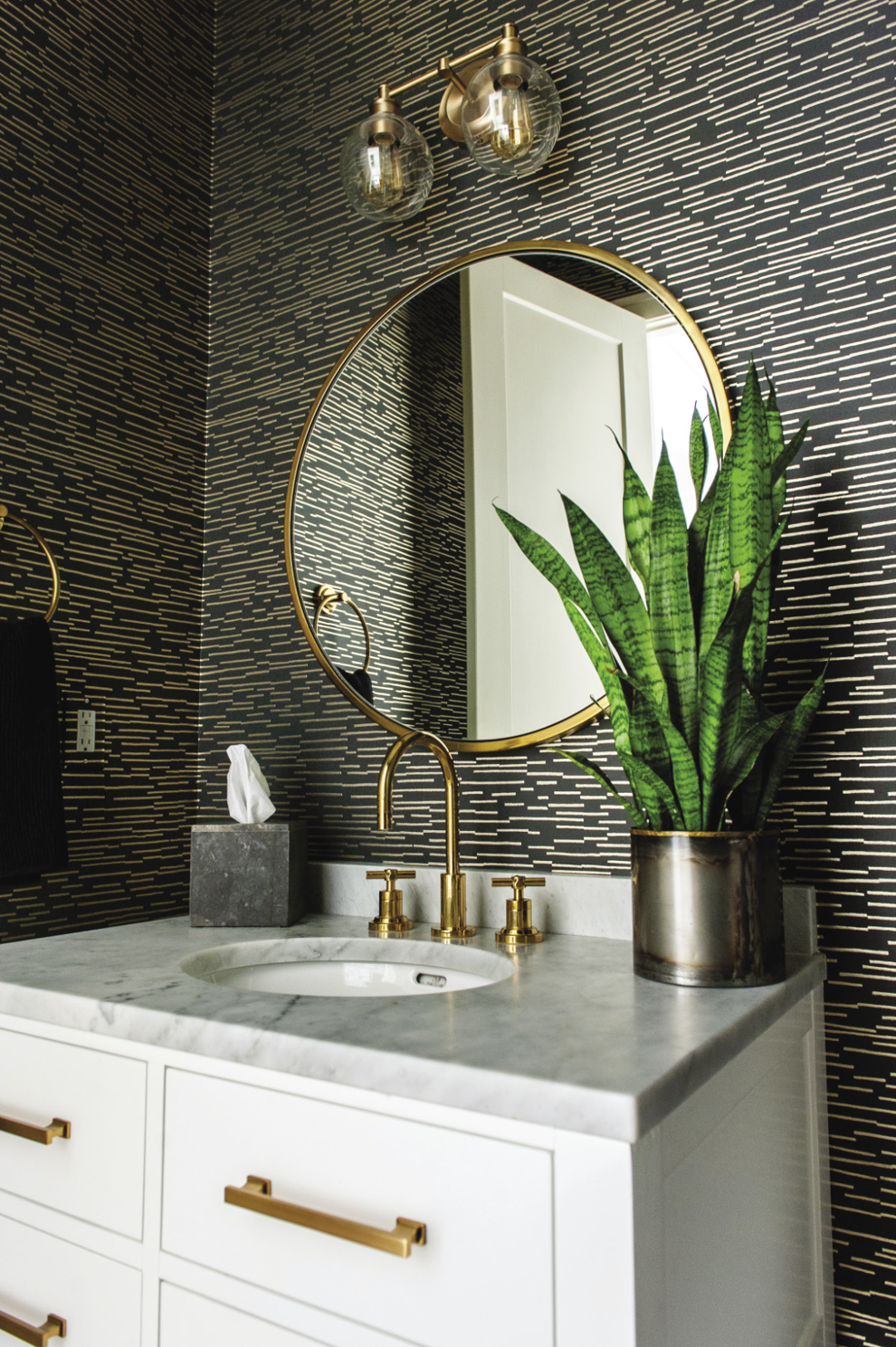 Powder Up
It's easy for a powder room to be a second thought, but that's not the case in this first-floor stunner at the Crists' home. Tanya used a metallic bronze and black wallpaper from Thibaut, which she carries in her downtown Franklin retail store, to add interest and contrast against the bronze accents in the room.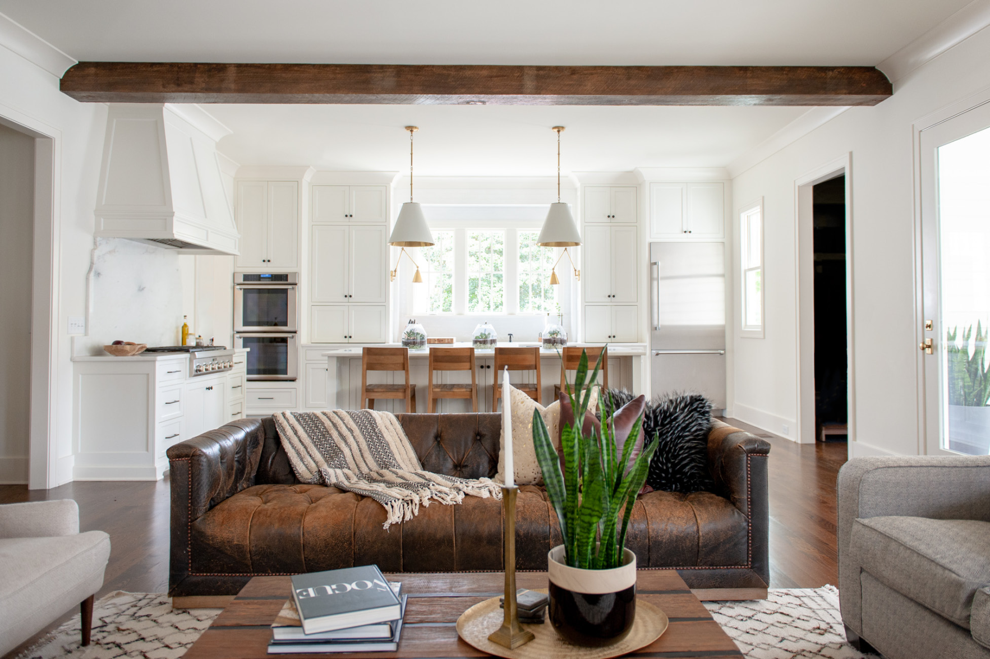 Beam Me Up
The wood beam that runs along the kitchen ceiling was added by Tanya at John's request. It was a nod to the dark beams that were common in the family's former home in Florida and a way to add a shot of contrast to the predominantly white kitchen.
Photographs by Allison Elefante of Ruby & Peach Photography
More 2019 homes:
A Joint Effort in Historic Richland-West End
A Designer's Modern Masterpiece in Green Hills