For Denise Hopmayer, an in-demand real-estate agent, and husband Jeff, an entrepreneur in the wine and spirits industry, building a house wasn't something they'd thought much about. That is until they found a wonderful lot in the Richland-West End Historic District and realized they wanted to create their first home together. Once that decision was made, they dove into planning. After a lot of research, they knew exactly what they wanted, but with busy careers and frequent traveling, they also knew that they wanted someone to guide them and keep a sharp eye on the progress. Denise doesn't specialize in new construction, so she reached out to someone who did.
Mary Stahlman of Collaborations has worked with local builders on spec, high-end and custom homes for more than 15 years, and Denise had run into her numerous times in the course of showing and selling homes. Denise and Jeff enlisted her to help with the designing, building and decorating process. From the start, Mary was at meetings with the couple and the builder serving in a role she describes as hybrid. "It's not construction, it's not design — it's everything," she explains. "[I'm] a liaison between the client and the builder, interfacing with all the vendors and the trades and helping clients navigate the process in the order of events so that they aren't worried about the wrong things at the wrong times."
Abundant natural light and a comfortable flow were high on the priority list, and the concept was "all about being able to host people and have fun," says Denise. That was certainly accomplished. Every space in the 5,300-square-foot house is welcoming and encourages guests to wander, sit, chat or share a glass of wine. The family room has a soaring 24-foot ceiling and a stunning wall of windows. The adjacent kitchen's ceilings stretch to 15 feet high, and 11-foot ceilings are found everywhere else. Three sets of French doors open to the outside, adding extra entertaining space on pleasant days.
They've only lived there since January, but Denise and Jeff's new home is already settling in gracefully alongside the classic homes and tree-lined streets the neighborhood is known for. The real story of this house, however, is the one of collaboration between Mary and the couple to create their home every step of the way, from vision to reality.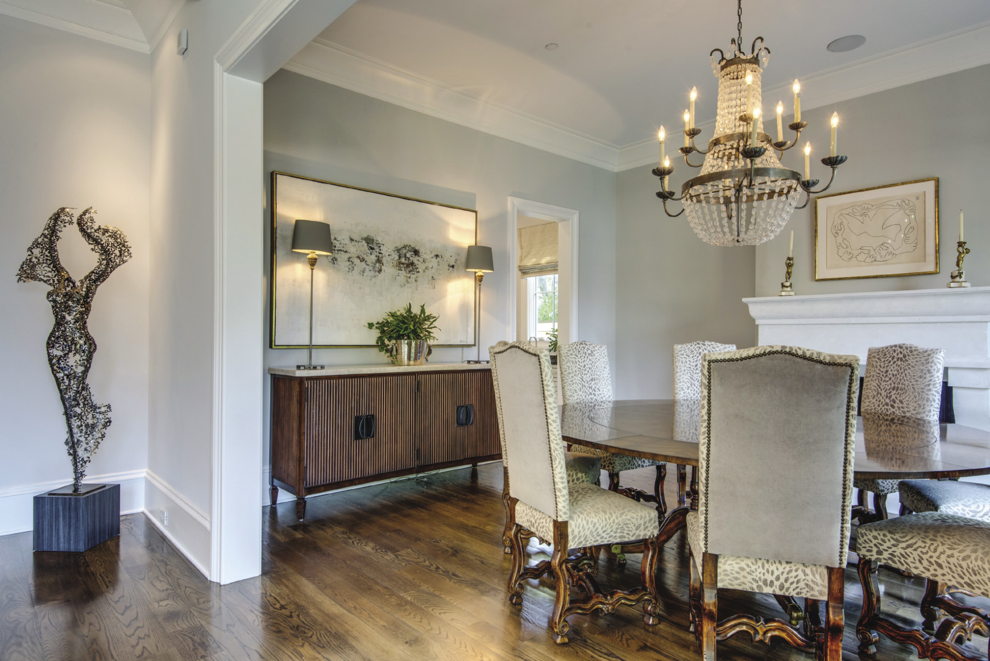 Gather Around

Because the size, scale and floor plan were so different from their Sylvan Park bungalow, very few pieces of furniture worked in the new house. An exception is in the dining room where the round table fills its new space splendidly. The same can be said for the chairs, which were reupholstered in coordinating neutral fabrics, one a leopard print that adds an element of surprise. "This is the first time I've been able to have my leaves in!" Denise points out enthusiastically.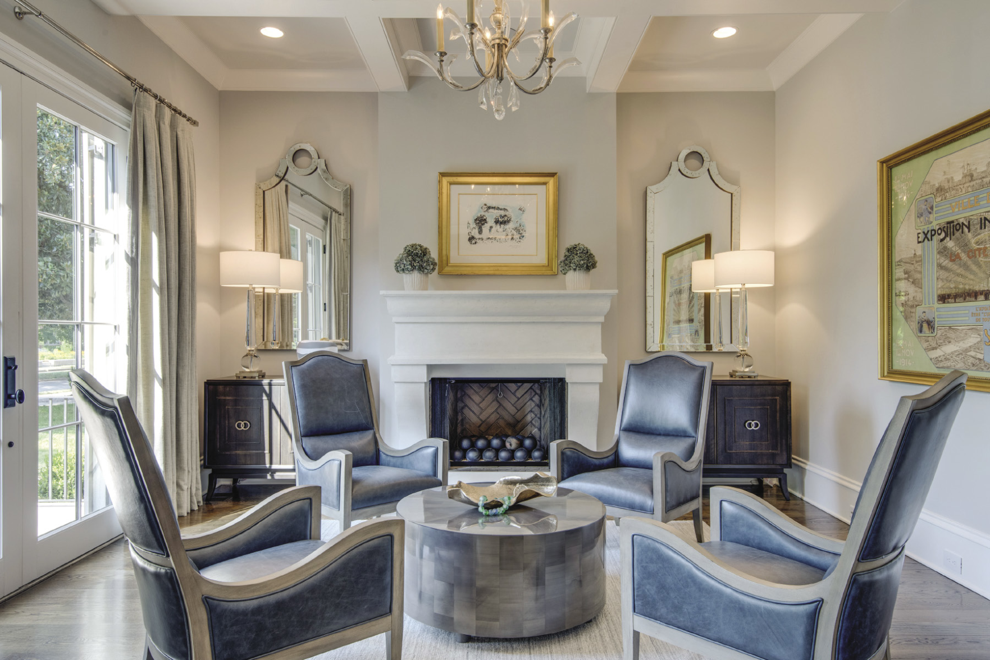 Make Room for Art

The couple has an outstanding art collection, including quite a few oversized pieces that they needed to find homes for. Thanks to advance planning and Mary's wealth of knowledge, she was able to communicate to the builder early in the process where extra support in the walls would be necessary to hold works as well as the heavy draperies to be hung in the family room. One striking print — so long it had never been framed — now has a commanding spot overhead in the family room.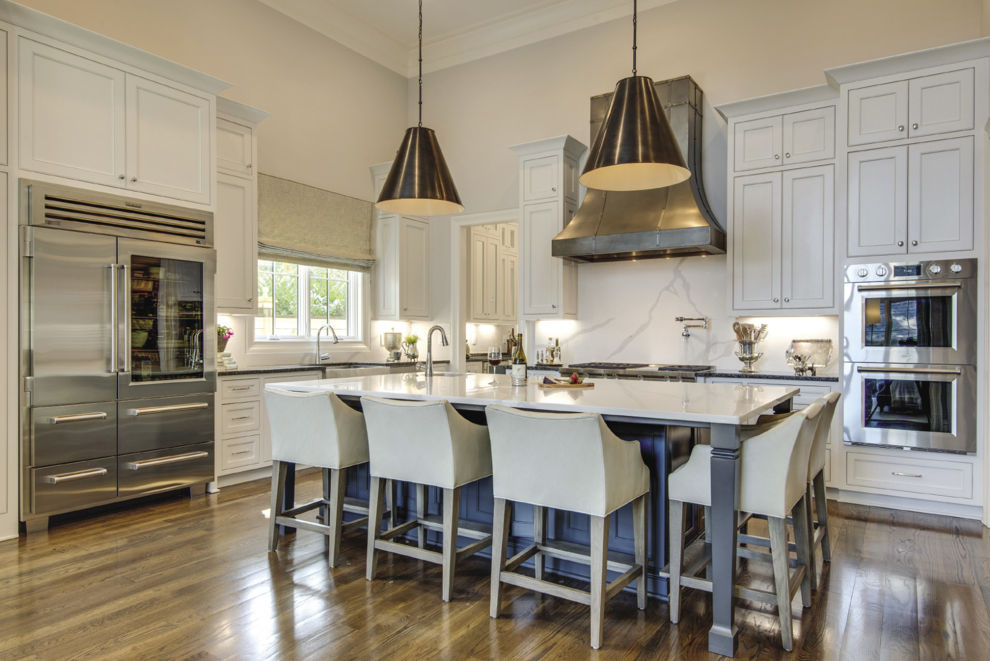 Master of Flow
The fabulous open kitchen is a perfect example of focusing on the right things at the right time, in this case picking appliances in time to ensure the entire design would work properly. Mary worked with electricians on correct placement of lights to highlight the custom steel hood from François & Co. before wiring was put in. After selection of the Sub-Zero refrigerator, Mary was able to amend the plan to ensure ample space and power and open the wall into the kitchen from the hallway.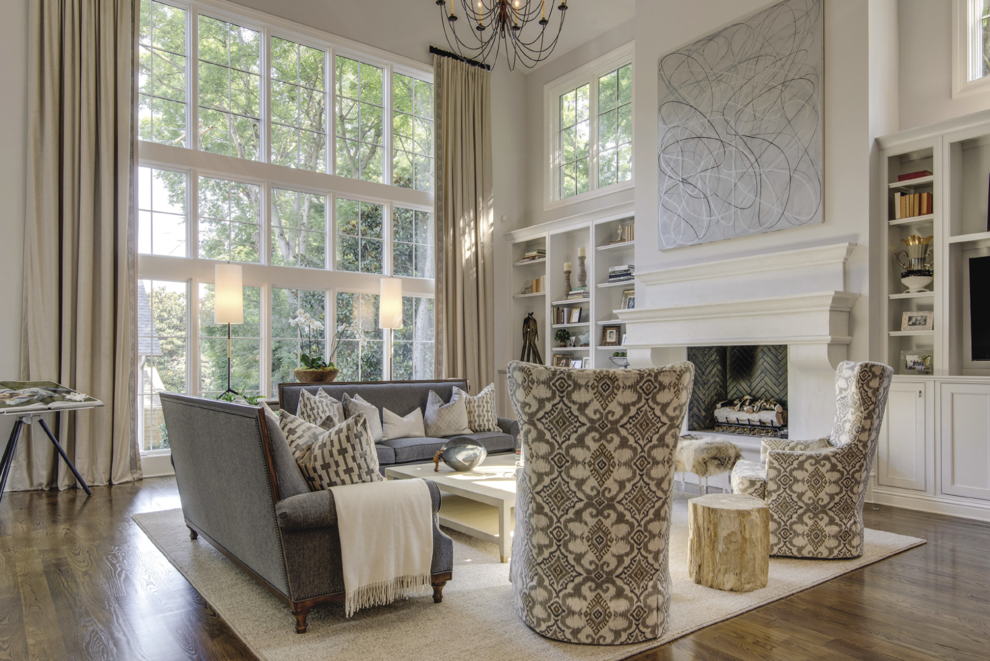 Layered Effect
In the family room, as in every instance, Denise, Jeff and Mary considered different layouts and decided what would work best before sourcing furniture that would fit with the scale of the house. To stay within the monochrome palette yet keep the space from being flat, they brought in  layers of texture. Here, a petrified wood side table, shagreen coffee table, gender-neutral fabrics and fun coyote fur stools from G&G Interiors keep things interesting and inviting.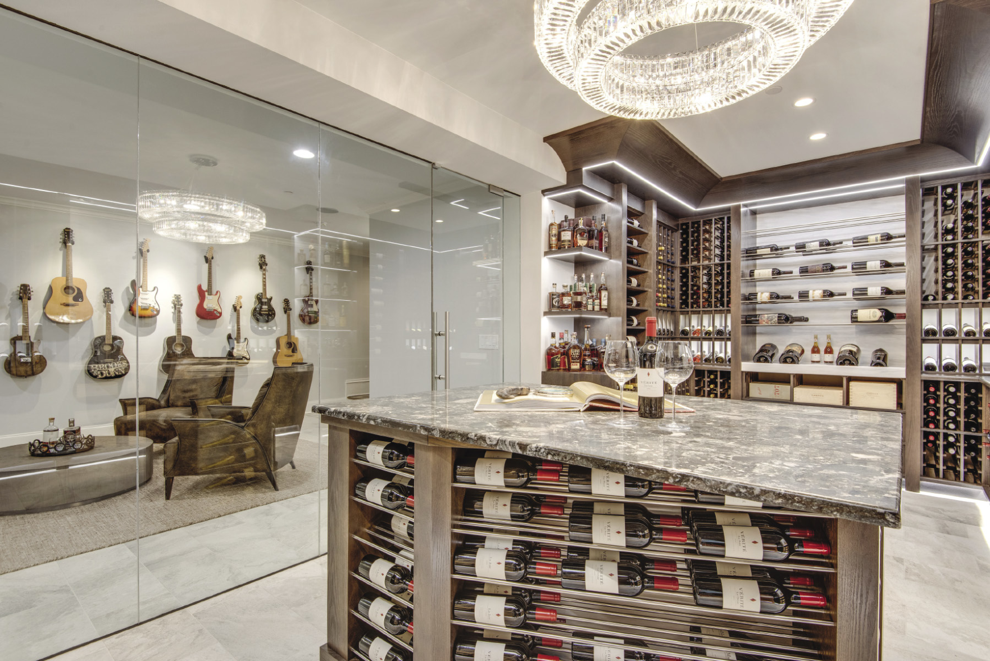 Bottle Service

Considering Jeff's profession, it's no surprise that having a superior wine cellar was at the top of his list. Canadian firm Genuwine Cellars custom-built the 4,000-bottle-capacity cellar and tasting room. The seamless glass wall provides a clean aesthetic and puts the premium wood, granite counter and trim lighting — not to mention the wine collection! — in clear view. On the opposite wall, Mary transformed Jeff's growing collection of guitars — many won at charity auctions — into an art installation.
Photographs courtesy of Denise and Jeff Hopmayer
More 2019 homes:
A Luxe Makeover in Green Hills
A Welcoming Dream Home in Elmington