When Tooty Bradford moved into Shadowlawn in the mid-1990s, the property was more lawn and less shadow. Built in 1922, the home was previously owned by her in-laws, and gardening was not one of the senior Mrs. Bradford's interests. Today, the property is home to established trees and boxwoods, garden rooms, heirloom plants, whimsical sculptures and a gracious portico from which to enjoy it all.
Tooty, already an avid gardener with a green thumb and keen eye, enlisted Duncan Callicott and Randall Lance to help fill the empty page and turn it into the sumptuous setting it is today. Trees were planted across the front lawn, and Japanese maples, Yoshino cherry trees and boxwoods were placed closer to the house. The upper and lower terraces built to the side hold beds that are refined and elegant but not overly so.
Tooty's gardens are at their height in spring, with predominantly pink and white blooms filling the beds from March through May. Cherry trees bursting with pink blossoms are followed by all-white Delaware Valley azaleas in April. It's during this time that several hundred pink and white tulips flourish, with baby blue forget-me-nots and historic irises adding delicate accents. By summer, it becomes a peaceful green and white setting for annuals, ferns and flowering shrubs.
Elsewhere, a separate garden has some 30 cultivars of peonies, her favorite flower. Old-fashioned peonies, including Festiva Maxima, Sarah Bernhardt and Duchesse de Nemours, and standouts such as Coral Charm, Bowl of Cream, Krinkled White and Miss America provide fresh-cut flowers and fragrance throughout the blooming season. Sally Holmes and New Dawn roses climb almost as high as the window boxes cascading with Caliente Pink geraniums, white Easy Wave petunias and Vinca major that will trail 20 feet to the ground before summer's end. Throughout the grounds are unique sculptures, like a playful cat gifted by her sister and a charming figure of a boy holding a watering can created by sculptor and cousin Jesse Beesley.
To look at Tooty's gardens today, it's hard to imagine a time when they weren't there. She has created a breathtaking environment that is classic, elegant and timeless, much like herself.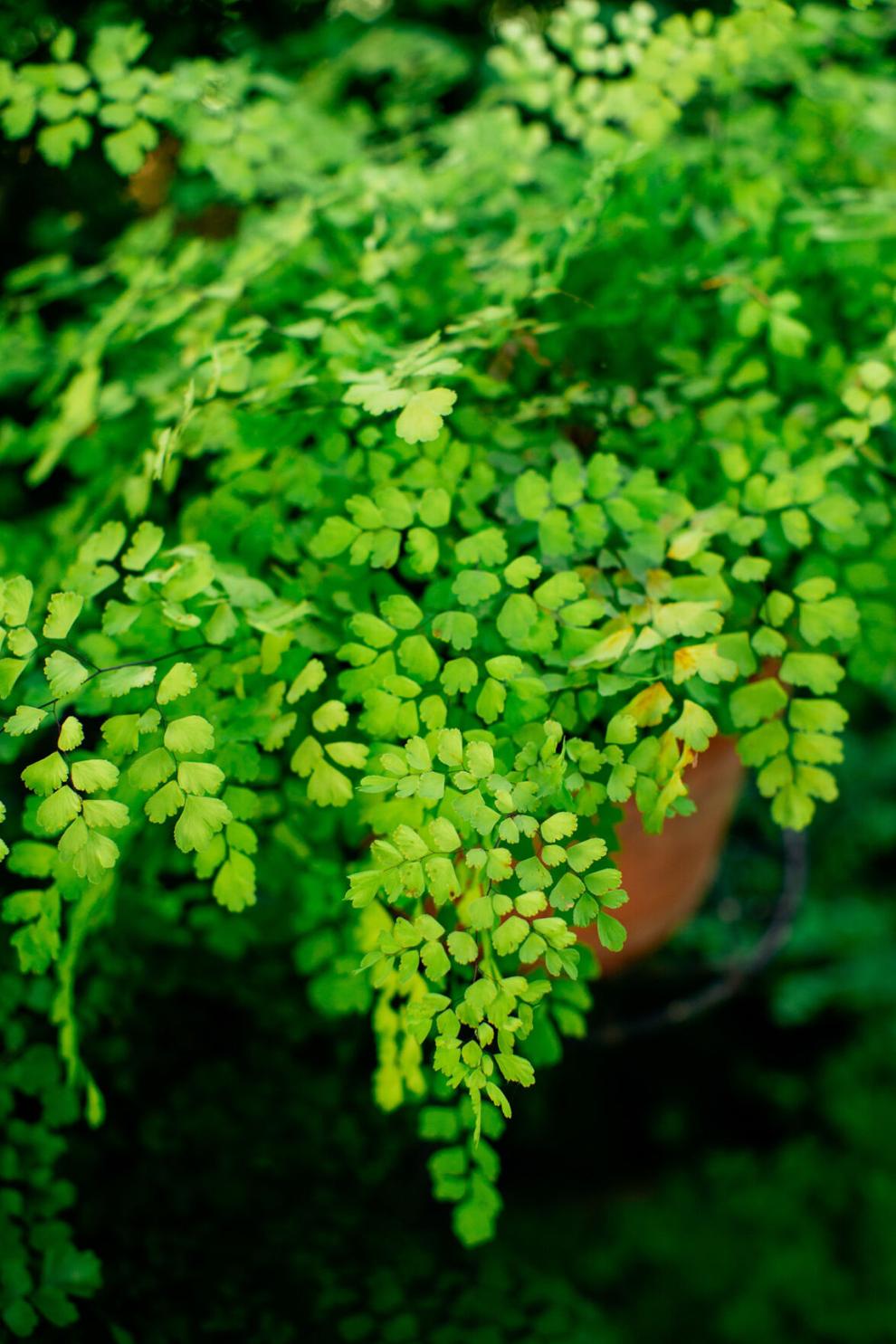 Handle with Care
Tooty has an impressive collection of mature, potted specimen tropicals and tender perennials. The plants are brought out each spring after being sheltered during the winter months. In addition to an abundance of maidenhair ferns, a Meyer lemon tree, gardenia and pygmy date palm flourish outdoors, while lush flowers from white oleander and white Brugmansia keep with the color palette. Orchids have a protected spot in the breezeway, where they get the perfect amount of dappled sun.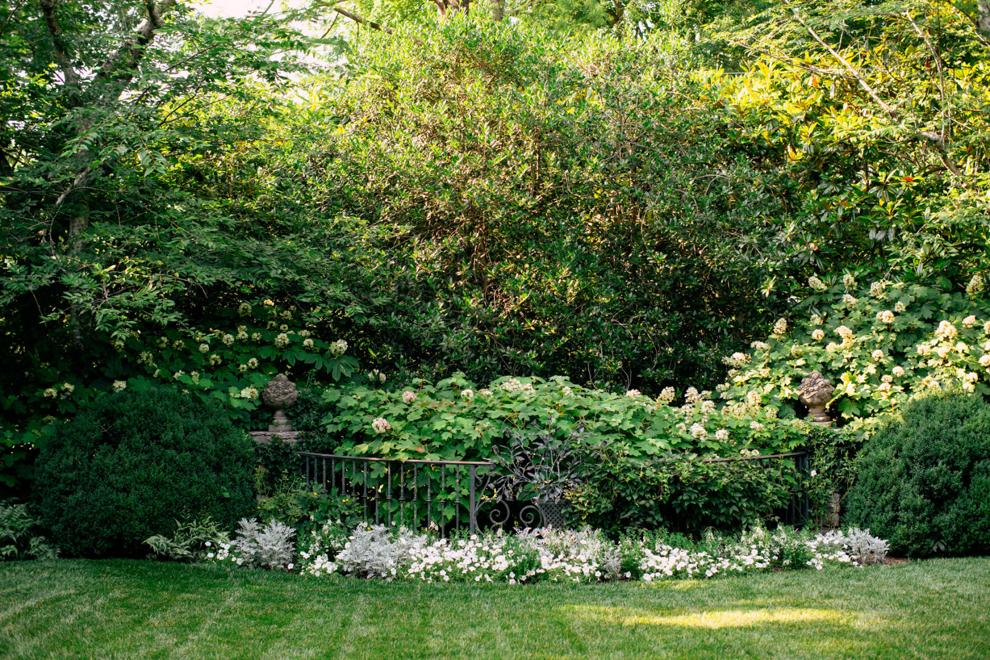 Center of Attention
Facing the house, the main arch is a stately focal point and an elegant backdrop for every season. In the summer, it is teeming with annuals: white angelonia, Dusty Miller Silver Dust and white Easy Wave petunias that seem to glow against the greenery at twilight. Summer is also the time when tall Phlox and pink and white Echinacea begin to bloom heavily, as do the hydrangeas, including a Harmony oakleaf hydrangea that puts forth unique double flowers.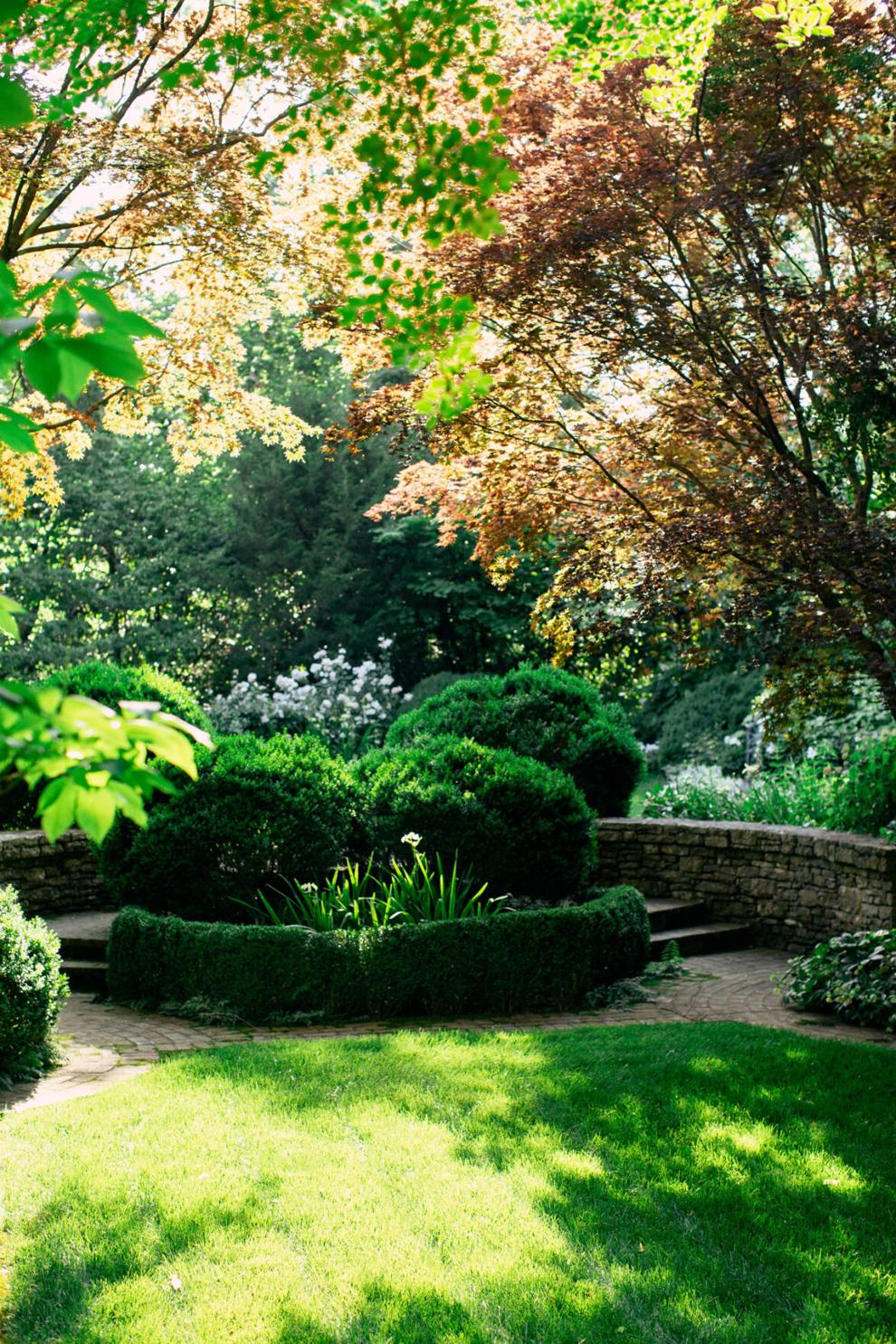 Upstairs, Downstairs
The lower terrace continues the colorways of the upper terrace and is equally impressive and well-designed. Masses of Hellebores — both Lenten and Christmas roses — bloom November through March and provide gorgeous ground cover year-round. The spring blossoms, like foxgloves and irises, give way to a rich assortment of ferns, including Japanese painted, Christmas, autumn and cinnamon varieties, that thrive in the shade of Japanese maples planted more than 25 years ago.