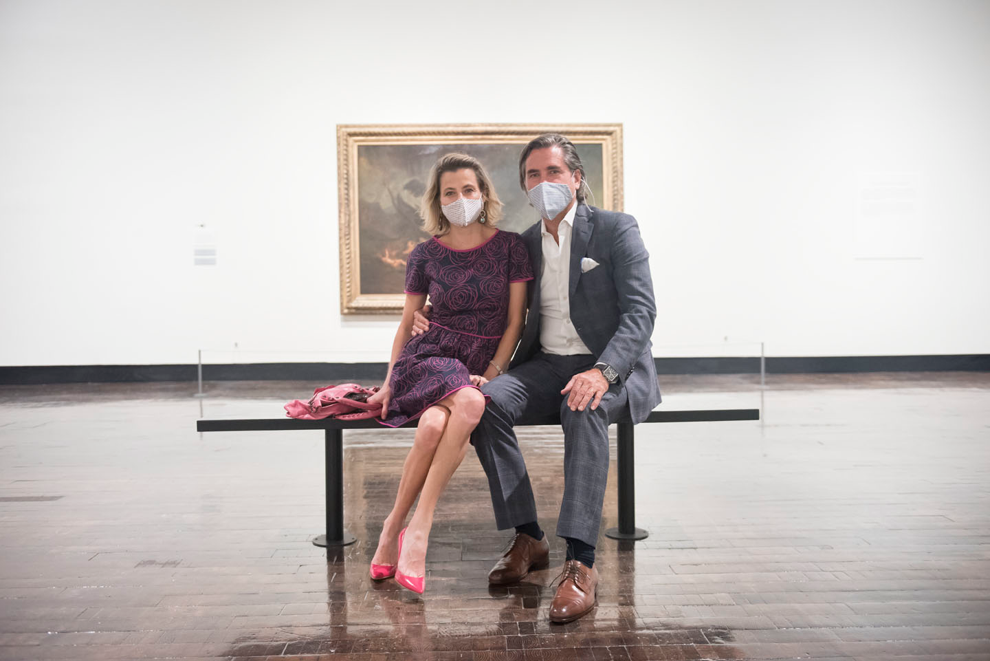 In the absence of the Frist Gala this year, art lovers and supporters of the Frist Art Museum still gathered for a socially distanced Patrons Party to celebrate the J.M.W. Turner exhibit. The after-hours party was held on two consecutive evenings, allowing a small group to have a practically private night at the museum.
Frist Gala co-chairs Jody Hull and Lise Morrow welcomed guests as they arrived at the museum. The first order of business was a temperature check at the door. Once guests were cleared to enter, they were given a custom mask featuring the works of J.M.W. Turner. Attendees had 17 unique and beautiful options to choose from, including a mask with a depiction of "The Fighting Temeraire," one of Turner's paintings on display at the Frist. Guests were then given free rein of the museum's three galleries to enjoy the exhibits, lingering at paintings as long as they chose, often completely alone.
Turner's seascapes and landscapes were on display in Quest for the Sublime, shown in the Ingram Gallery, while upstairs, Mel Ziegler: Flag Exchange — featuring an installation of 50 flags, one from each state — and Jitish Killat: Return to Sender, a thought-provoking display of light, photography and sound, captivated guests.
And since no Patrons Party would be complete without a delicious meal, partygoers were treated to a three-course boxed dinner from Kristen Winston to enjoy at home. The carefully packed meals included a butter lettuce and arugula salad, filet of beef with wild mushrooms and red wine sauce, and a dark chocolate terrine with whipped cream and fresh berries. Kristen even included instructions for heating and serving the meal at home for a complete five-star dining experience.
It wasn't quite the lavish gala the museum typically hosts, but the event accomplished the same mission: celebrating art and recognizing the important role that it, and the Frist Art Museum, plays in our city.