The Conrad Nashville adds an environment of wellness to the contemporary luxury hotel
Anyone who has fallen prey to the late-night temptation of M&Ms from the hotel mini bar knows the perils of traveling while trying to stick to a healthy diet. And it's easy to forgo any kind of exercise regimen by blaming a disrupted routine or forgotten workout clothes.
Guests who book one of the five wellness rooms at the newly opened Conrad Nashville won't need any excuses.
They can breathe easier just walking into one of the king rooms — complete with a Peloton bike, Echelon fitness mirror with on-demand virtual classes, a yoga mat and free weights. The mini bar is stocked with nuts and dried fruit, and guests may order a complimentary smoothie of their choice every morning.
The wellness rooms are part of the luxury hotel's aim to create an elevated experience, whether it be afternoon tea served in the Lounge at Blue Aster — beginning Dec. 1 — or a contemporary jazz trio performing in the lobby on weekends.
The Conrad Nashville, which has 234 rooms and suites, is located in the new Broadwest mixed use development in Midtown. It occupies the first 13 floors of the 34-story tower. General Manager Martin Wormull says the hotel is Hilton's contemporary luxury brand, as compared with the Waldorf Astoria, which is more traditional.
"We like to think we're a little bit more fun and energetic," says Martin. "So, no butler service here but very personalized service that will really give the guests an experience. That's super important."
There are three dining concepts — Blue Aster, off the lobby, which serves seasonal American cuisine with a focus on seafood; Thistle & Rye on the third floor, featuring globally inspired small plates and craft cocktails; and the Lounge at Blue Aster. All three are helmed by Executive Chef Andrew Rodriguez. Leonardo Marcos is the director of food and beverage.
The hotel has 17,000 square feet of meeting and event space, including a ballroom with over 6,000 square feet and an adjacent 4,000 square feet of outdoor space.
There is a tranquil outdoor lap pool for hotel guests, complete with wooden lounge chairs and luxe cabanas. Although situated in Midtown, it's a serene setting. "This is not one of those party pools," says Martin. "There will never be a DJ."
A fitness center, complete with Peloton and recumbent bikes, offers an outside terrace for future yoga classes and an impressive view.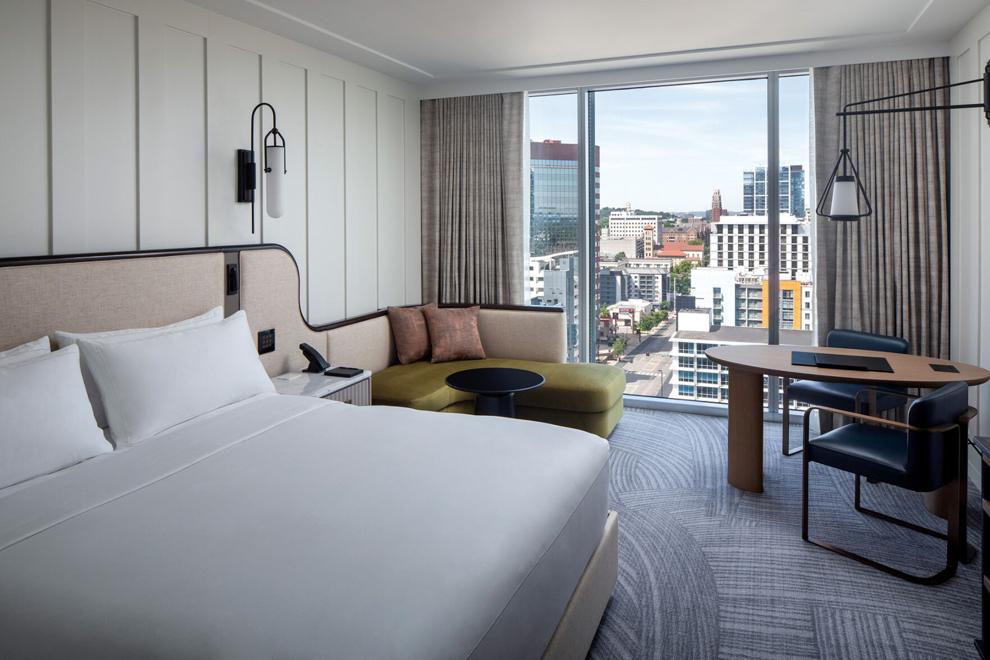 Making a Statement
Martin says a signature of the brand is bold design, from the dramatic contemporary custom chandeliers to the lobby furnishings that have a "residential" feel — high back armchairs in deep terra cotta, dark wood coffee tables and plush beige rugs on light oak floors. The guestrooms are done in neutrals with subtle pops of color. Frette linens and Italian marble baths, some with soaking tubs, add to the luxurious experience. Room prices start at $499, depending on the season, and suites start at $1,200.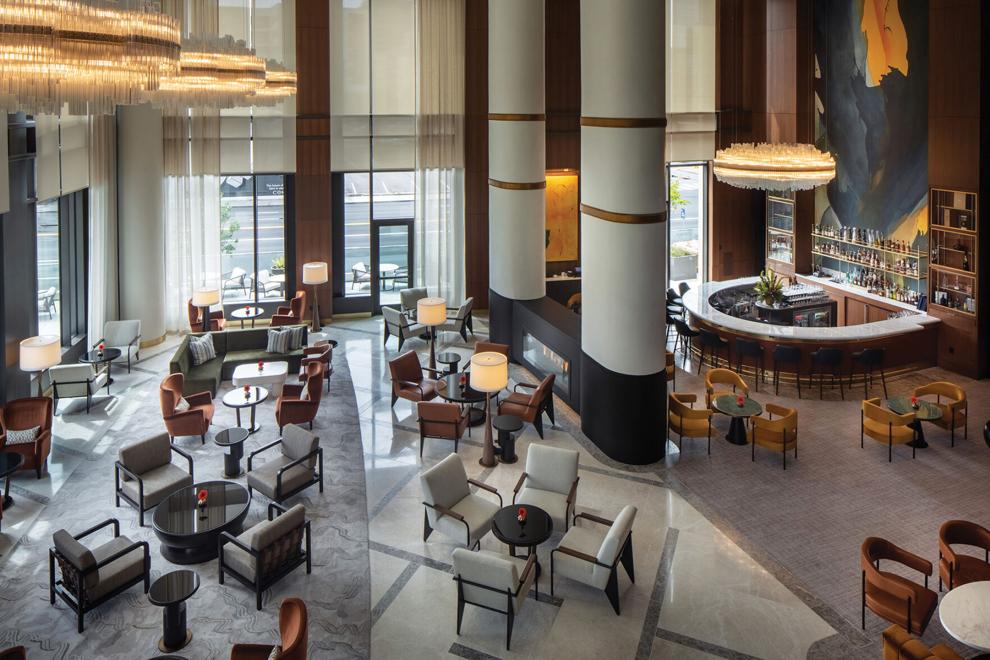 Coastal-Inspired Cuisine
Named after the native Tennessee wildflower, Blue Aster, the Conrad Nashville's signature restaurant, serves breakfast, lunch and dinner. It sources from nearby farms and local purveyors, adding a Southern flavor to a seafood-focused menu. Before dinner, items to share feature fresh local roasted, pickled and fried seasonal vegetables, hummus, roasted peanut romesco and green garden dressing. Main courses include a Chilean sea bass, wild Northwest salmon and — for those who prefer steak to seafood — an 8-ounce filet mignon or a 22-ounce dry-aged rib-eye.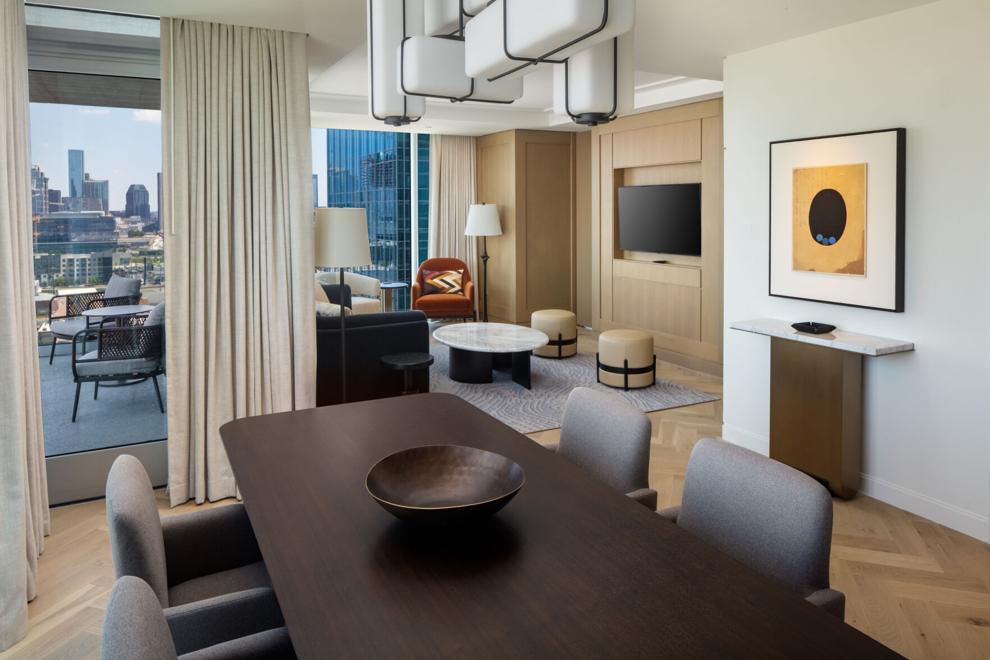 Art by Design
The hotel has an extensive and impressive art collection with many of the pieces from local and regional artists, including mixed-media works by Mandy Rodgers Horton; abstract paintings by Toni Swarthout; and fine art photography depicting Middle Tennessee scenery by Jerry Atnip. It's one way New York City-based Champalimaud Design infused the Conrad's decor with the region's artistic influence. Other elements just seem to fit Music City, such as the wood and brass spiral staircase in the lobby — a perfect Instagram spot, says Martin.