What's your favorite holiday tradition? I'm not sure if I have a favorite tradition as much as I just enjoy the ambiance of the holidays — the weather, whether it be rain or snow; the smells of foods we only prepare during the holidays; and being surrounded by family and friends. I think that I find myself enamored with the feeling of the holidays more than I do a tradition. It is the season itself for me.
What's a must-have dish on your Thanksgiving table? Oh, there are a few, because it depends upon whose house you're visiting. This year will be different than those past, but I always looked forward to my cornbread dressing and warm banana pudding, my mother-in-law's green bean casserole and corn pudding. My late grandmother-in-law used to make cinnamon apples, and they were the bee's knees. They were freshly sliced apples boiled in apple juice with the red hot candies, and I could eat my weight in them. No one has made them in a while, but I may have to correct that this year. And don't tell anyone, but I keep an emergency [can] of jellied cranberry sauce in my trunk, because no holiday is complete without it.
What's your favorite part of Thanksgiving Day? It would have to be the wind down after eating the main meal. Everyone finds a corner and is giving their meal time to settle down. And chances are you'll find me with a cup of coffee plotting which dessert I will devour first. It will more often than not be a nice slice of pie — sweet potato, if present, but pecan will come in close second. If pound cake is present, sorry for the pie altogether. I rarely say no to pound cake.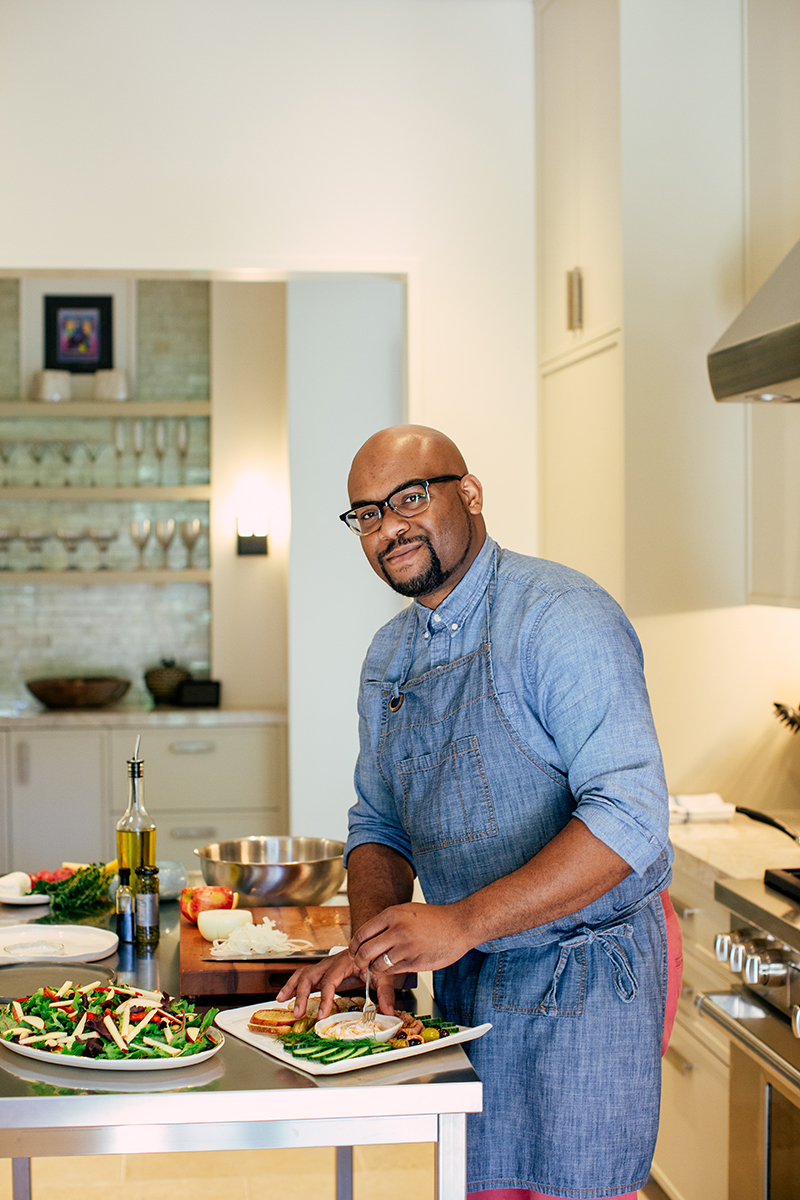 With everyone spending so much more time at home this year, what's your best advice for making the house feel special for the holidays? I say set the mood. I recommend adding autumn accents throughout the house. Fill it [with] warm colors from a warm palette — maybe a wreath of fiery cranberry and orange leaves, mums on the front porch and pumpkins dotted throughout the house. Anytime I see flowers on sale, I buy them. I fill all the small vases that I have and nestle the flowers into the corners of all the rooms where we spend the most time. If you have an abundance of flowers around your house, cut them yourself or ask your neighbor for some — assuming you like your neighbor.
If you are unable to spend time with family members this year, for whatever reason, now is the time to start collecting recipes for some of the dishes you'll miss but would like to recreate for an amended version of the feast you would have enjoyed. Scale the recipes down, and call your loved ones to ask for any tips that they may have been apprehensive to share with you in the previous years. This year is different, and we are looking for the same comfort that we once knew during the holidays.
And we must laud the presence of technology. You could create times to do Zoom calls or FaceTime with different family members and friends. I believe that connection can still be powerful, even through the likes of Wi-Fi or cellular data connections. There's still a warmth that comes over you when you are able to see the face or hear the voice of a loved one. And I believe that holds truer this year, more than it has in the past.
What's your best advice for entertaining or celebrating the holidays in a safe way? Well, first and foremost, plan to get tested prior to the holiday, and plan to quarantine prior to seeing your loved ones. Also, if you will be engaging with people you haven't been quarantined with, plan to have an outside gathering where you can social distance and wear a mask. And make the dishes on individual plates or in mini cups to keep contact minimal.
How do you typically dress up your Thanksgiving table? When we hosted Thanksgiving at our home, we went for the minimal approach with a short flower arrangement that didn't impede conversation, some linen napkins with holders and the plates stacked by the buffet. If my memory serves me correct, my mother-in-law's house has a holiday-themed setup that includes a tablecloth, dishes and centerpieces that all share the same cranberry, gold and green motif. But I say if you don't have a specific setup, a few Jack Be Little pumpkins, gourds, pine cones and unscented candles could set the mood nicely.
What's your best advice for meal planning for Thanksgiving? If you have an extensive spread, you should create a schedule for the execution of the menu. But if you're not that organized, at least design a menu, and under each dish you plan to prepare, make a grocery list. Then, you can order or grab a few items at a time to build up the pantry without overwhelming it or yourself. And if you are short on storage space, I suggest planning some of your meals prior to the holiday around the items in your freezer or fridge that you need to move out.
Of course, chopping your vegetables, making sauces and storing them away a couple of days in advance is always a good idea. You can also make any pies or cakes one to two days prior, and freeze or refrigerate them. Then, you can frost or top them with whipped cream on the day of. But remember to remove them from the freezer two hours prior to dinner.
I see it all the time at clients' dinner parties. Someone forgets to make you aware of their allergies, food aversions and dietary restrictions. That can really throw a wrench into the plans, especially if you worked crab into the menu and your daughter-in-law is allergic to shellfish — yikes! And if someone is spending the holiday away from their family, it wouldn't hurt to ask if they have a favorite dish that you could prepare for them.
Also, it's important to remember that holiday prep/cooking is a marathon, not a sprint. You should delegate duties to other family members. Invite others to share the workload, and preserve your energy to be able to enjoy the meal with everyone else. The same goes for clean-up. Sure, you and mom or dad don't mind doing it, but this year, everyone needs to pitch in so we can all enjoy the game or a round of Uno.
Do you have any Thanksgiving meal prep hacks? If you are having chicken and turkey, put them in the same brine to cut down on time. The chicken may need to be removed earlier, because there is less flesh for the brine to penetrate. If you are cutting grape or cherry tomatoes for salad, take two plates that are the same size. On one plate, lay down a layer of tomatoes, place the other plate on top, press it down firmly with your palm, then run a serrated knife between the plates to cut multiple tomatoes at once. This will save you from slicing them one by one. 
You should have no shame about using premade products; it's been a stressful year for many. You can buy the premade pie crust or grab the can of cranberry sauce and add a chopped orange to it [and] let it cook low and slow. This will save you money and time, which is major for an already stressful holiday. Also, as restaurants continue to struggle, I'd recommend making your essential dishes and ordering everything else from your favorite restaurant. This is a judgment-free zone. 
What local takeout items do you recommend to round out a Thanksgiving menu? Oh my, this could be quite the extensive list if allowed, but I'll keep it short and sweet with some of my favorite local businesses for you to support. First, keep an eye out for anything Claire [Meneely] is offering over at Dozen Bakery, especially if sweet potato fougasse or pear buttermilk pie makes an appearance. Also, see: anything Mayme Gretsch of Utterly Nashville or Nick and Audra Guidry of Pelican & Pig and Slow Hand Coffee + Bakeshop have to offer from both sweet and savory categories. You should keep an eye out for Porter Road Butcher's ham sign-up! I've cooked their hams for clients in the past, and they are top-notch. But all of their products are great! And put in an order with Bill and LeeAnn [Cherry] of Bear Creek Farm for all your meaty needs, as well. And make sure you get some pork chops with the fat cap still intact; you won't regret it! And I'm not sure if any of these places are offering holiday meals this year, but if, by chance, they are, you should get some goods from Subculture Urban Cuisine & Cafe, Margot Cafe & Bar, Lockeland Table, Two Goats, etc., or City Farm Co.
How will your holidays be different this year? The thing is, prior to the pandemic, our holiday gatherings were already on the intimate side, typically around 10 people or fewer. My family dynamic, like many, has changed over the years, and we haven't had a huge gathering in years. It will be different in that holiday shopping will move to more online than in person. And we occasionally used to go to the movie theater, [but] that's not happening either. But I'm not lamenting these things, because our family has it good compared to those who have lost their loved ones in the last several months. It has been a difficult year — a trying year — but I hope that some people will be able to find a little joy in the ambiance of the holidays.