Since his childhood in Yorkshire, England, Andrew Clancey has always been a peacock and a rebel. When he was a teenager, he took inspiration from punk culture and music and now incorporates those ideas into his life and his fashion philosophy. He still wears whatever he likes and refuses to follow trends. With his label, Any Old Iron — a name that was inspired by an old English music hall song and to his family's scrap metal business dating all the way back to 1872 — Andrew starts with skulls, stars and lightning bolts and then adds a bit (or a lot) of sparkle. 
His signature style has become a favorite of rock stars and pop stars alike, including Ozzy Osborne, Cher, Elton John, Beyoncé, Taylor Swift and the Jonas Brothers, but with a new shop on Music Row, his fashions are accessible to everyone. He shares a bit about his design process and how he fell in love with fashion.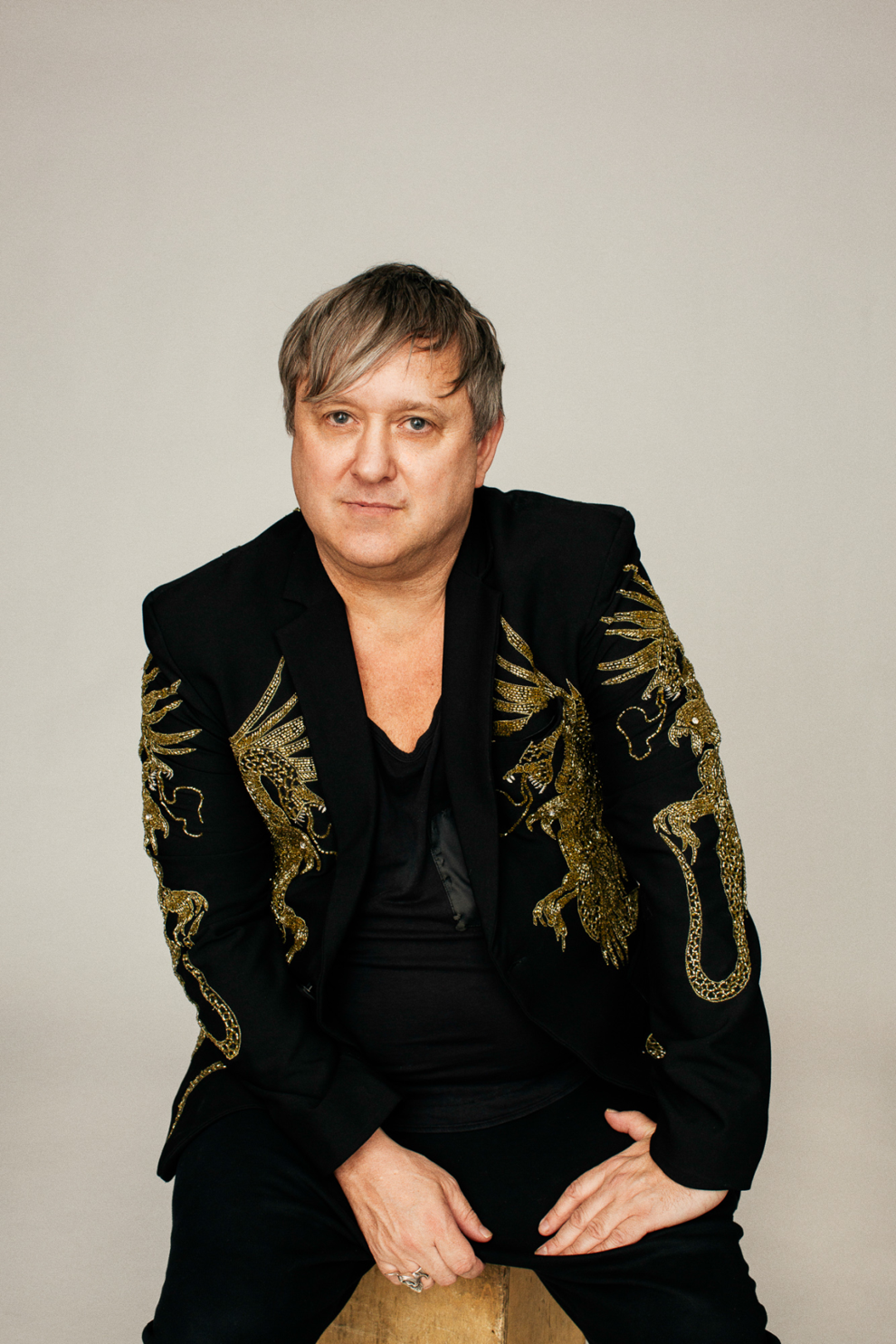 PERSONAL STYLE
I love wearing something different. I don't follow fashion trends. I just buy and wear clothes that I like. I've always been a peacock, and I think that is apparent in my designs. I think we're all one-of-a-kinds. Why not dress like that, as well? No beige.
DREAM CLIENT
My dream client was Elton John, and I managed to get a jacket and some trousers in his last video. When I was a stylist in the U.K., I styled the TV idents for his 70th birthday party, and I thought, "This is as close as I'm going to get." Luckily, I was wrong. I always say I wanted to dress Elvis, but thinking about it, Liberace would have been more fun. I sometimes describe my brand as Punk Liberace. That's my happy place.
DESIGN PROCESS
I'll start collating Pinterest boards then work with my illustrator (I draw like a 6-year-old) to come up with new shapes and designs. I do a lot of tailoring, and rather than try and reinvent the suit, I work on the textile. I now design the sequins to create our unique fabrics, and we also do a lot of hand-beading, which has opened the door to limitless ideas. I manufacture all across the world, so my second workday starts at 9 p.m. If you ever see a dodgy design from me, you can blame it on the wine.
JOB PERKS
The special thing about working in fashion is the travel. We travel all over the world and break bread with people you could never imagine when growing up. In the U.S., we have friends in Kansas City, Missouri; South Walton, Florida; Los Angeles; New York City; Greenville, South Carolina; and even Lexington, Kentucky, through the runway shows we do. Further afield, we'll be [seated] in the best street food place in Delhi with our Indian factory owners' family or eating seafood at a beachfront restaurant with our Vietnamese tailor and her friend, the local chief of police.
JOB CHALLENGES
The hardest part, aside from trying to open a store in a pandemic, is running a store in a pandemic. It was a long eight months getting open, but a lot of people have suffered a whole lot more, so I think we're lucky to be in the position that we are. Pre-pandemic, the hardest part of the job was trying to get a Nashville man into sequins. The times are a-changin'. Bring on those roaring '20s!
BIGGEST INFLUENCE
The biggest influence for me was punk — the music, the fashion and just the individualism of the whole movement. I was born a little after I was able to properly be in the moment of the movement, but I soon picked it up in my early teens. It made me want to be different and revolt against the norm. My best fashion friend was, and still is, the safety pin.
THE ANY OLD IRON CLIENT
We don't have a quintessential customer. We have an eclectic range of customers. Drag queens to Queen B, 12-years-olds to 72-year-olds, rock stars to groupies. Sparkle knows no boundary. 
HUMBLE BEGINNINGS
The first piece I ever made was a T-shirt with a bra design made of pink ribbons that symbolized breast cancer. The next one was a T-shirt with a large love heart made up of the love heart candies I had glued to the front of it. I went to a nightclub where, throughout the evening, people pulled them off and ate them, despite my warning about the glue.
CAREER PATH
I decided to get into fashion when I assisted my sister, the designer Julia Clancey, on a video shoot for U.K. pop star Adam Rickitt. I had a budget of 600 pounds, and I had to buy and make T-shirt designs for him. I got to keep all the tees, so I got paid and kept the tees. I thought, "This is the life for me! Free fashion and getting paid for it!"
FAVORITE DESIGNER
My all-time favorite designer is Lee [Alexander] McQueen. I think you can see that in some of my work and [my] love for the skull. He took it to new levels, and I still love watching his runway collections that, if they were shown today for the first time, would still be wow! I was lucky enough to have been on a night out or two with him in London, though alI I can remember was the male go-go bar. I once had a 10-minute conversation with Vivienne Westwood. Well, I spoke at her for 10 minutes to which she replied, "Pardon," before walking off. It was a noisy bar!
STYLE ICON
Impeccable style would be Laura Citron — always well thought-out and put-together. We've been together 10 years this month, and she has an eye for these kinds of things, don't you know! Caroline Vreeland, Diana Vreeland's granddaughter, is a close second. Check out her Instagram. Also, you've gotta love Iris Apfel. That will be Laura at 80.