The décor of the Grand Hyatt Nashville pays tribute to the legendary Louisville & Nashville Railroad that once ran through downtown. Just don't expect a model train or vintage caboose. There is, however, an abstract art piece behind the front desk, which gives a nod to old railroad switches. There's also a hotel library designed to be reminiscent of a luxury boxcar, as well as stained and polished wooden railroad ties creatively arranged to provide extra seating in the lobby.
"The idea behind all of this is we're being referential to those things without being obvious," says Joe Bucher, director of strategic design for Southwest Value Partners, which owns the hotel and is developing Nashville Yards on Broadway. "It doesn't smack you in the face. We didn't hang a train on the wall. All of this is very subtle and beautiful and elegant and references the thing that came here before."
The Grand Hyatt is a cornerstone of Nashville Yards, an 18-acre project that will also include an urban park, a renovated Union Station Hotel, shops, restaurants, a concert venue and office space anchored by an Amazon operations center.
The 25-floor, 591-room hotel, which opened in October, has seven food and beverage options, highlighted by The Continental restaurant, helmed by James Beard Award-winning chef Sean Brock of Husk fame. The restaurant, which hasn't yet announced an opening date, will serve classic American fare, including prime rib with horseradish cream and autumn vegetable tarte Tatin with onion soubise and vegetable demi-glace.
The Nashville Grange offers Southern, vegetable-driven cuisine, taking inspiration from nearby farms in the area. There is Aurum, an elevated lobby bar offering craft cocktails and tapas; Solstice at the pool lounge offering healthy fare; and the Grand Club Lounge serving breakfast, snacks all day and evening cocktails and appetizers.
Hummingbird Coffee Market highlights locally roasted Stay Golden coffee and offers grab-and-go sandwiches and salads. It has a separate entrance to encourage locals to stop in. "Rather than being tucked up inside the building like you would typically do in a hotel coffee shop," says Joe, "it's engaging out on the boardwalk and [with] the new spaces we're creating."
A rooftop restaurant and bar called Lou|Na owes its spelling to the Louisville & Nashville Railroad and its pronunciation to the moon that doesn't feel so far away from the hotel's 25th floor. Lou|Na offers craft cocktails and small plates, such as local cheeses served with fig jam, steamed clams and shrimp and grits.
Hit the Pause Button
At R+R Wellness on the fifth floor of the Grand Hyatt Nashville, visitors can enjoy facials, massages and assorted spa services. Designed for individuals, as well as groups such as bridal parties, the spa is the perfect getaway. On the same floor as the fitness center and the pool, the spa allows clients to enjoy those amenities even if they aren't guests of the hotel. Nashvillians are encouraged to make a day of it — lounge by the pool and enjoy lunch at Solstice.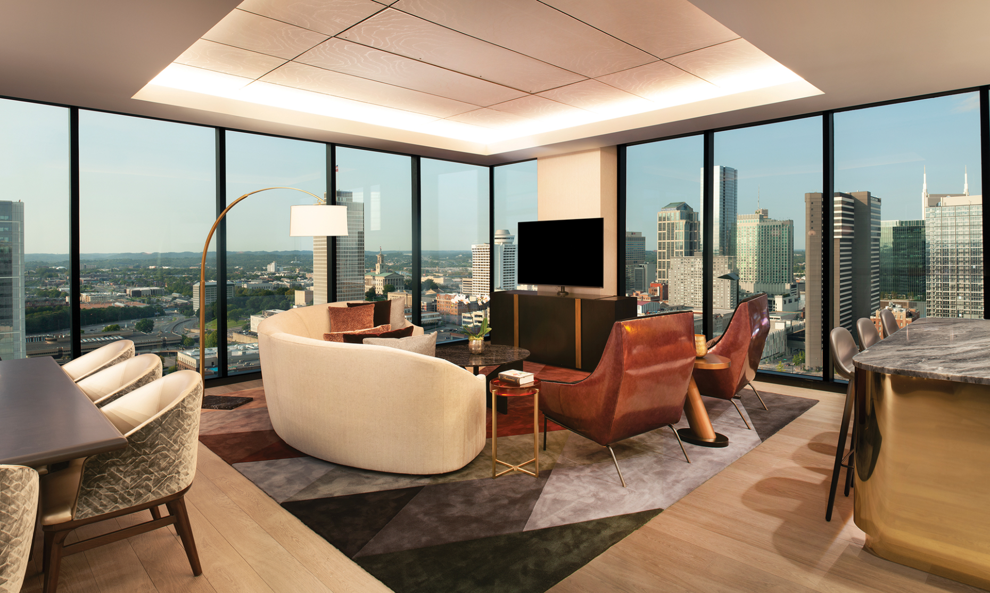 Suite Spot
The Grand Hyatt Nashville has 53 suites, including a massive presidential suite on the 24th floor with panoramic views of the city. The décor is "textured modern" throughout the hotel, says Joe, and the rooms continue that theme with leather headboards, luxe linens and velvet loveseats in some suites. There are marble baths with walk-in showers and soaking tubs in larger suites. There is smart technology throughout, which, during COVID, is particularly convenient. Guests can order room service using their smart phones.