Nashville native Diana Wallace hadn't planned on attending a concert over Memorial Day 2019, much less meeting her future husband while there, but that's what happened when mutual friends introduced her to Brandon Perdue. They chatted all night, went on their first date a few days later and, as they say, "the rest is history."
Diana's entire family gathered at their cabin on Guntersville Lake in Alabama for Labor Day 2020, and when a photographer stopped by to take some family photographs, Brandon asked him to snap the couple by the water first. At one point, the photographer said he needed to "show something" to Diana on his iPad. It was a video of their closest friends, co-workers and families telling her to "say yes!" When the video ended, she looked up and, through tears, saw Brandon on one knee, asking her to be his wife. "I couldn't have imagined a more thoughtful, special way to start our forever," says Diana, "and I still don't know how he pulled it off without my knowing!"
They chose Franklin's Southall Meadows for the ceremony and reception and enlisted Hugh Howser and Kate Steele of H Three Events to carry out their design scheme. The duo perfectly interpreted Diana's penchant for classic with a bit of romance and a touch of modern by using antique and vintage pieces accented with unstructured florals, subdued lighting and unexpected architectural elements. The rich, autumnal color palette, featuring muted mossy greens, deep orange and turmeric, united everything.
The forecast predicted beautiful weather for the day of the wedding, but instead, it unexpectedly turned into torrential showers and flash flood warnings. Plans to have the ceremony and cocktail hour outdoors suddenly became impossible, due to ankle-deep mud, and the ceremony had to be moved indoors to the tobacco barn, which was set for dinner. Guests found their seats, and the couple exchanged vows in the center of the room underneath a large, crystal chandelier.
Everything else went exactly as planned. Brandon's 6-year-old son, Jackson, made a darling ring bearer, gave an adorable blessing before dinner and hit the dance floor with the grown-ups during the reception. Diana and Brandon made their getaway in a 1961 Seafoam Silver Bentley for a honeymoon in San Francisco, Carmel and Big Sur. "While it certainly was not the scenario for which we had planned, it ended up being more unique and meaningful than we ever could have imagined," Diana adds. "We were able to get married while quite literally surrounded by our closest friends and family."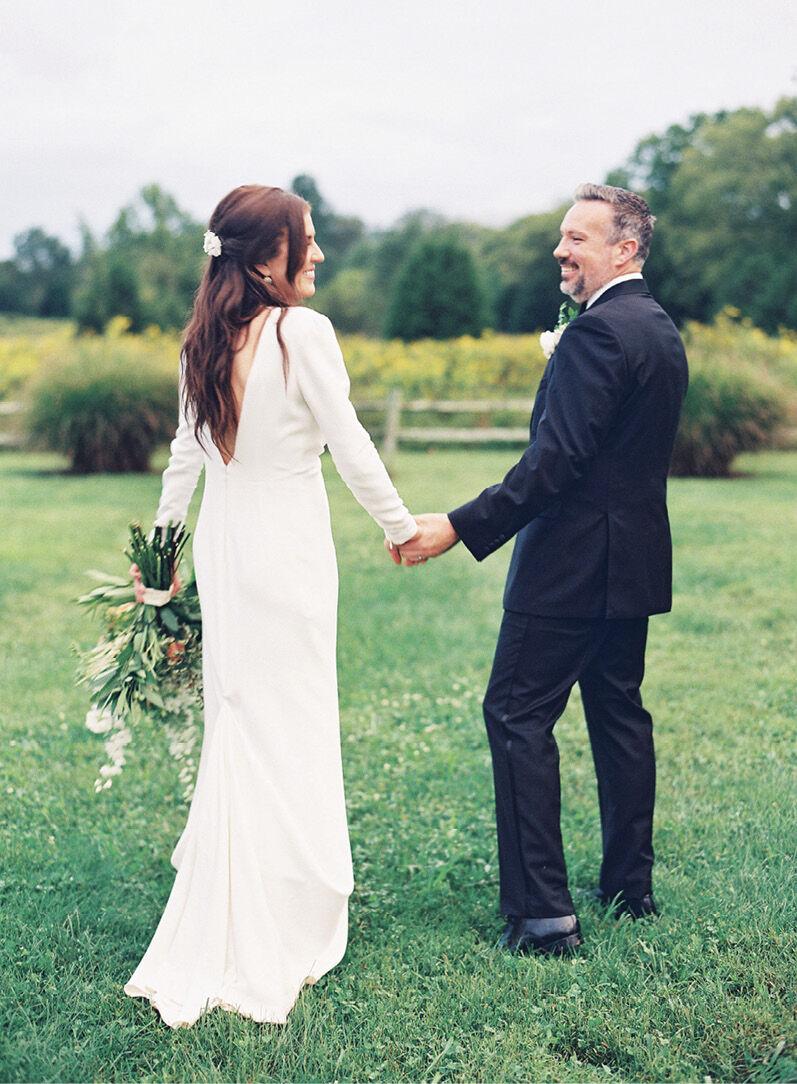 Classic Style
Diana loved the first dress she saw: a long-sleeved crepe gown with plunging V neckline by Galia Lahav. Not able to find it in the States, she took a chance and ordered it from London, and she made it her own by adding a deep V to the back. She wore her grandmother's cathedral-length veil, as her mother and aunt had for their weddings. Her "something old" was her late maternal grandmother's antique gold, turquoise and pearl bracelet, and her "something new" was Brandon's wedding gift of antique gold, turquoise and pearl earrings.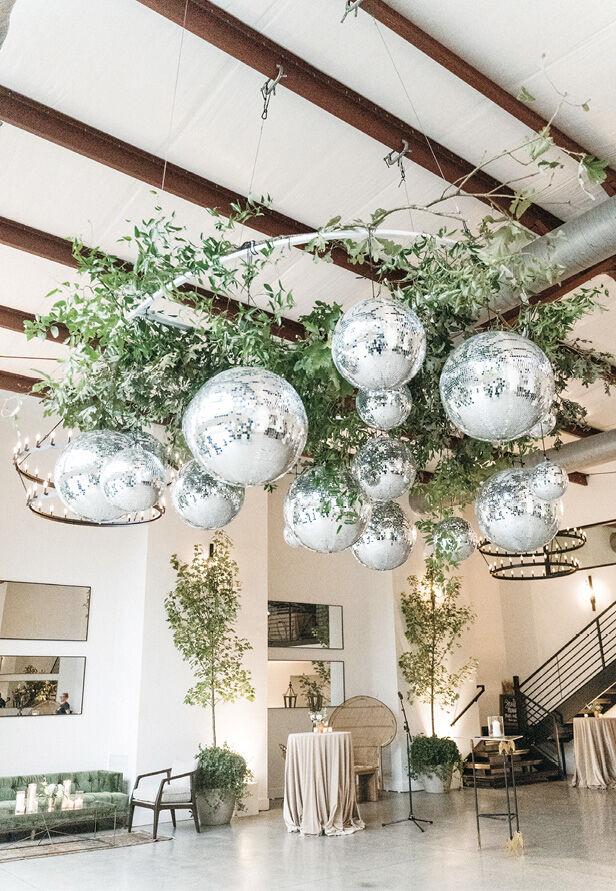 Personal Touch
Diana and her mom, Marion, who is known for having a discerning eye, drove to Scott Antique Markets in Atlanta and returned with antique planters, urns and rugs to use at the wedding and enjoy for years to come. Other antiques and vintage items from Marion's collection were used throughout the barn and adjacent hall and are one of the chief reasons that the wedding felt anything but cookie-cutter. A showstopping canopy of greenery-wrapped disco balls and potted trees lining the walls completed the elevated, yet natural, appeal of the evening.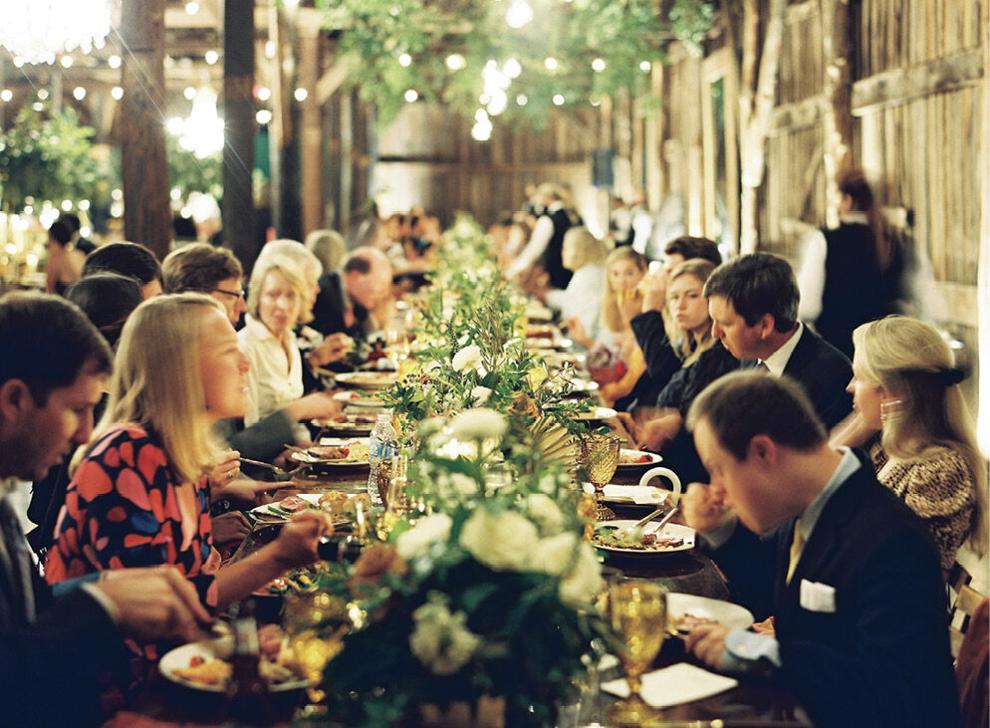 Magic in the Air
The seated dinner took place in the tobacco barn, which was given a warm, ethereal and intimate feel. The rafters draped in greenery — oak and maple branches, Jackson vine, olive, bay leaf and sage — and twinkling lights overhead provided a romantic glow. The tables were laden with toffee roses, ranunculus, banksia and more greenery, and they used Marion's extensive collection of vintage brass candlesticks. Burnt orange and turmeric velvet napkins topped white china, and vintage amber goblets were at each place setting. Diana calls the result "magical!"
Photographs by Natalie Watson