There are few artists whose output is as varied and complex as María Magdalena Campos-Pons. Her works unfold like novels. There are slow narrative arcs and haunting, poetic themes that you see clearly only in retrospect — Isabel Allende or Gabriel García Márquez would have envied the depth of her narratives.
"In my life as an artist, I always try to make sense of my life and my experience," she told me in her midtown Nashville apartment while steeping a pot of hibiscus tea that she received as a gift from celebrated artist David Hammons, whose famous "African African Flag" has become a symbol for reclaiming and evolving cultural symbols — something the two artists share.
She was raised on a sugar plantation in a family with Nigerian, Hispanic, and Chinese roots. Thematically, her work covers issues of democracy, freedom and redemption. Her most recent work deals with fire and water — elements out of control that people nonetheless attempt to control, seemingly without end.
When the artist moved to Nashville to be the endowed Cornelius Vanderbilt chair of Vanderbilt University in 2017, it might have seemed like a major shift from her life in Boston, where she taught at the School of the Museum of Fine Arts, or from Cuba, where she as born and lived until she emigrated to the U.S. in the 1990s. But the artist, who goes by the nickname Magda, is quick to point out the similarities between her hometown of Matanzas and Nashville. Both cities are known for black culture and the arts — and just as Nashville is called The Athens of the South, Matanzas has the nickname The Athens of Cuba.
"Those are interesting threads that can define populations," she tells me. "That's how culture evolves and how it affects those who produce it."
The Basics
Name: María Magdalena Campos-Pons
Represented by: Gallery Wendi Norris in New York and Bernice Steinbaum Gallery in Miami, Fla.
Education:National School of Art in La Havana, Cuba (1980), Higher Institute of Art in La Havana, Cuba (1985), M.F.A. from Massachusetts College of Art, Painting, Media Arts (1988)
See her work:Nerve: The Female Body in Women's Art at 701 Taylor St., Feb. 6-20; More than 30 museums including the Whitney Museum of American Art, the Art Institute of Chicago, the Museum of Modern Art and the Smithsonian institution.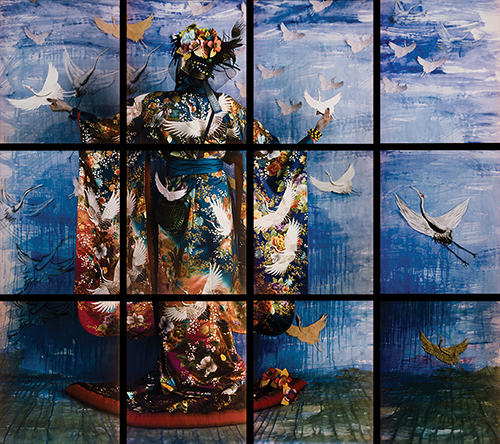 "El Mensajero," 2011, 72 x 80 inches, composition of 12 Polaroid Polacolor Pro 24 x 20 photographs
Magda's work defies categorization and spans photography, video, sculpture, painting and drawing. "El Mensajero" is an example of the artist's range and the way she combines mediums to create something entirely personal, and entirely her own. It's a testament to the strength and originality of her vision that the work maintains recognizability — you know a María Magdalena Campos-Pons work immediately, the way you might recognize a Donna Tartt novel or a film by Martin Scorsese. There's a sweeping grandeur in its scope, but it's the tiny personal elements — the paper swans, the veil, the drips of blue paint — that elevate it.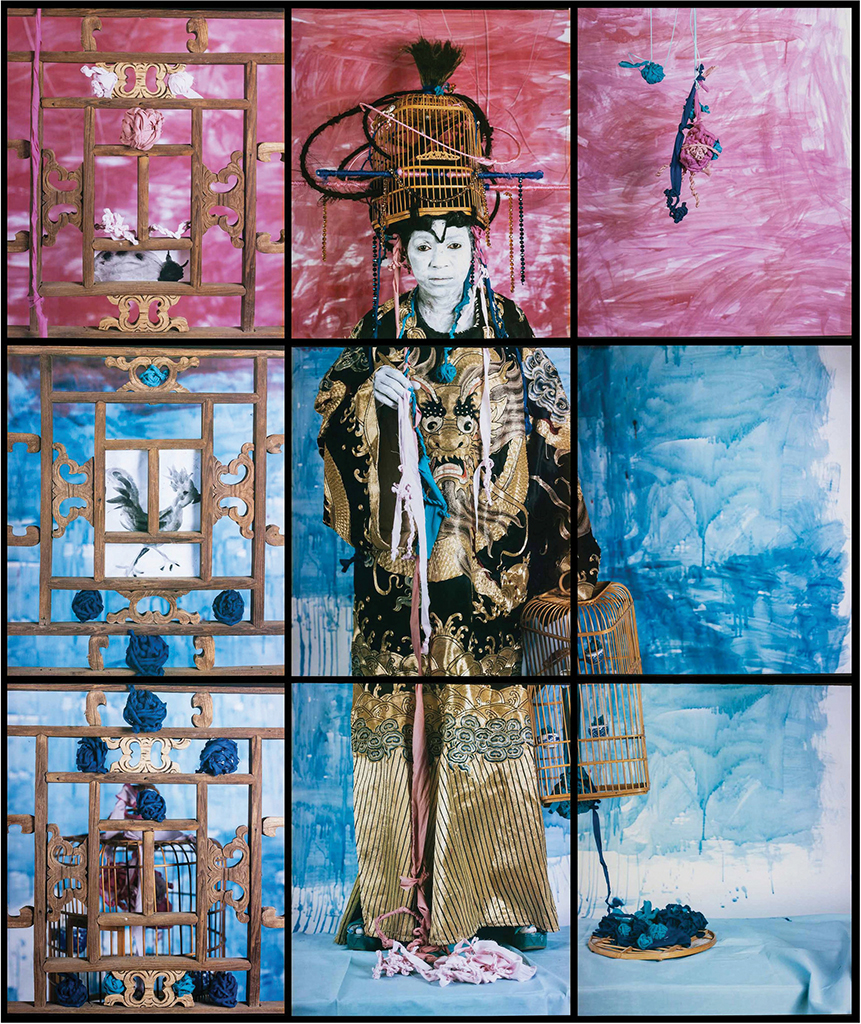 "The Flag. Color Code Venice 13," 2013, 89 1/4 x 68 1/4 inches, composition of nine Polaroid photographs
This multi-panel photo-based piece is an example of Magda's recurring theme of "transculturation" — the process by which cultures become mixed hybrids of different influences. It is a work in itself as well as a documentation of a larger performance, one that's spanned the artist's storied career. She is dressed in a neo-Byzantine costume that combines elements of Chinese, Spanish and Afro-Caribbean regalia. Her powdered face and birdcage crown are both regal and ridiculous, the product of cross-pollinating cultures beyond recognition.