The Frist recently opened the doors for Rina Banerjee's retrospective, Make Me a Summary of the World. The exhibit features 22 years worth of work, including sculptures, installations, videos and paintings, from the mind of the Kolkata-born artist.
Even after 50 years in the United States, Banerjee still feels "othered." In her work (and in her impressively long titles that are works of art in themselves and which you absolutely must read in full), she discusses this feeling alongside themes of identity, ideologies, nationality, migration, race, gender and sexuality. She flips these ideas on their heads — as in her Red Riding Hood, who, at a closer look, sports a handsome mustache — and makes the viewer painfully aware of their vulnerability and mortality. Medical tubing splays across the wall, like rivers or veins flowing out from a central point of objects from around the world, in an expression of how anti-immigrant rhetoric still refers to immigration as a spreading disease.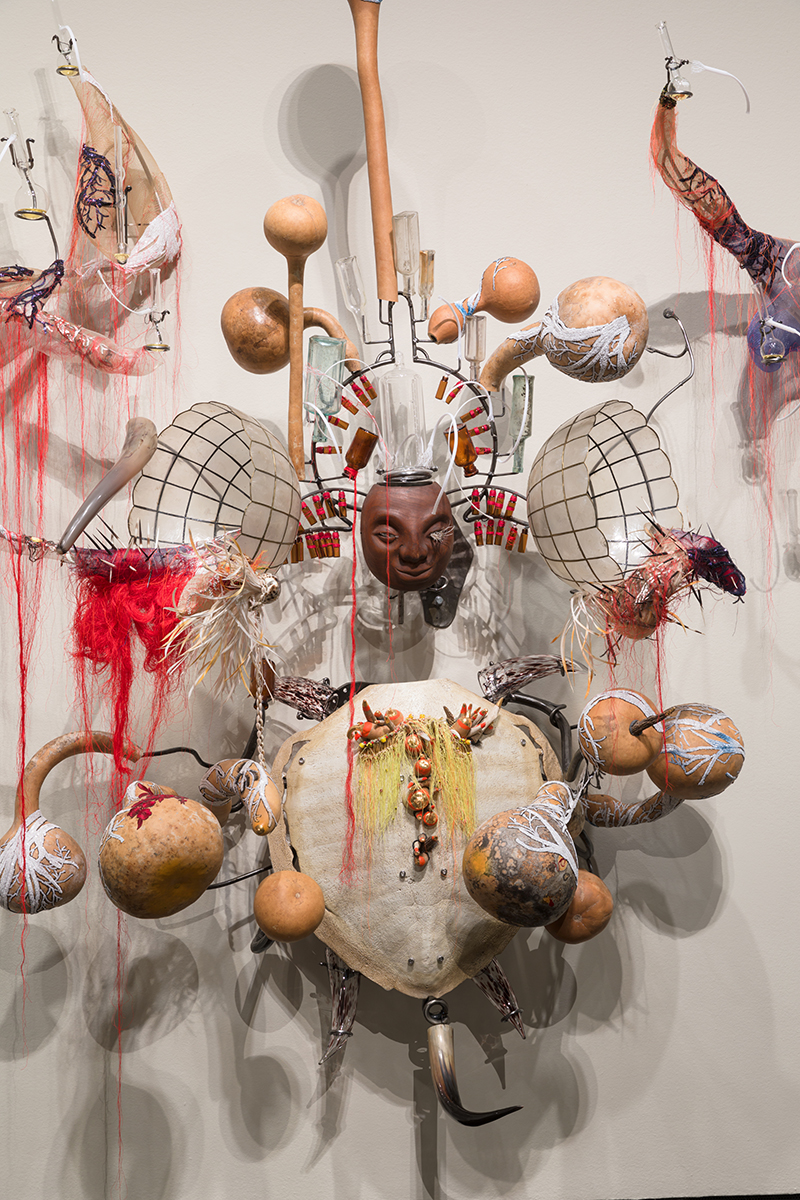 Those global objects play an important role in nearly all of her artwork, which appears, at first glance, to be a disorienting collection of random materials, but upon closer inspection, you see the individual elements (shells, feathers, stones, driftwood, beads) and how they're connected to the elements beside them (huge faux horns, Chinese umbrellas, alligator heads, miniature soldiers). You follow those suggestions to the next objects and the next objects, allowing yourself to be led by her on a journey through the history of colonization, the immigrant experience, lost identity, sensuality and economy.
This is an exhibit you absolutely will not want to miss. Plan to take your time or come back later if you must, but don't rush the experience of Make Me a Summary of the World. The retrospective will be on display in the Ingram Gallery until January 10, 2021.
For more information on Rina Banerjee, the exhibit and the new safety protocols, visit the Frist Art Museum at fristartmuseum.org.
Photographs by John Schweikert, courtesy of Frist Art Museum