Long before the Greeks were creating theater and European explorers were expanding our understanding of the world, there was ancient Egypt. For centuries, scholars have sought knowledge of her secrets while travelers have made pilgrimages to her doors. Beth Alexander takes us inside her recent trip to Egypt.
---
If you had a time machine, where would you travel? We chose the sands of Egypt, a robust 5,000-year-old civilization built for the ages. Our 10-day trip kept a brisk pace, thanks to impressive expertise from Destinations & Adventures International (DAI). Founder and CEO Jim Berkley, dubbed "Mr. Egypt" by Travel & Leisure, ensured every detail was meticulously addressed. Each day, remarkable relics of the rich culture came alive through mystery-filled structures and extensive hieroglyphic records. 
Our adventures began at the most iconic and imposing Egyptian structures: the Great Pyramids of Giza and the Sphinx. The Sphinx stands just in front of the Great Pyramid, built by Ramses II. All are overwhelmingly massive, with some stones weighing as much as 200 tons each. Inside the pyramid, visitors could climb a stone staircase, then scale a wooden-planked incline to the summit, a burial chamber containing only one item: a large, empty, unmarked tomb. As one might expect, the passageway is narrow and filled with tourists headed in both directions, and the ceiling is only about four-and-a-half feet high, which requires climbers to bend from the waist to make the ascent. If you don't mind sore quads the next day, this is no issue: The experience is an indelible memory.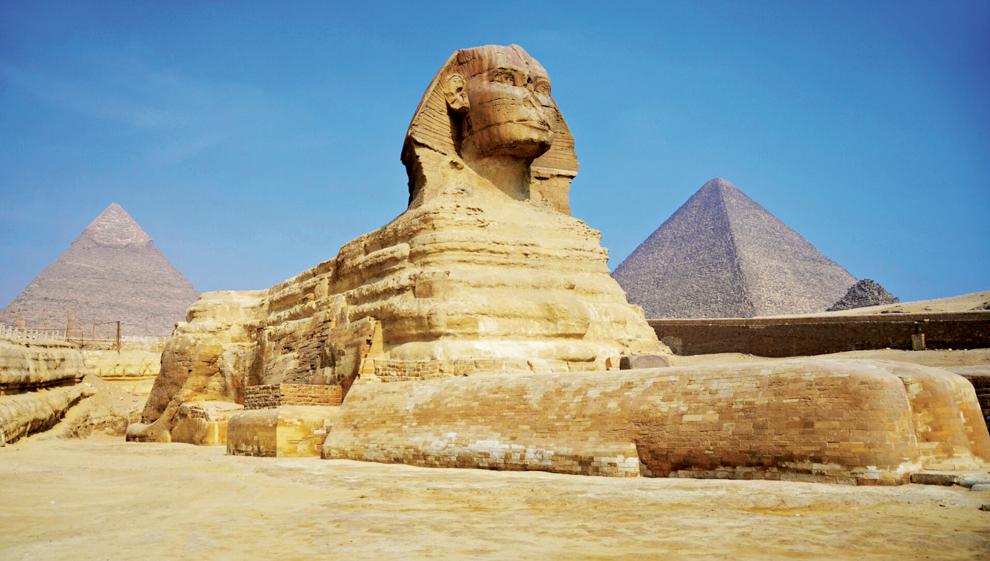 The Step Pyramid in Saqqara, built circa 2670 BC by the pharaoh Djoser, is the oldest in the world and was designed by the vizier Imhotep, a physician, mathematician, poet and astrologer. Situated amid a large necropolis containing tombs of Egyptian royal families, the road to Saqqara is bracketed by active archeological digs which promise more unearthed treasures in the near future.
One morning began with a visit to Cairo's Mosque of Sultan Hassan, built in 1356 AD. The massive structure functions as a school, or madrasah, as well as a place of worship, and dozens of hand-lit gas lanterns hang from incredible heights. No hair covering was required, but it seemed a good idea to be culturally respectful in downtown Cairo. 
The energetic and historic Khan el-Khalili bazaar — the longest continually running market in the world, begun in 1382 AD — revealed narrow stone streets and over 4,000 booths selling every imaginable Egyptian form of goods, from alabaster to shawarma. 
The Egyptian Museum in Cairo displayed the relics of Tutankhamen's tomb, stunning in their 24-karat gold brilliance. The funerary mask alone took my breath away, and it was hard to walk away from the ancient jewelry, other elaborate funeral masks and nesting dolls of Tut's sarcophagus, the smallest of which contained locks of his hair.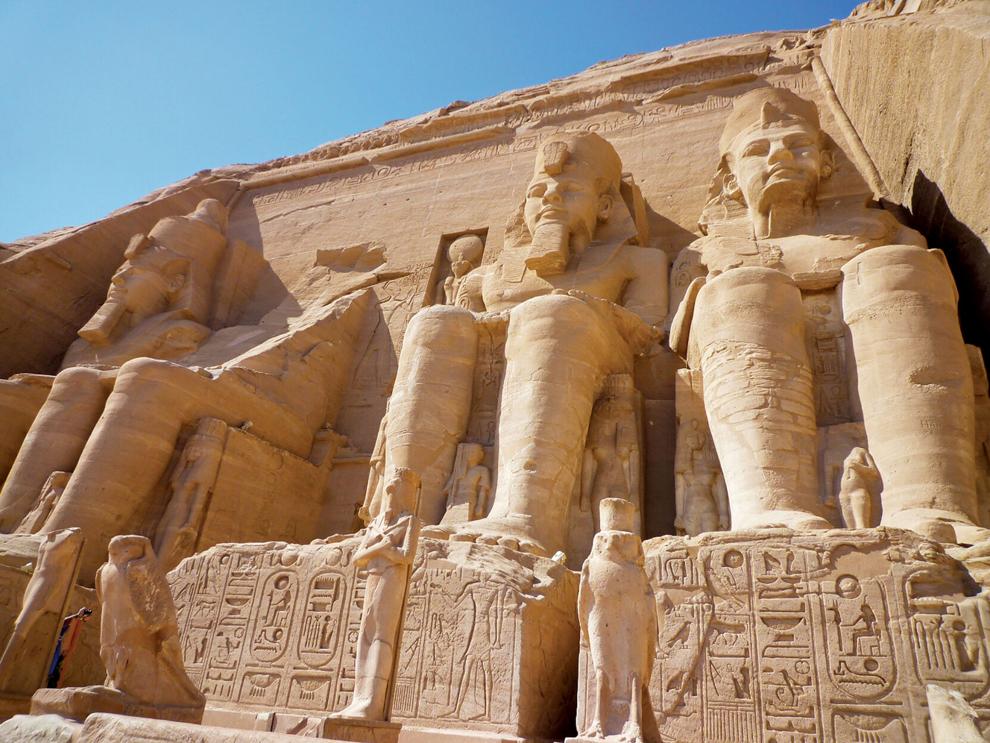 An easy flight to Aswan in southern Egypt brought a warmer climate and more intense sunshine. A short ferry ride brought us to the shore of our next attraction, and we boarded "ships of the desert" — camels — to reach our destination. I rode a camel named Zizou (a variant on Zidane, meaning "delightful"), guided by a lovely young man named Ubdo. Finally, we arrived at the ruins of St. Simeon Monastery — a Coptic monastery built in the 7th century and destroyed by Saladin and his forces in 1173. As this refuge is neither widely known nor generally advertised, this is a good example of a perk that booking with DAI affords: We had the site to ourselves.
Another short flight took us on a daytrip from Aswan to Abu Simbel to explore the Great Temple of Ramses II and the smaller temple, dedicated to his favorite wife Nefertari. Both temples — now one of the most stupendous sites of ancient Egypt — were built during Ramses' reign (1279—1213 BC) in hopes of deifying himself and Nefertari.
A short stroll from the temples were the Nubian Museum and the Crocodile Museum, the latter of which displays quite an unusual exhibit of mummified Nile crocodiles as well as a tiny, mummified crocodile fighting its way out of an egg. 
The Nile cruise departed Aswan for our remaining stay as Tariq, our able guide, escorted us through even more remarkable excursions. The Philae Temple, constructed during Egypt's Late Period, was built to honor Isis, the queenly goddess of healing and magic. Detailed temple walls were covered with hieroglyphic representations of ancient Egyptian myths and beliefs.
The rising waters of the Nile — and the 1902 installation of the old Aswan Dam — caused a reservoir to form, eventually submerging the Philae Temple. In the 1960s, the construction of the High Dam freed Philae, Abu Simbel and other neighboring ruins from the reservoir, but considerable damage had been done to the structures. A joint effort by UNESCO and the Egyptian Antiquity Organization relocated the entire structure to its current site on nearby Agilkia Island, a project that took 8 years and feats almost as remarkable as building pyramids.
The main lesson of this once-in-a-lifetime trip to an exotic, other-worldly country was the discovery of similarities with those who might seem quite different from ourselves. Pharaohs built tombs and stocked them with food, worldly goods and livestock because they believed in the resurrection of the body, and guides spoke of the cultural struggles Egyptians faced while becoming monotheistic with one god, Ra, presiding over all creation. These people desired to live a good life, to show generosity and kindness to others and to return for a blissful afterlife. All of these are familiar concepts in the Western world.
Our Egyptian guides had studied for years to become knowledgeable Egyptologists. Each was intent on conveying the significance of this incredibly creative and productive culture, much of it documented in hieroglyphics, carefully carved into the stone walls of every monument. There were a couple of typos, a universally understood aggravation, and the supervising priests evidently said, Please just stop. Hieroglyphics, an intricate alphabet including numbers, uses pictographs that are quite vivid and detailed.
I felt a thrill similar to Helen Keller's recognition of w-a-t-e-r, and as we learned just a bit about the written language, we became eager to understand more. We began to differentiate between words and numbers that filled the walls at Philae; at the Temple of Kom Ombo, dedicated to both Sobek the crocodile god and Horus, the falcon-headed sky god; at the Temple of Horus at Edfu, the best-preserved pharaonic temple in all of Egypt; and at the colossal Karnak Temple Complex, home to the largest religious building ever built.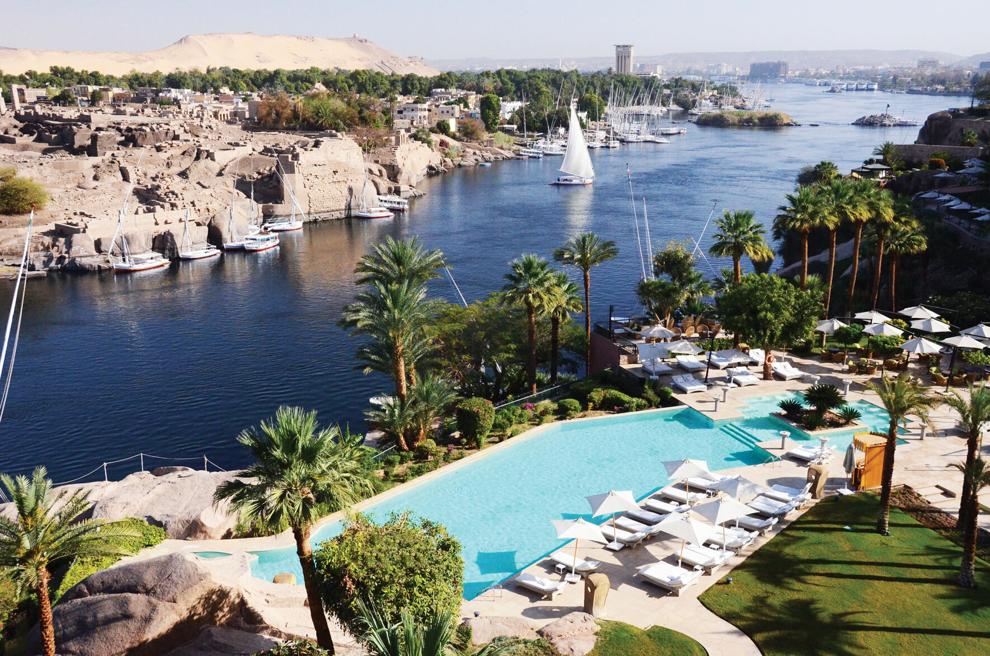 The Four Seasons Hotel Cairo at Nile Plaza was a terrific and convenient first stop, with luxurious rooms, wonderful service and fantastic restaurants to choose from for dinner. Overlooking the Nile, Sofitel Legend Old Cataract Aswan was incredibly romantic. Built to resemble a spectacular palace, it is grand and filled with gracious staff who welcome you like family. Notables from Grace Kelly and Omar Sharif to Winston Churchill have stayed there. Visiting Agatha Christie's home-suite-home, where she lived for a year as she wrote Death on the Nile, was a thrill, and other famous guests included Princess Diana, Tsar Nicholas II and President Jimmy Carter.
A word about weather: Cairo is in northern Egypt, and some may require a layer against the wind. Once we arrived in Aswan, however, the weather was much warmer, so pack a bathing suit. Another note: Blue jeans are fine for riding horses, but too warm for camel trips on the Sahara.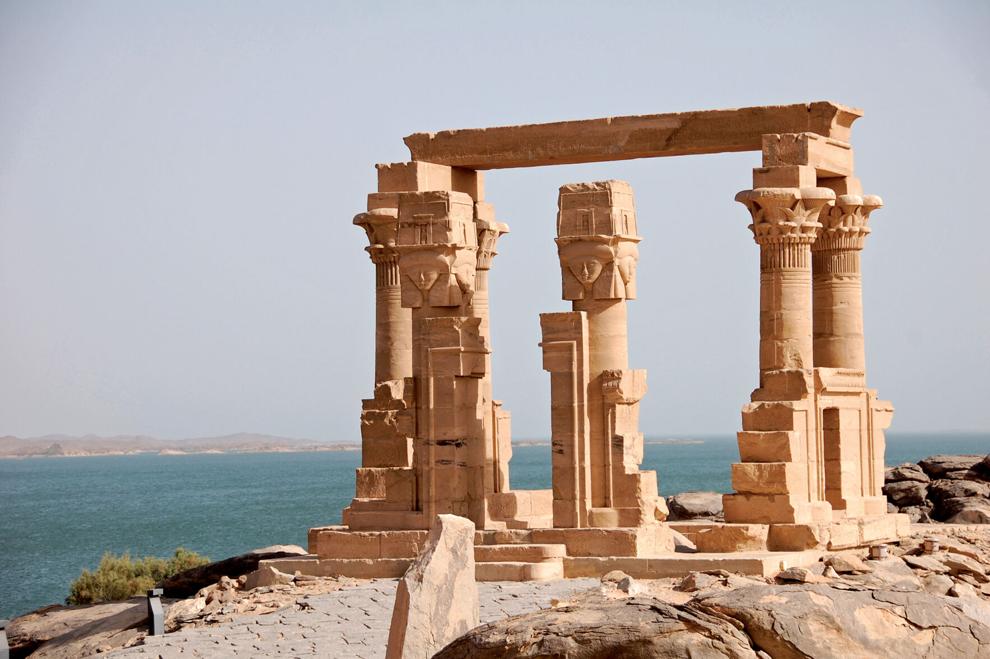 Camel trips aside, Aswan traffic lanes were quite orderly. Cairo traffic, however, is something more akin to bumper cars: There are no lanes, and there are no crosswalks; residents cross whenever and wherever they feel like it amid a constant flow of competing traffic. We dared to cross only once, under attentive instruction of our guide, Ahmed. It seemed best not to look.
Regarding safety, the guides were our most effective protection and never more than a few feet away. Apart from a twilight visit to a monument, we didn't go out much at night, preferring to have dinner shipboard or at lovely restaurants in the hotels in Cairo and Aswan. During the cruise, two uniformed guards stood at the base of the ramp to ensure safe departures and returns. Akin to a barge, the ship was well-staffed as it motored slowly down the longest river in the world. It gave us an idea of life on the Nile, as well as easy access to our final four days of exploration. 
Tipping is expected everywhere — for guides, hotel staff, or anyone who picks up a hanky you might have dropped. If you travel to this ancient, beautiful place, bring plenty of small bills. The US dollar is widely accepted, as are credit cards. Yes, my purse was lighter upon our return, but our hearts were full of wonder.