Her Style: Visualize, Organize, Merchandise
With spring cleaning at the top of mind — and maybe at the bottom of to-do lists, it feels like the perfect time to share some of the steps I take when going through a seasonal closet edit with clients.
Keep the Goal in Mind
Getting dressed is something we all do every day, yet it's often just another time we might beat up on ourselves. The goal of a closet edit is not only to clear out physical, mental or emotional clutter, but to recognize that your morning get-ready routine is an opportunity to feel joy and empowerment — not frustration. 
Prep for Success
Setting yourself up for a win can be half the battle. This checklist can help eliminate distraction, keeping your focus on the goal at hand. 
Determine the resellers or charities where the edited items will go. Visualizing where clothes are headed can make it easier to let them go!
Label your boxes or bins and set them up in strategic, convenient places.
Get your trash bags ready to go.
Grab a pen and paper, or open your phone's "notes" app to keep track of anything that might need replacing.
Time to Pull
Once you're prepped and ready, it's time to start pulling and determining if items should stay or go. An overarching rule of thumb to remember here: only keep something if you love it, need it or use it. Be super honest with yourself — your goal is to have a careful curation, not a cluttered collection.
Merchandise Your Closet
I always vote for progress over perfection when it comes to closet organization, but the goal is to make a space where you'll actually want to spend time browsing. I generally try to hang everything I can by category, then color, then sleeve length. Remember: If you can't see it, you won't wear it. I also love to add little touches that make it feel like your own, personal boutique; add a nice candle, hang some pictures, or you could even display your jewelry in a fun way.
On-the-Fence Items
Did you end up with a big "maybe" pile? If you're really on the fence about something, store it in another room! If you don't miss it in a month or two, it's probably safe to say goodbye. Sometimes just moving those items to another space can help break the connection you have to them.
Bonus Tip
Challenge yourself to swap every garment to a felt hanger. If you don't love something enough to put it on a nice, new hanger, get rid of it!
---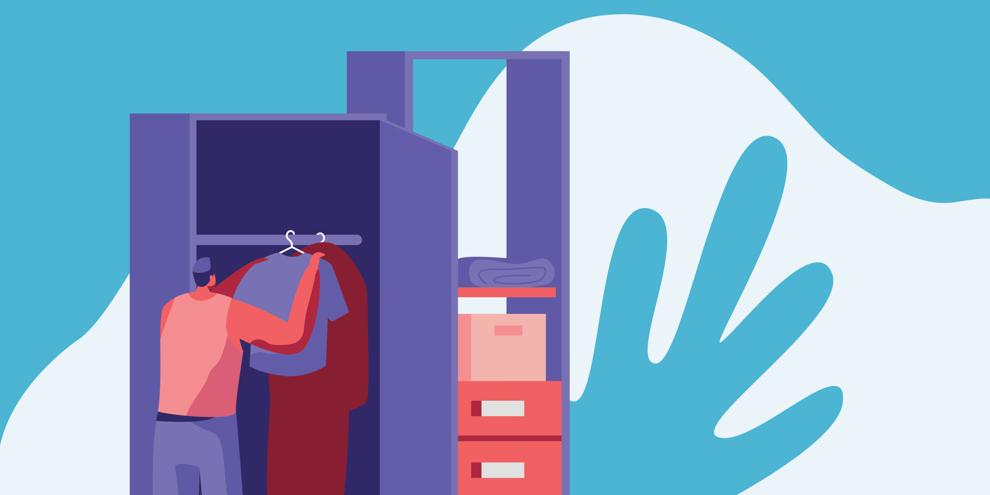 His Style: Spring Cleaning & Closet Editing
Gents, let's talk about closet clutter and how to eliminate it! The first step in building your amazing wardrobe is getting rid of items that no longer serve you. I like to call this process a "Closet Edit" or a "Closet Detox." Here are three questions to ask yourself when figuring out what to keep and what to detox.
Have I worn this item in the last two years?
Men tend to get gifted a lot of clothes. Whether it's a present from a well-meaning partner or hand-me-downs from a family member, we may wear it once or twice and toss it into the endless abyss: the back of the closet. We also tend to hold onto clothing that has lived long past its prime. As a rule of thumb, if you haven't worn an article of clothing in the last year or two, it's time to let it go. If it has visible dust or cobwebs on it, you might be a hoarder — and that's a whole other set of issues, but that's for you and your therapist to unpack.
Does it fit?
Our bodies fluctuate. We lose weight; we gain weight, but the fit is king in menswear. I tell my clients: "We dress the body that you have." You want to have a wardrobe that represents the body you have now — not the one you had. Be kind to yourself: discover the mental relief that accompanies detoxing your closet of clothes that used to fit. Release, release, release!
Does it speak for me anymore?
Your clothing choices are a type of first impression, speaking for you, even before your mouth does. What do you want your clothes to say? You go through different chapters and phases in life, and your wardrobe should reflect that. As you evolve, your wardrobe should grow and change as well. If it no longer "feels" like you, it's not. Let it go.
From consignment to donations, there are various ways to repurpose your gently used clothing items. They may no longer serve or represent you, but that doesn't mean they can't help another. Lighten someone else's burden.
Also, chances are high that Elsa is serenading you with "Let It Go" after reading this article, and you're welcome.