After a recent morning spent sweeping spilled dog kibble off the kitchen floor, throwing a load of mismatched towels into the washing machine and schlepping the recycling bin to the curb, I happened to visit Heirloom Artifacts in Belle Meade. Upon entering the newly opened shop, I was struck by a sudden yearning for a life where everything is in its place, beautifully color-coordinated and exquisitely curated. 
Terra cotta, leaf green and cream-colored organic cotton aprons by Haomy hang from painted wooden pegs on the wall next to an armoire filled with custom throw pillows and luxe bed linens. A green ceramic bowl on an antique wooden desk is filled with perfectly ripe Anjou pears.
"Everything in here is a 'life we want to live,' aspirational thing," says interior designer and owner of Heirloom Artifacts, Stephanie Sabbe. 
"We want to wear an apron, we want to light a candle, we want to drink espresso out of a pretty cup," says Stephanie. "We don't, but why not reach for that? And so, that's kind of what everything is about, even the throws ... My look is not perfect. We have four children and two animals. My house is very well lived-in." It's not about perfection, Stephanie reminds me: "It's more about living what you love and keeping stuff that makes you happy."
The designer had been in the space for a year, meeting with clients and receiving deliveries when one day, she got tired of all the boxes piled up in the front room and began to envision a small retail shop. 
"I do not consider myself an expert shopkeeper," says Stephanie, "but my approach to the shop was to pick a [color] palette and stick to it." Table linens and hand-crafted pottery in warm earth tones, amber glassware, books, board games, and antique-store scores enhance a homey atmosphere. Stephanie could have easily named it, "My Favorite Things." 
She's not the only one who resonates with her finds: Stephanie had several antique side chairs in storage that she reupholstered in different fabrics. Someone in New York spotted them on Instagram and bought the whole array that day. 
Her newest endeavor — prompted by limited resources in the marketplace and a desire to offer her clients something unique — is designing and manufacturing her own pieces, beginning with lamps and lampshades.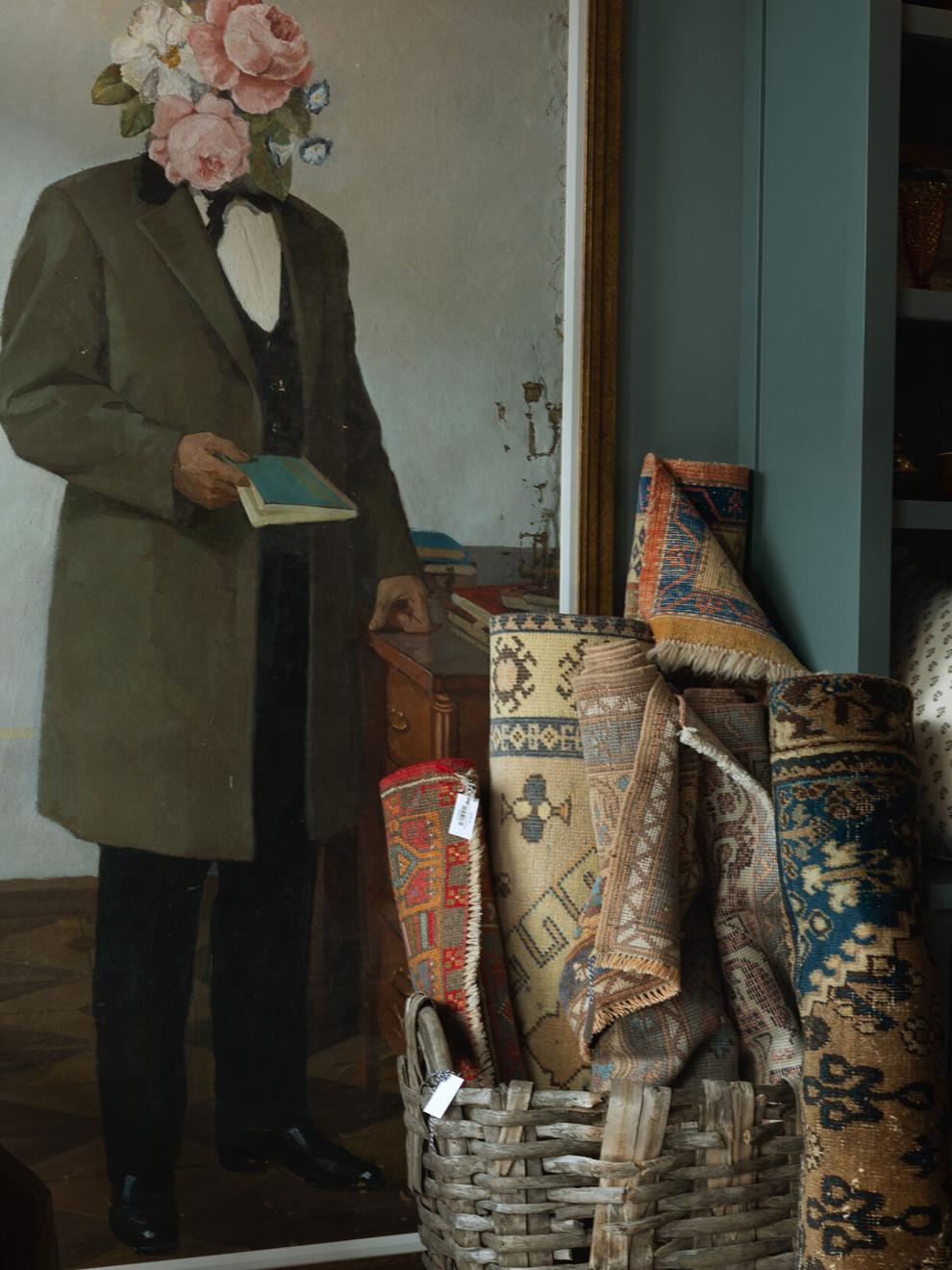 History Lessons
After graduating in 2004 with a degree in interior design from the University of Tennessee in Knoxville, Stephanie spent two years in Nashville working for Gresham Smith, an architectural and engineering firm. She then moved north to Boston where her husband, Bryan, had a medical residency, and where it wouldn't be unusual for a client's home — fireplaces, original molding and all — to have been built in the early 19th century. "[The Boston experience] has honestly been such a blessing and taught me so much about interior architecture," says Stephanie.
Polishing a Gem
Her love of historic architecture recently served her well while renovating RT Lodge in Maryville. Collaborating with Knoxville-based Johnson Architecture Inc., Stephanie updated the 1932 build that resides on the campus of Maryville College. She embraced its classic revival architectural style, so the interior now echoes a British country home — tartan plaids grace the guest rooms as a nod to the school's Scottish Presbyterian heritage. This project inspired her wooden cordless table lamp that she pairs with a pleated shade.
Back to Class
In the back of the store, offices and a conference room occasionally play host to guest instructors who teach a myriad of classes like makeup application, calligraphy and floral design. After a recent knitting class, Stephanie was reinspired: "It was fun because I had knitted before, but it's been over 10 years." Shortly thereafter, she and her seven-year-old daughter bonded over knitting on their spring break ski trip. Find class information on the shop's Instagram @heirloomartifacts or by calling (615) 953-2908.