During a recent tour of the residences at Fifth + Broadway, downtown's highly anticipated mixed-use development, general manager Tom Miller peers over a balcony at the crowds milling about on Broadway below. The beauty, Tom says, is that "you're at the party; you're not in the party."
The entire development, which also includes a 24-story office tower, is meticulously designed to assimilate into a historic part of town. It is steps away from Ryman Auditorium, Bridgestone Arena and the honky-tonks and shops on Lower Broadway.
"There isn't anything here that was done in a vacuum," says Tom. "It was all done in great partnership with the city to make sure that it wasn't something that felt disproportionate to what's around us here."
Yet, it still feels self-contained — centered around Broadway Place, a pedestrian-only brick street flanked by both local and national retailers and restaurants. It is anchored by the newly opened National Museum of African American Music (NMAAM) and connected to the Renaissance Nashville Hotel, so guests can literally walk out a door and be in the heart of Fifth + Broadway.
Retailers include Apple, Sephora, Free People, Ray-Ban, Ariat, Molly Green, Hollie Ray Boutique, REVV, The Nash Collection, Tecovas, State & Liberty, The Dry House, The Studio 208, Veseo Lingerie & Swimwear and Swipe Right Art.
There are numerous individual restaurants in addition to Assembly Food Hall, which is run by Front Burner Restaurants. An outdoor walkway connects the food hall's north and south sectors. The Tampa-based restaurant management company will also operate a 1,200-seat rooftop concert venue and Sixty Vines, a wine bar and farm-to-table restaurant.
The Assembly Food Hall features eateries such as Donut Distillery, Whisk Crêpes Café, Thai Esane, DeSano Pizzeria, Oke Poké and NoBaked Cookie Dough. The space is highlighted by design details like exposed brick, polished marble floors and seating areas with leather sofas and wooden coffee tables. Musicians provide live music, and weather permitting, roll-up doors let the outside in. "It's definitely not your suburban mall," says Tom.
Individual restaurants include Eddie V's, a fine dining restaurant known for its seafood and prime steaks; Blanco Cocina + Cantina for tacos, margaritas and more; CAVA, a casual spot for healthy Mediterranean offerings; Hattie B's Hot Chicken; Jeni's Splendid Ice Creams and local favorite Slim & Husky's Pizza Beeria, the first Black-owned restaurant on Broadway.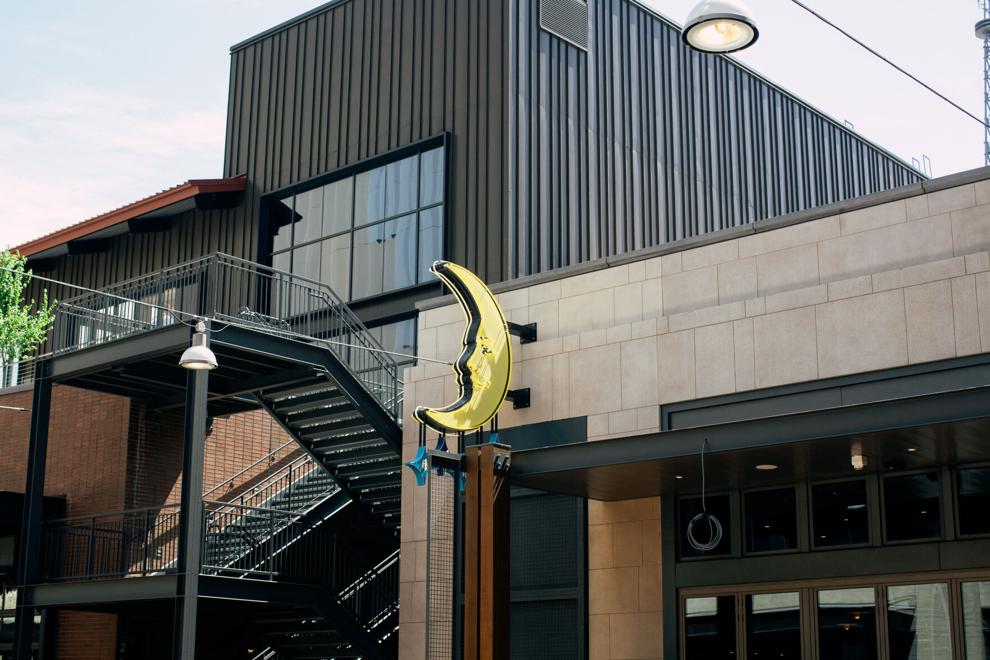 FAMILY HISTORY
The 6-acre, $450-million complex, which sits where the old convention center used to be, is the brainchild of developer Pat Emery and his late wife, community and business leader Kitty Moon Emery. There is even a neon crescent moon hanging above Elixr Coffee Roasters in her honor. Pat and his partner on the project, Dene Oliver, chief vision officer for Brookfield Properties, enlisted Nashville-based architectural firm Gresham Smith and finally saw the doors open March 4, after more than eight years in the making.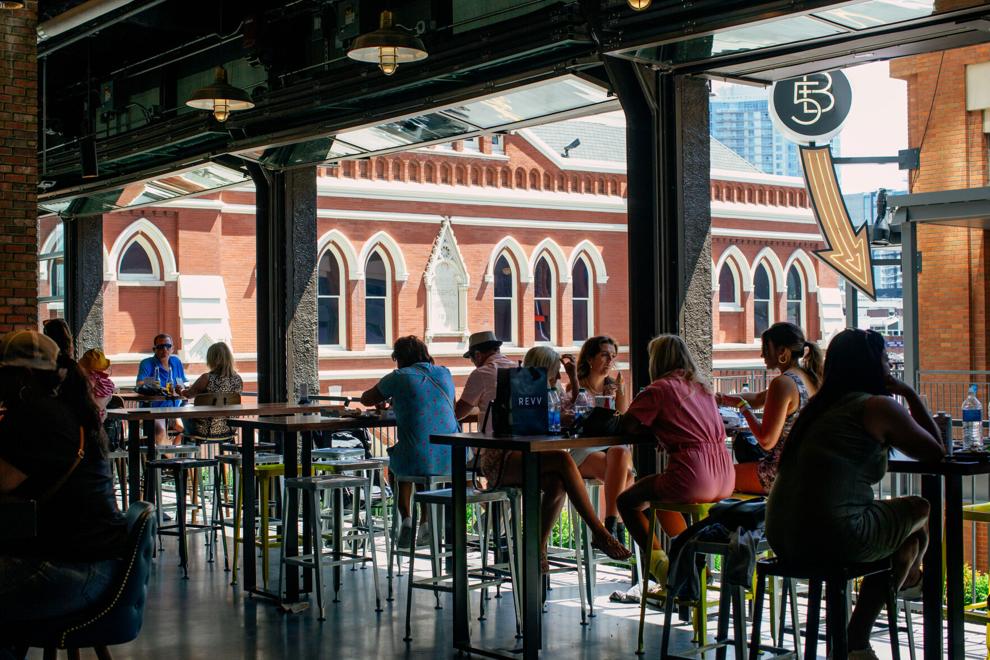 NO PLACE LIKE HOME
The Place at Fifth + Broadway is a 34-story high-rise with 386 apartments ranging from studios to three bedrooms. The top two floors consist of 14 penthouses. Building amenities include a lounge, fitness center, pool, an outdoor area with fire pit, a work hub and a recording studio. There's even a dog run for four-legged residents. Because of height restrictions applying to buildings directly on Broadway, the residence and office towers, which are required to be set back at least 100 feet, offer spectacular, unobstructed views.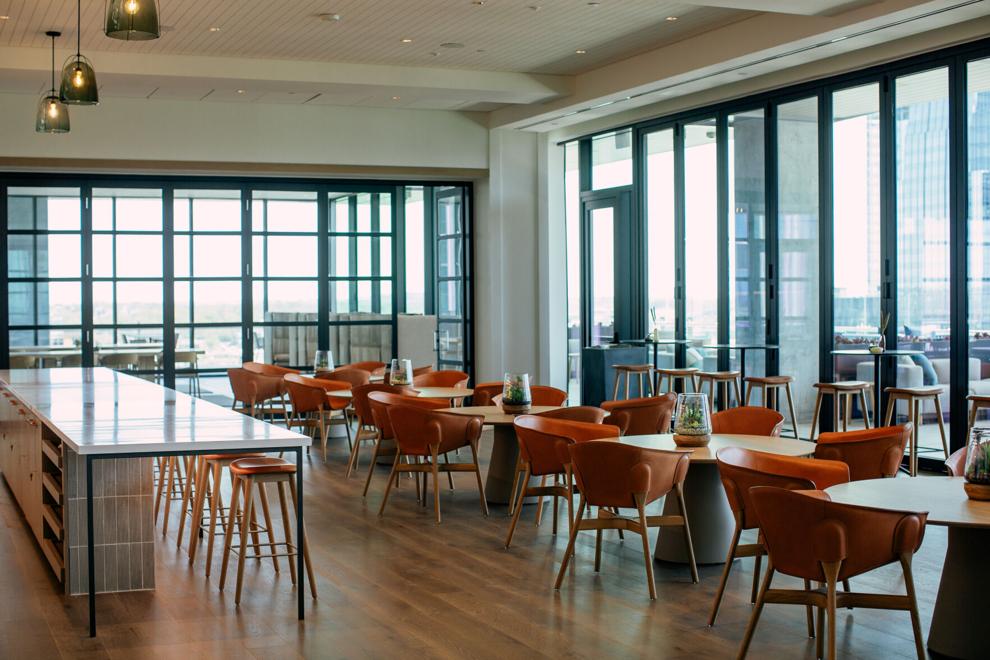 ALL IN A DAY'S WORK
The 24-story office tower, 501 Commerce, offers 372,000 square feet of office space with floor-to-ceiling glass windows. On the 11th floor, there's a large gathering area with outdoor seating, fire pits and a state-of-the-art kitchen. There are plans for the area to be rented for private events. AllianceBernstein, a global financial company, occupies floors 17-24. The development has added more than 2,000 parking spaces to downtown, including spots in the office tower that will be available to the public on nights and weekends.
DINNER CLUB
Restaurateur Sam Fox will be a prevalent presence, serving as CEO for Fox Restaurant Concepts, which opened Blanco, and separately spearheading The Twelve Thirty Club, which counts Justin Timberlake as an investor. The three-story venue features an "elevated honky-tonk" on the main floor and a lounge on the second floor that will offer cocktails and shared plates. The elegant supper club is on the third floor, serving dinner and featuring live music. It comes complete with a rooftop terrace, fireplaces and breathtaking views.