When the Tennessee Titans Foundation created the new programs director position with the goal to grow the breadth and depth of the organization's community impact efforts, they must have had Johari Matthews in mind. The Nashville native has always been rooted in the nonprofit community. From her first volunteer job as a high school student working at the Special Olympics to her past position as executive director of the Northwest YMCA, she has been providing resources, support and healing for individuals and families of all ages.
In addition to being a huge Titans fan, Johari was also familiar with the team's philanthropic impact through the Northwest Y. The Titans were a community partner there, and its players participated in the youth programs. In this new position, she serves as a primary liaison for all Titans Foundation partnerships. "Having an opportunity to impact the community through the Titans organization was something I couldn't resist," says Johari, when describing the appeal of the move. "I am thrilled to be able to lead this work into the next phase and identify ways for the Titans to go deeper, making more generational impact."
When Johari isn't helping the Titans broaden their impact in the city and across the state, she's busy helping other agencies with their missions. She serves as board chair for Corner to Corner and sits on the board of The Community Foundation of Middle Tennessee's The Women's Fund. She's a member of the Junior League of Nashville and is active in the local chapter of Alpha Kappa Alpha Sorority Inc. And she always makes time for her husband, two children and her "cool cat named Carlos." We caught up with Johari at Nissan Stadium, where we chatted about community partnerships, her favorite local event — besides Titans games, of course! — and more.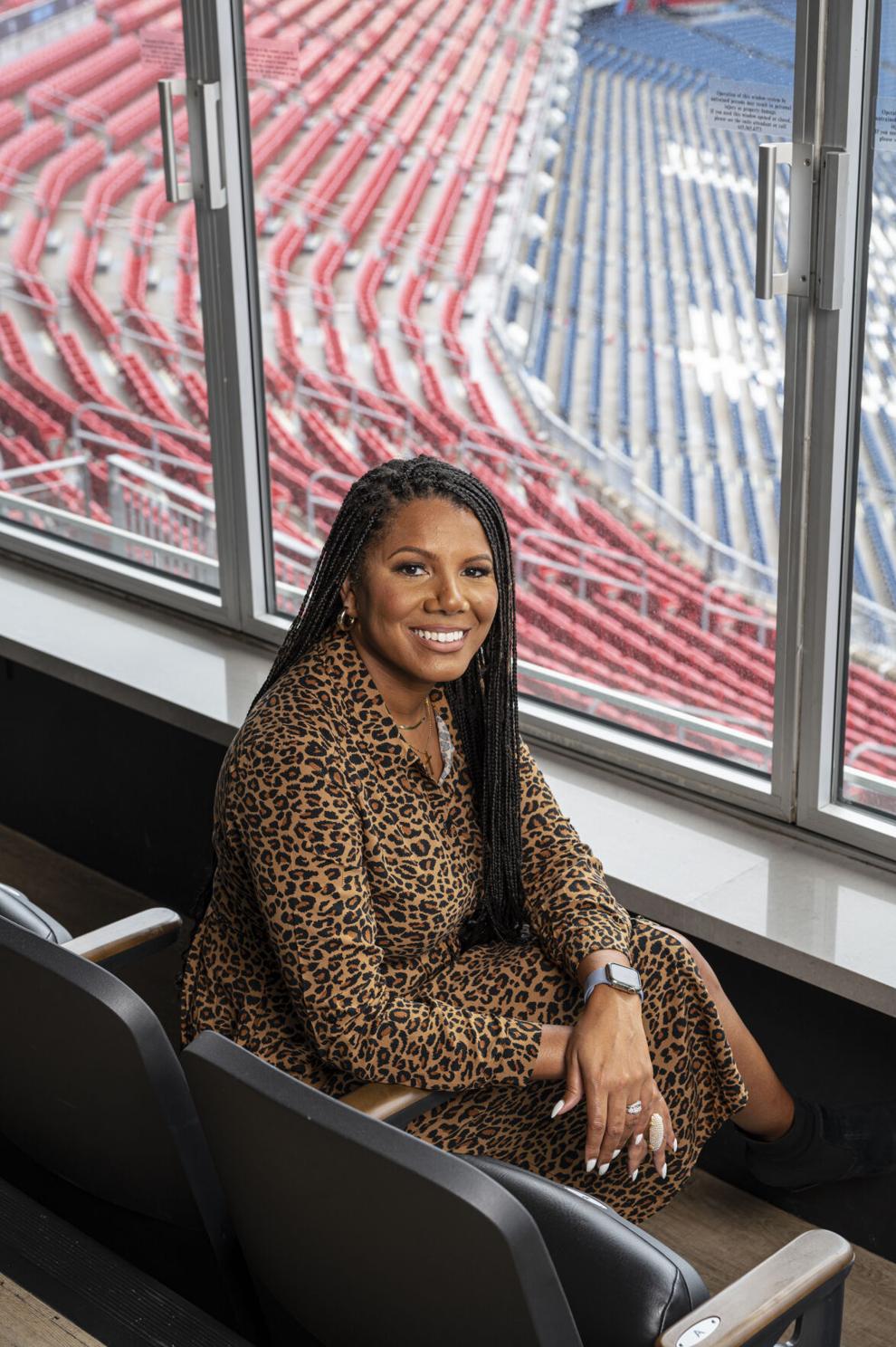 What's the first order of business in your job? To revitalize the Titans Foundation by expanding our community benefits programming, shaping our areas of focus, and strengthening engagement with our stakeholders and community partners.
What's a partnership or program that you are most excited about? This is such a hard question because I am excited about it all! Since the Titans' arrival in Nashville [more than] 23 years ago, the organization has always demonstrated a commitment to the community. Our partnerships with Metro Nashville Public Schools, the nonprofit community and various partners have allowed us to walk alongside individuals and families in a special way. Ultimately, we know that we have a social responsibility to show up not only for our fans, but also for the entire community. I look forward to seeing how our work evolves.
What was your favorite restaurant growing up? I loved Red Lobster! My mom would always take us there to celebrate birthdays, special occasions and everything in between, so it holds a special place in my heart from my childhood. I absolutely loved the Cheddar Bay Biscuits then, and [I] still do to this day.
Which "Old Nashville" place or event do you miss most? Hands down, Opryland. My family had season passes, and my dad took us almost every weekend. I love amusement parks and miss having one so close.
What annual fundraiser do you most look forward to every year? There are so many great ones, but I look forward to The Power of the Purse with The Women's Fund at The Community Foundation [of Middle Tennessee]. The Women's Fund distributes funding each year to nonprofits and organizations serving women and girls. As a woman and a mother to a daughter, I am passionate about issues that directly impact women and girls. It is inspiring to see so many phenomenal women gathering in one space.
Excluding Titans games, what's your favorite local event? The African Street Festival that takes place in North Nashville in the fall every year. It is a long-standing tradition centered around celebrating Black culture and the elevation of the African diaspora. The weekend is filled with good food, local and small minority[-owned] businesses and vendors, and lots of dancing and music. I have attended this event every year since I was a child and enjoy now being able to take my children.
What's the one thing you hope never changes in Nashville? I would have to say the connection to music, especially for local or up-and-coming musicians. We have so many talented artists in this city, and it is always amazing to watch them perform. Everyone should make it a point to check one out!