Nashville native Bruce Pittman found a love of hospitality during his early days of creating a catering company out of his dorm room. At the time, there were just a handful of event planners in Nashville, usually leaving caterers and florists responsible for setting timelines, budgets and other details. Since those early days, Bruce has grown into one of the most sought-after event planners in Nashville. He has designed countless A-list events throughout the city including Ballet Balls, Symphony Balls, Authors in the Round, An Evening with Scott Hamilton & Friends 2016-2022, and the Nashville Public Education Foundation Hall of Fame Awards.
The majority of Bruce's work comes from working with weddings. Having planned hundreds of ceremonies, pinned over a thousand boutonnieres and handed out countless tissues to guests with happy tears, he is in his element at a wedding. Helping to plan the details of one of the most memorable days in a couple's life has been a true labor of love for Bruce. From intimate elopements to lavish, over-the-top weddings with celebrity flair, he has planned it all. While keeping up with the latest trends in wedding fashion, color schemes and experiences, Bruce likes to focus most on the latter. His goal is to make sure everyone remembers the amazing event that celebrates two people in love.
---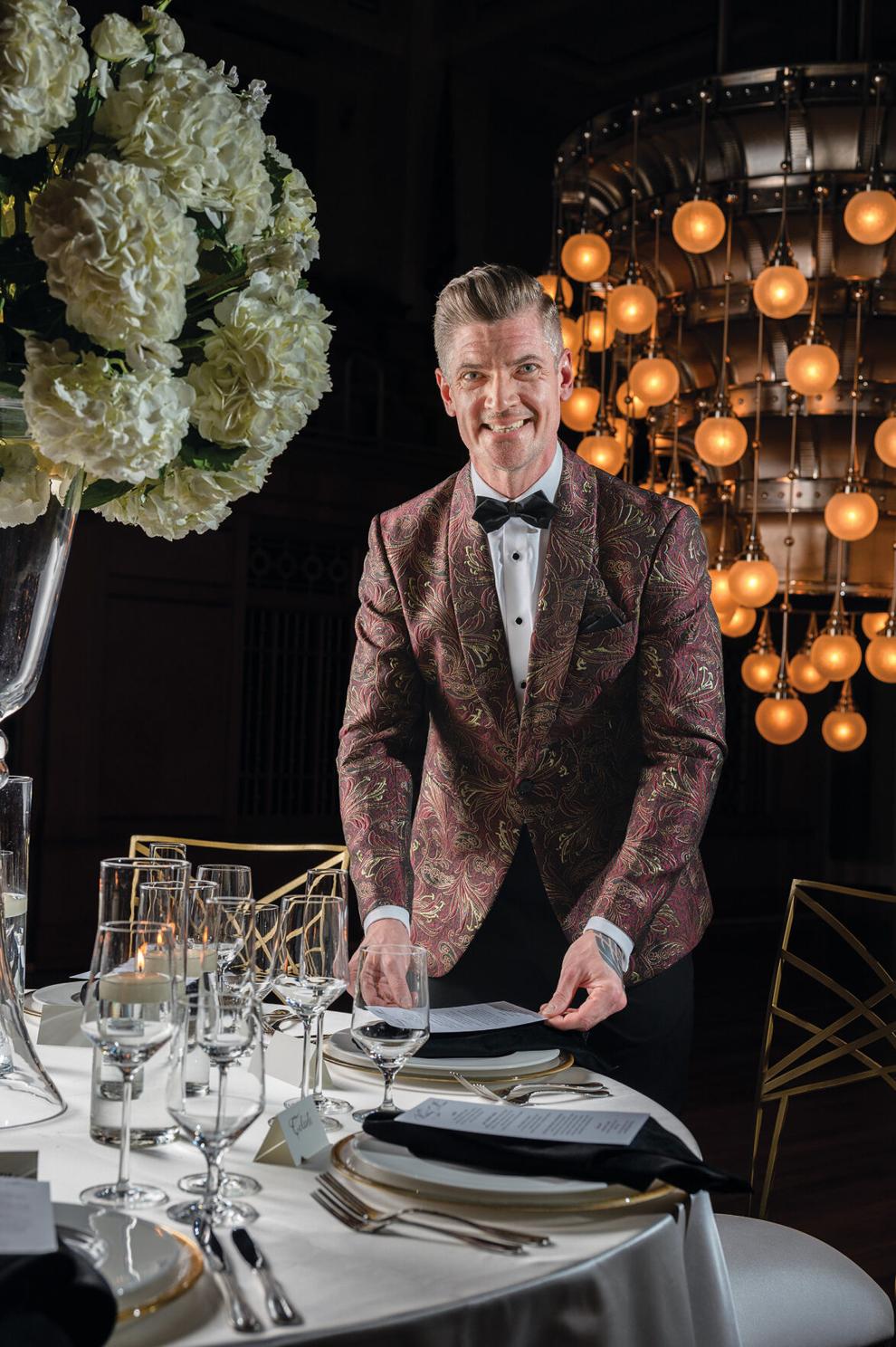 What did you want to be when you grew up?
I wanted to be a veterinarian until I found I had a weak stomach during one of our dogs' procedures. 
How did you discover event planning to be your true calling?
Food was my first passion, so I started a catering company, Bruce's Recipe, out of my college dorm and parents' kitchen. There were only a few "planners" in Nashville at the time, so florists and caterers created timelines for event execution. I loved event planning, so three years after opening, my company became Bruce's Recipe, Catering & Event Planning.
What is the most important advice you give to your clients?
Between Nashville's growth and social media's influence, we have couples wanting weddings they see on their socials hosted by celebrities, socialites, etc, and we love this emphasis on the beauty and grandness of weddings. With this shift though, it is important to not forget our true reasons for hosting a wedding – we don't ever want to let the design and grandness of a wedding overshadow the intimate moments our couples share.
I also advise clients to be comfortable drawing lines with wedding inclusions/budgets. Many couples compare their wedding to their friends' and relatives' weddings. Be comfortable with the wedding you are planning that shares your love story with those attending. Past the beauty and money spent, I think you truly remember the experience and personal details that make your wedding your own. 
What trends do you see emerging with events in the near future?
Style-wise: Bold, gold weddings are trending with the comeback of silver, black and white weddings as a hot ticket. And opulent, ornate designs are emerging post focus on more European-style weddings. Lace, lace, lace: lace within dresses and lace overlays in linens have made their triumphant return.
Event-wise: Focus on experiences such as 360-degree photo booths and tastings — these tend to trump guest favors and items that will more than likely be left or thrown away post-wedding. Grandmothers can be flower girls, and everyone's dog must be part of the ceremony. 
What is your most memorable event?
Many think I plan weddings for the design and beauty (which I do love), but I started planning weddings years ago because it allowed me, a member of the LGBTQIA+ community, to be part of someone else's love story that was authentic and genuine — something that (at the time) was not possible for me personally. If I had to pinpoint one "most memorable" event, it would have to be the weddings planned when the bride, groom or parent is terminally ill. Those weddings will live with me until my memory fades. 
When not planning events, what would you most likely be doing?
I would shift my focus to three areas professionally or on a volunteer basis. Passions include working with LGBTQIA+ abandoned/homeless youth, our community living with HIV and our furry friends within animal shelters.