When Laura Thurman of Thurman Design Studio was approached to design the interior of a brand-new 7,000-square-foot home in Franklin, she knew she was in for a challenge. She had already designed one house for her clients, but this project brought on a whole new set of design issues. This time, she was presented with a completely empty space and was tasked with making it a home, from schematic drawings, hard finish selections and overseeing construction design details all the way to completely furnishing and accessorizing each room.
The challenges began when talking with the homeowners, a Los Angeles transplant couple with greatly diverging ideas and design aesthetics. One wanted woodsy Southern charm, including a healthy amount of antlers, while the other wanted more bold and modern West Coast sophistication. But one thing that both clients agreed on was that the color palette for this home should be almost entirely neutral, despite the last home she designed for them being awash in vibrant colors. Laura insisted on still including some pops of color here and there, and they trusted her instinct to stunning success.
Aside from some personal photographs and a few other small items, Laura chose every detail, from the paint on the walls, accessories on the shelves and appliances in the kitchen to the flooring, fixtures and furniture. Everything she chose had to fit the aesthetic guidelines to please both clients, and this allowed her to explore styles and bend the boundaries of design. Some rooms are more refined, and others are more fun.
Laura says, "I feel like this project was a perfect blend of sophistication and coziness." The four-poster bed in the master bedroom, made by Noir in Los Angeles, is perfectly modern, while the sliding glass-paneled barn door next to it leading to the master bath is the epitome of farmhouse chic. The kitchen features a white vent hood that naturally blends in with the cabinetry and neutral-colored granite countertops (hand-selected from the slab yard by Laura and one of the clients), while the theater room is filled with an oversized leather sectional surrounded by original classic movie posters (from the client's time with a major movie studio) and an impressively large projector screen. To state it mildly, this home contains multitudes.
Laura firmly believes that good design is layered and pulls from other cultures, and while this project is primarily a mainstream American-style home, Laura made sure it also projected an earthy, global vibe. She included rugs and accessories from Morocco and India, and she featured a collection of antique traditional Native American figures belonging to the homeowners. After eight months of planning, designing and installing, she presented her clients with this gorgeous abode that perfectly exemplifies cosmopolitan elegance and Nashville charm.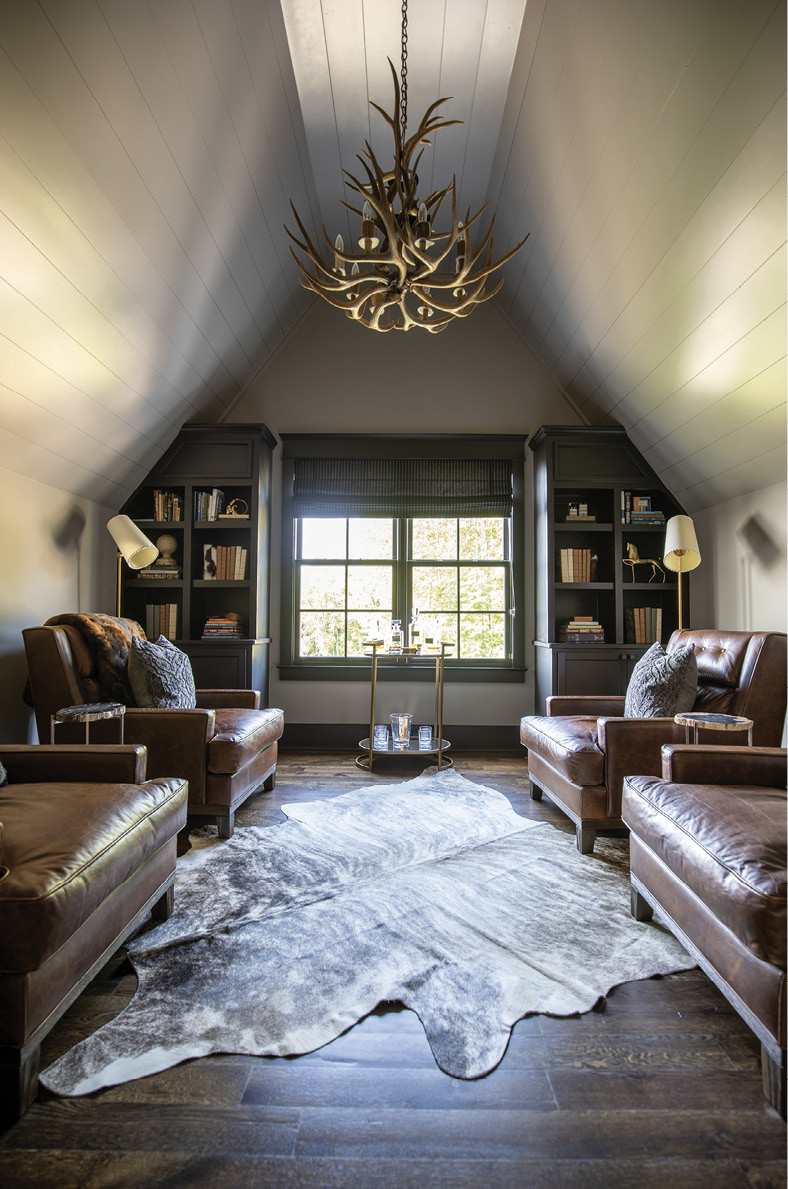 Taking It Speakeasy
This comfortable space, furnished with custom Eleanor Rigby Home leather chairs and built-in bookshelves framing the window, is the very essence of comfort and class. Add to that the cathedral ceilings, animal-skin rug and the antler chandelier by Antlerworx (made from real antlers, by the way), and you have a cozy yet modern space for relaxing with a glass of the good stuff.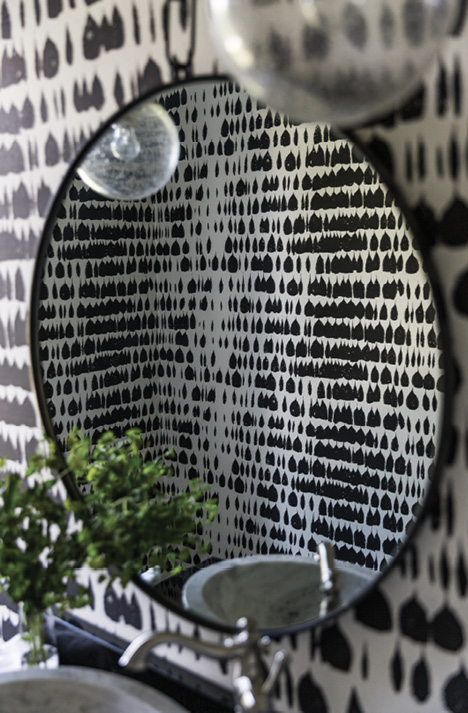 Wall of Satisfaction
While Laura had nearly ultimate freedom with the rest of the house, one nonnegotiable was the inclusion of this brilliant and legendary black-and-white wallpaper. Made by Schumacher in 1963, this "Queen of Spain" design was once in the London flat of Mick Jagger. Laura covered one of the bathrooms in it, and the close proximity of the walls and the hand-stamped pattern induce an almost hypnotic effect in the round mirror.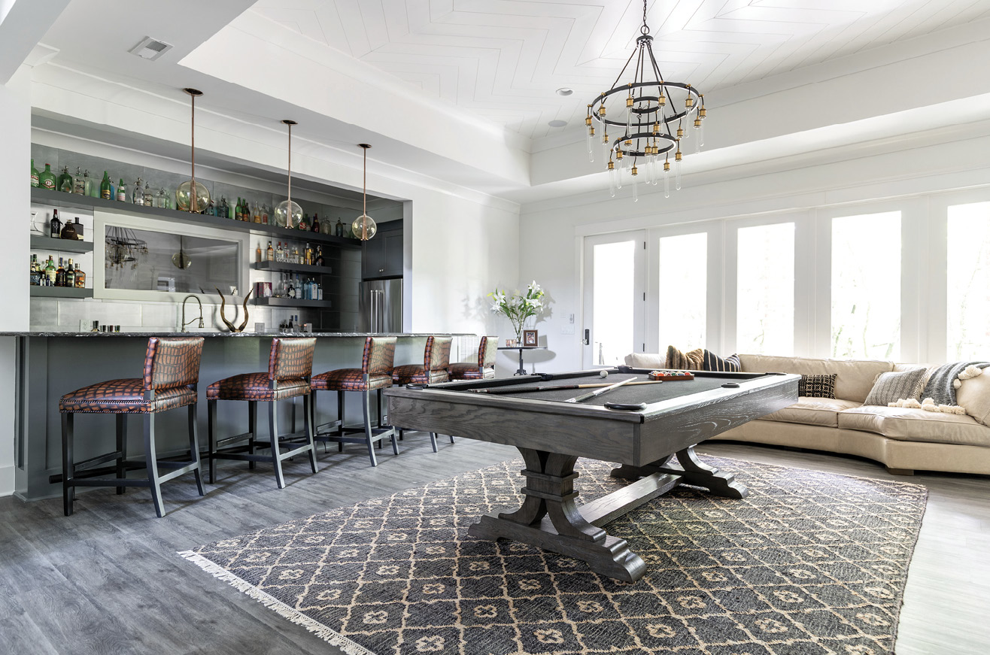 Setting the Bar
The basement is made for kicking back and having fun. In addition to the theater room, this area features a full-sized pool table and a bar with scaled leather stools, a silver leaf backsplash and antlers by the sink. Crowning the wall of alcoholic accoutrements is a full-length shelf displaying almost the entire history of Sparkletts water bottles, a collection maintained by one of the clients, whose forebear started the company in 1925.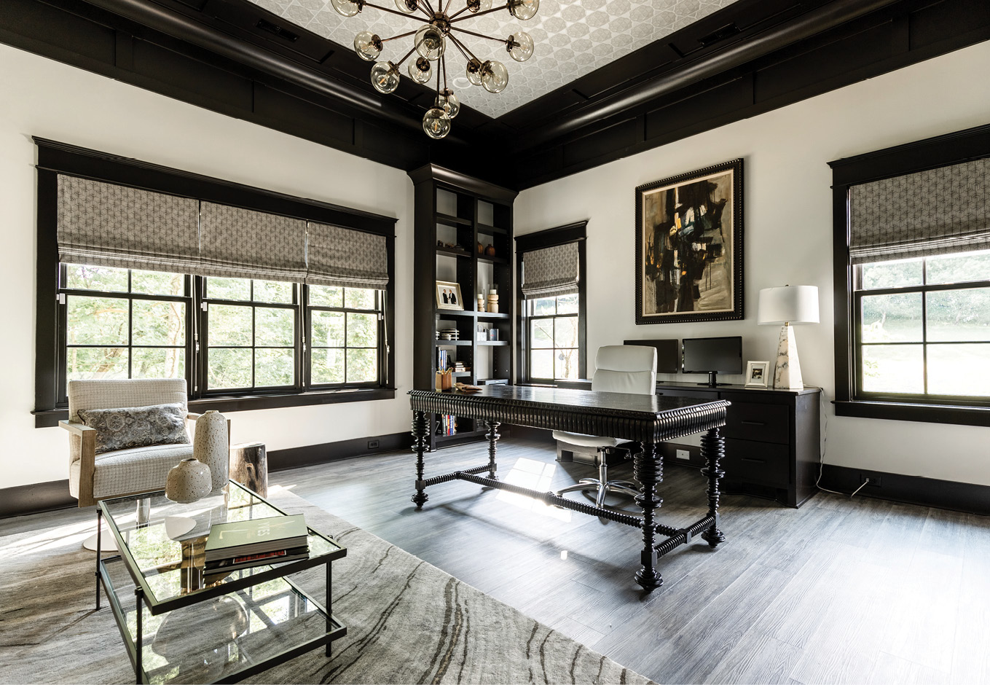 Working From Home
While the office wasn't a focal point at the time of design, the ongoing pandemic made a quality work-from-home space more important than anyone could have foreseen. Fortunately, Laura designed this enviable workspace featuring a jaw-dropping Portuguese desk designed by Noir in the center. And when the abundant natural light dies down, the Henderson globe chandelier fills the room with warm light for late nights in the home office.
Photographs by Daniel Christopher Photo