Along the edge of Green Hills sits a new home utterly unique for our town in its architectural design, one of two local projects for architects Alexandros Darsinos and Yuchen Guo of Studio YUDA. They designed the structure to be a blank canvas of sorts on which the daylight shifts and changes throughout the seasons. The large, black-trimmed German windows around the house allow that light to dance throughout the interior, as well — a space that was entrusted to the capable hands of Jonathan Savage of SAVAGE Interior Design.
Jonathan and his team were elated by the idea of working with something so atypical for Nashville and the usual Southern aesthetic. The extraordinary home presented Jonathan with an opportunity to showcase the complexity of what his design firm can do. The way the light flows through the interior helped him fulfill his clients' request to create a space that is serene and calm, where they could relax and spend time away.
Despite the structure's embrace of light and nature, the first floor — with an open floor plan with stark walls, concrete and French white oak floors — felt cold and calculated until Jonathan breathed livability into it. Introducing warm hues of cream and greige and delicate touches to the space created a perfect symbiosis of modern minimalism and tranquil comfort, transforming this engineering concept into a home. He softened one wall in the living room and the long wall of glass windows and doors leading to the pool area with sheer draperies that also provide the option to tone down the incoming light without disrupting it.
Jonathan carefully curated a collection of artwork that offers points of focus and attention without interrupting the sense of serenity. But the home isn't entirely devoid of its own ornamentation. The architects planted a lone red Japanese maple into the front porch, a feature you stroll past on your approach to the entryway framed with Calacatta Oro marble. This subtle marble highlight is also featured in the bathrooms and which Jonathan thoughtfully repeated in the dining table.
Jonathan and his team are proud of how they were able to transform the spartan space into a warm and restful home for their client. "I'd say it's high style; it's very stylish, and that suits their personality," Jonathan says. "We were just honored to get to work on such a cool, minimalist space, as those are few and far between here."
Art House
While the house itself could be considered a work of art, Jonathan used meaningful and unique artwork and accent pieces throughout the interior that draw attention without disrupting the space's tranquil atmosphere, such as an Italian Poltrona Frau leather screen that adds texture behind the sofa; a work by British artist Victor Pasmore that hangs above the fireplace; and a large, round selenite sculpture by Atlanta-based artist Joseph Guay in the breakfast nook.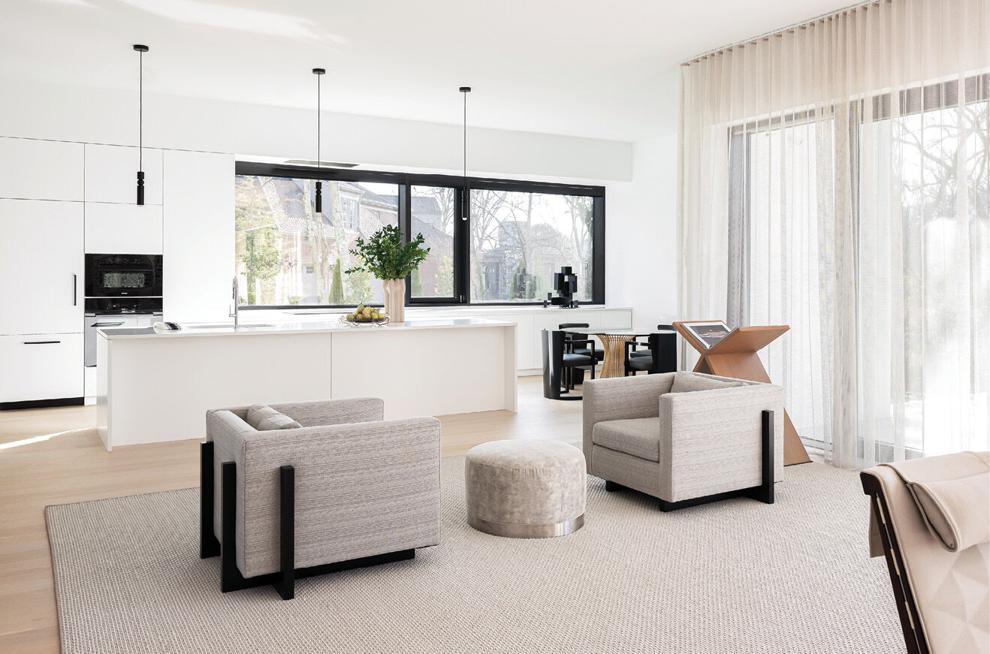 Dining in Style
As the entire first floor is an open space, the kitchen — with its elegant white cabinets and island — and breakfast nook also had to play nicely with the other spaces. Jonathan chose black modern chairs from Hugues Chevalier in Paris for the breakfast table that complement the black minimalist lighting features in the kitchen created by UK designer Lee Broom.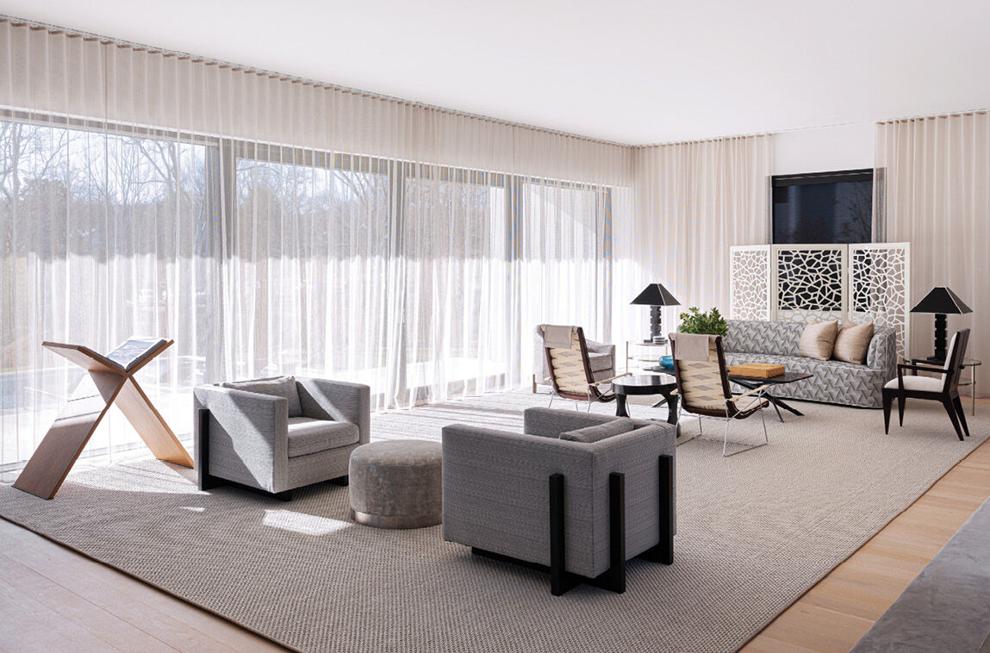 Soften Up
To soften the space, Jonathan carefully selected living room furniture that offers comfort without sacrificing clean lines and the modern minimalist aesthetic. The Holly Hunt sofa is upholstered in a beautiful indoor/outdoor fabric featuring a Designers Guild pattern. It's paired with a side chair by Baker and a coffee table from Studio Van den Akker in New York, all perfectly positioned atop a Fibreworks woven rug.
Photographs by Ross Group Creative