On Church Street downtown, amidst scaffolding and cranes, next to a 30-story high-rise apartment building and across the street from an e-bike stand, is a well-preserved, cream-colored brick Renaissance Revival-style building constructed in 1890 — a gentle reminder of Nashville's architectural past.
Now, those wishing to experience downtown Nashville from a historical perspective can rent either of the top two floors for a night or more. The second floor — a 3,850-square-foot home with five bedrooms and four baths — has just undergone an extensive renovation by Nashville-based interior designer Hannah Crowell and Knoxville-based firm Sanders Pace Architecture.
The building, owned by Betsy and Ryan Chapman, has seen multiple incarnations. The original owners were jeweler Meyer Cohen and his wife, Etta, hence the name "the Cohen Building." The couple had their jewelry business on the first floor, offices on the second and their residence on the third floor. The Chapmans also once resided on the third floor.
Modern Trousseau, a bridal shop, currently occupies the first floor. The other two floors, reimagined and renovated, are home-away-from-home vacation rentals — that is, if your home is meticulously designed, has top-of-the-line kitchen appliances and is filled with methodically chosen art and accessories.
The second floor, affectionately named Etta, has a clean, modern sensibility — white walls and dark woodwork punctuated with pops of bright color. Hannah took great pains while updating the space to keep its original architectural details. All the window casings and the fireplaces she could salvage are original. The kitchen, however, has a contemporary feel with a white quartz island and backsplash and wish-list modern conveniences, such as a Thermador range and a Sub-Zero refrigerator hidden behind white oak veneer paneling.
In the living room, a fuchsia velvet sofa and a dark gray linen sleeper sofa — both with lots of throw pillows in a variety of colors and textures — sit on a geometric vintage Berber rug from Morocco. Two cement cubes serve as a coffee table. Despite the luxe appearance, Hannah says the furnishings are practically indestructible and hardy enough to handle a crowd.
"Let's be honest," Hannah says. "Nashville is the home of the bachelorette. So, everything [we chose] was really durable, very launderable, if that's what it needed to be. Every rug is wool, so if something happens, it's cleaned. We're not going to lose a rug."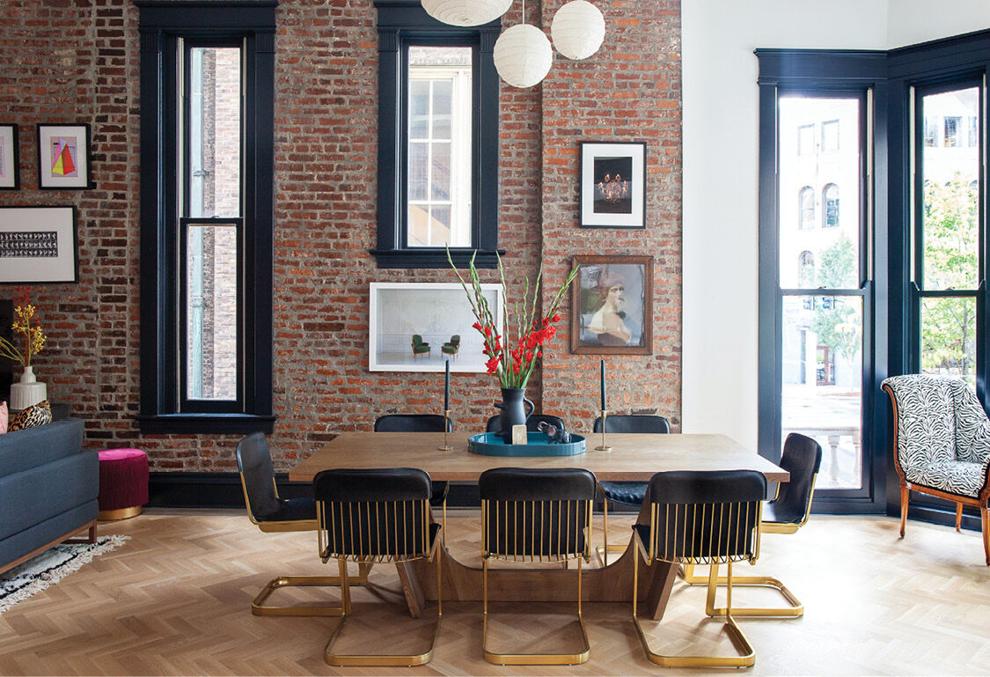 Dine In
In the dining area, a Noguchi light sculpture hangs above an oak dining table paired with CB2 black leather and brass chairs, all perched on white oak herringbone floors. Two zebra-print chairs, circa 1965-70, complement a large window — a focal point of the room. A grouping of paintings includes a vintage portrait of a redheaded woman seemingly from the late 1800s. "She felt like the muse of the whole loft to me," says Hannah.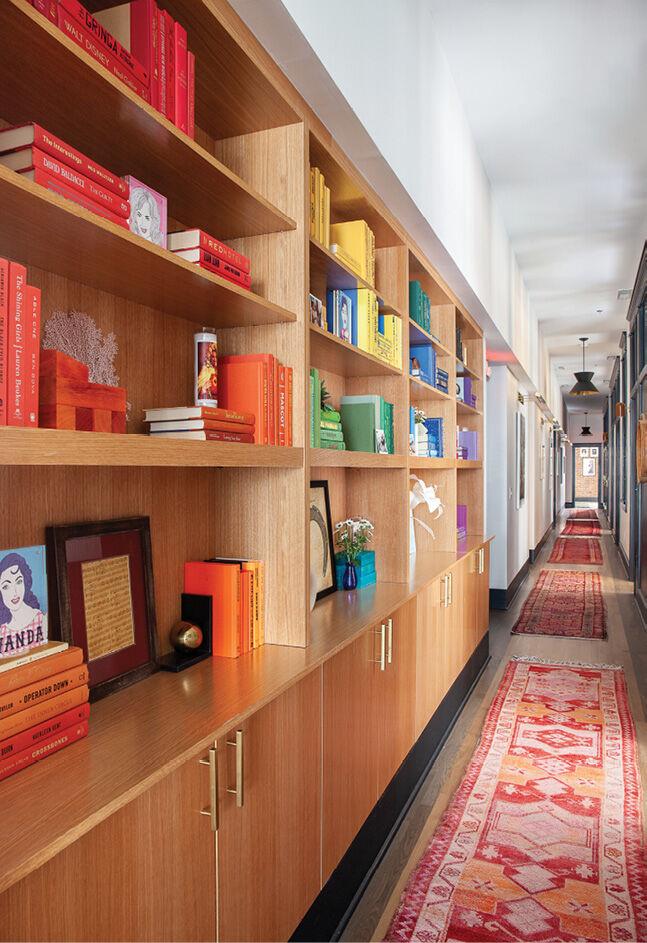 Hall Past
In the hallway, there are elements of the past and the present. On the left are bookshelves and cabinets, in the same white oak veneer as in the kitchen, filled with brightly colored books and accessories, including a miniature Dolly portrait and Jeff Koons balloon dog replica. On the right side, the bookshelves are original and filled with the classics, such as The Scarlet Letter and The Jungle Book — all leatherbound, of course.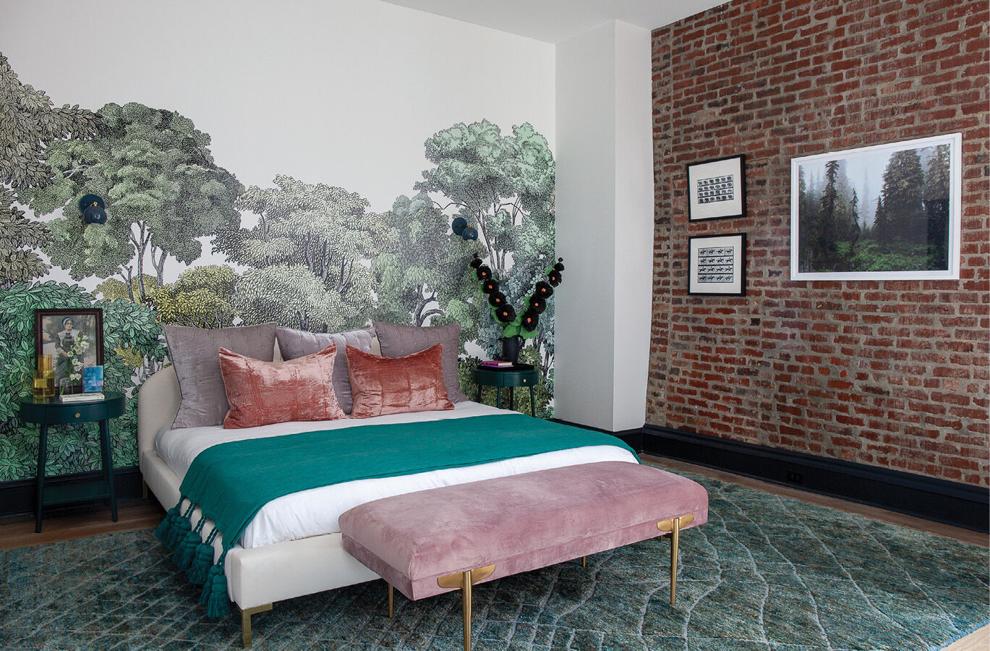 Sweet Dreams
In the main bedroom, a platform bed rests against a Rebel Walls mural depicting trees in shades of green. Black-and-white photos accent an exposed brick wall and ruched green velvet barrel chairs flank a decorative fireplace. Adding to the ambiance, guests can peer out of a window and see the stained glass in the historic Downtown Presbyterian Church right next door.
Photographs by Caroline Allison