After 30-plus years in the interior design world, Mark Simmons is widely recognized for the classic, timeless interiors he creates for clients in Nashville and beyond. The Glasgow, Kentucky, native attended Western Kentucky University before graduating from the O'More College of Design, then located in Franklin. It was there that he first began to understand and appreciate the relationship between interior design and architecture. Mark launched his career and continued to hone his talent at William Hamilton & Associates, first as an intern and then as a full-time designer. In 1991, he launched his eponymous firm and rapidly became known for creating spaces that are elegant, yet warm and inviting.
While known for his designs with a European flair, Mark has always believed that establishing a personal relationship with each client is the best way to create spaces that truly reflect the individual's personality and lifestyle. No matter their style, his clients know that the end result will be an interior that will stand the test of time. His work has been featured in Southern Living, Southern Home and the Andrew Martin Interior Design Review, as well as numerous local publications. He has twice been awarded the Southeast Designer of the Year by the Atlanta Decorative Arts Center.
Mark's passion for interior design is evident from his expansive portfolio of successful projects, but his true joy in life is his family. He and his wife, Sissy, love having everyone together for weekly family dinners, and he works with them, too. Daughter Alli Simmons Roberts and daughter-in-law Abby Simmons are members of his firm, along with Deb Tallent, who he worked with at Hamilton. We caught up with Mark to talk about his early days, where he finds inspiration and what he's currently up to.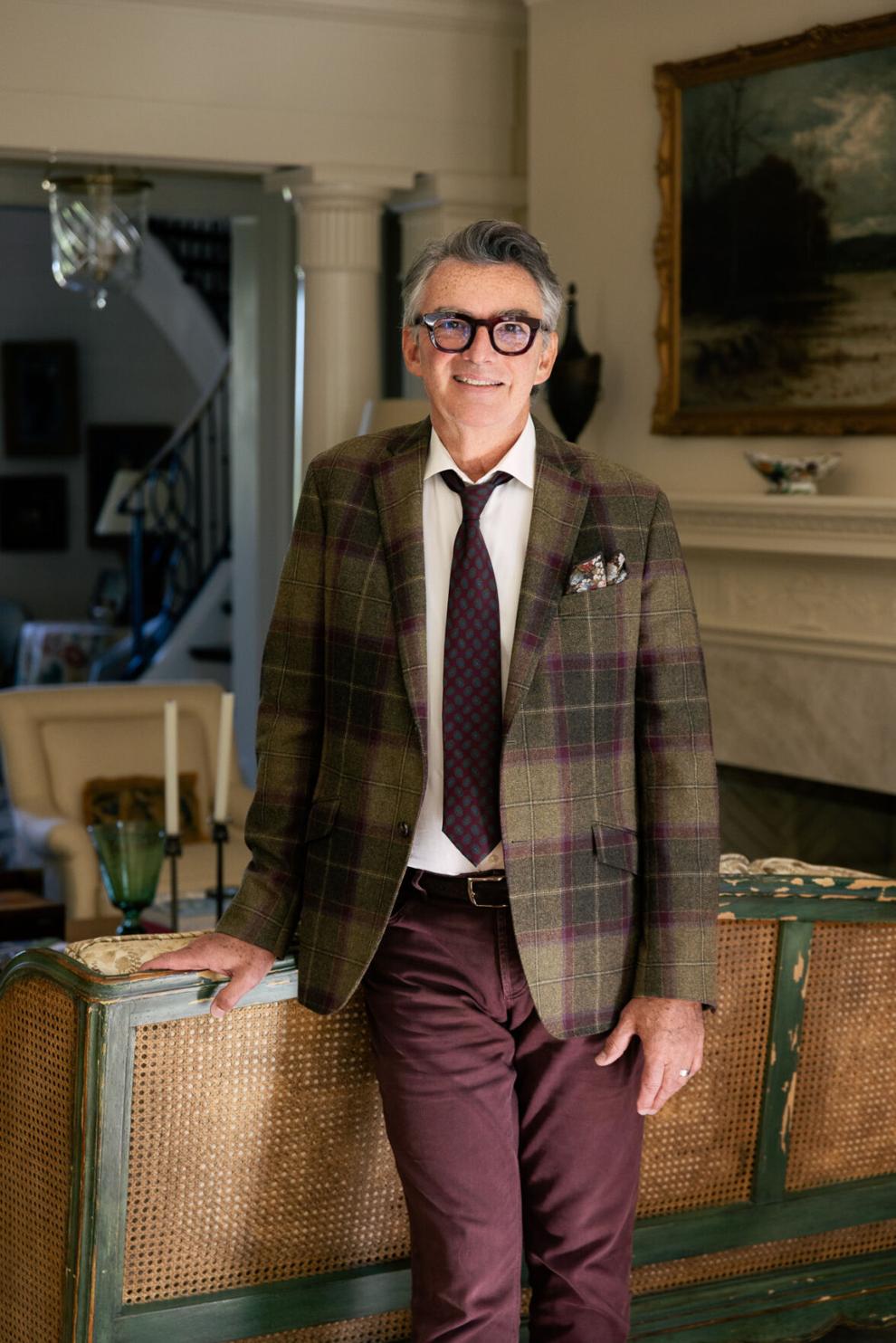 CAREER PATH
My mom had a custom frame gallery, and my exposure to art and interiors began there. While my hometown of Glasgow, Kentucky, had an interior designer or two, I ventured from there to Nashville to explore design as a career path. This led me to O'More College of Design, where I received my education in interior architecture.
HUMBLE BEGINNINGS
When I was at O'More finishing up my education, I mustered up the courage to approach Bill Hamilton, a well-known and sought-after designer in Nashville, to inquire if he was looking for an intern. To my surprise and luck, he hired me. This really jump-started my career, exposing me to some of the most beautiful projects happening at that time, with lots of fun stories and memories to accompany.
JOB PERKS
The people. Over the years, I have been so blessed by the people I get to work with every day: my wonderful clients, who have turned into great friends; my hardworking team, some that have been with me since day one; and the talented craftsmen and women who bring my designs to life.
JOB CHALLENGES
Currently, the hardest part of the job is managing delivery of products. We take pride in delivering exceptional design in a timely manner and hope the supply chain can be repaired soon to keep our projects on typical (much shorter) timelines.
BIGGEST INFLUENCE
I learned so much from Bill Hamilton about the business of design, buying antiques, quality furnishings and about the balance between beauty and comfort in interiors. I have held onto those principles my entire career.
SHOP LOCAL
With the growth of Nashville, there are now a number of great sources for interior designers. My tried-and-true sources are Vintage Millworks, Corzine & Co., Leiper's Creek Gallery, Jeff's Fine Rugs & Tapestries, Canterbury Cottage Antiques [and] Preservation Station. And our exceptional local craftsmen are the real heroes.
BEST ADVICE
Learn all you can about construction and architecture. Get an education in the fundamentals of design. Sales experience and psychology classes are also very beneficial in this profession. 
GET INSPIRED
Traveling to new places always fuels my creativity. Whether it is going into an art gallery and seeing a new artist or visiting the local museums to be inspired by history, there is always something to excite me.
PROUD MOMENT
Any job that ends with the client saying, "Wow! This is even better than I expected!"
IN ANOTHER LIFE
For sure, something in the hospitality industry. A boutique hotel would be the perfect combination of hospitality and interiors. Creating beautiful spaces and planning experiences that entertain and pamper guests while they visit would be great fun. I love to host a party; event planning would be another possibility. We loved planning our children's weddings.
IN THE WORKS
At home, we are preparing to upholster the walls of our guest room. There are 1,001 projects in the queue there! At the office, we have everything from wallpapering one client's dining room in hand-painted de Gournay wallpaper to other jobs that are whole-home designs. What I am enjoying and thankful for the most is the variety of projects, [from] contemporary to traditional, in town and out of town. Keeps things exciting and fresh to have the variety of projects coming into the office.
FUTURE PLANS
My biggest dream is to continue doing the work I love for as long as the phone keeps ringing. Currently, I am excited about a board position I accepted with the Preservation Society of Nashville. My hope for this new venture is to bring attention and support to those individuals and groups working to preserve our city's iconic structures before it is too late.