What do you do for self-care? Self-care is such a balancing act, with marriage, kids, job, hobbies and always trying to create. With that being said, I am intentional about getting up in the stillness of morning, [at] 5 a.m. daily, to prepare my mind, body and spirit to attack the day. When I hit the snooze button the extra four to five times and rush through this time, my day is truly affected. This mental and spiritual self-care is the most important part of my day. Also, midday, I work out because this is actually a time for me to not just sweat but [also to] actively brainstorm and create for what's next.
What's your best advice for staying motivated? Motivation is a word I do not like, because it's so up, down, left and right. I try to lean to the word inspiration, because things that inspire me keep me going, even when I do not want to. My wife, kids, family, friends and working with others are just a few things that inspire me. I might not be in the mood to train, but talking to my wife and kids inspires me, because I want to be physically active in their lives 30, 40 and even 50 years from now.
What's one new habit everyone should try to form this year? Saying NO! No has been made to seem like such a negative word, but I realized I would do things with the wrong attitude and/or motive causing the so-called "good deeds/opportunities" leaving me not fully committed. I try to guard my heart and time now, so I will say no until I know that I can give my all, mentally, physically and spiritually, into whatever is asked of me.
What are your New Year's resolutions? My wife and I come up with a word for each new year, and last year was "intentionality." We both wanted to be intentional with our time in whatever we did. We never talk about this until New Year's Eve.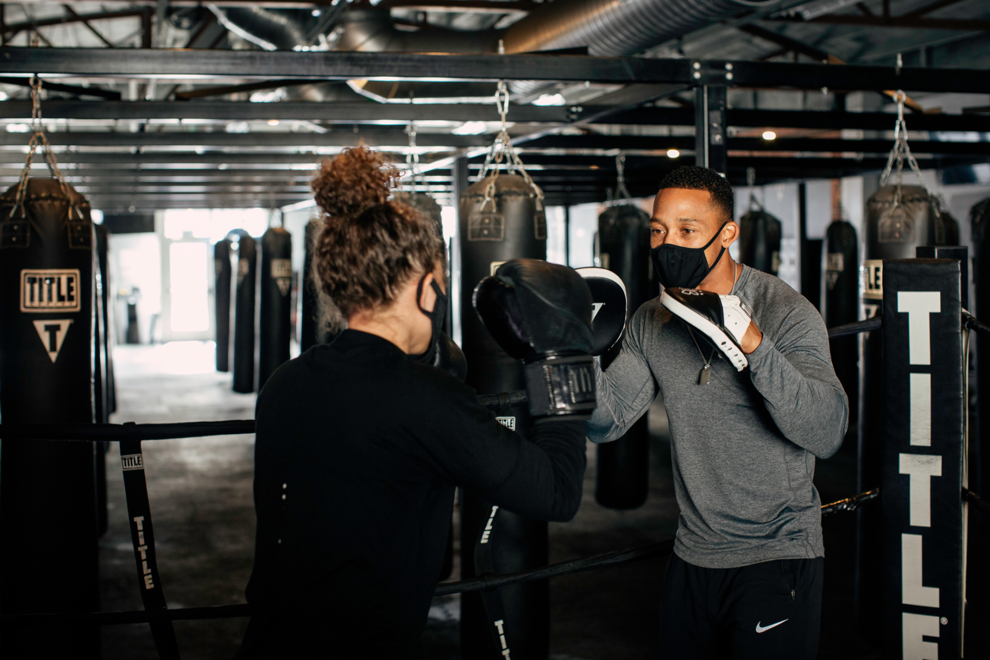 What's your favorite comfort food? I have a sweet tooth, so I love chocolate, but if I am honest, red velvet cake comforts me in any mood.
What's your go-to healthy snack or meal? I absolutely love vanilla Greek yogurt with granola and fruit. I honestly do not have a go-to healthy meal, because my wife, Laura, cooks very clean and keeps me on track!
What's your fitness routine in an average week? Obviously, I run a few gyms, so I am constantly on the go, but I work out four to five times a week with a program I write out four to six weeks ahead of time. This keeps me accountable and allows me not to think when I get going, so I can create while I am working.
What's your favorite just-for-fun exercise outside of the gym? Taking walks with my wife and kids. We take a walk every weekend and try to find new places locally. With my oldest son, paintball, football, video games and anything active.
What's your advice to those dealing with quarantine weight gain? That it is OK to take a moment to reset. The weight gain is actually a self-examination time, because I go back to what I said before: Are you motivated, which comes and goes, or are you inspired, focused on what will keep you on track? I would suggest finding an atmosphere that you would enjoy going to daily to push physically, and within that community, find accountability partners. Change is inevitable, but it starts with you and the words you speak.
What's one mistake people commonly make when it comes to getting in shape/losing weight? There are a few things that I feel people do when it comes to getting in shape/losing weight: playing the comparison game with others in this same consistency battle; working for instant gratification, instead of understanding it is a minute-by-minute process; getting wrong advice, instead of researching the answers they are given; thinking there is a one-size-fits-all program, when it takes time to figure out what's best for you; believing in a meal plan/diet, when it's truly a lifestyle change that creates the difference; letting a number on the scale or clothes size determine your happiness; [not] figuring out the true "why" before starting a program; [not] understanding that the workout is [the] smallest part of the transformation and that it's about the process of consistency, discipline and self-affirming yourself that creates the ultimate change.
What are the best at-home workouts for people to try? Any workout that challenges you and is fun. It's hard to prescribe at-home workouts, but look at it from the point of view that, "I have to implement exercises that are applicable to my life." Squats, push-ups, sit-ups, lateral lunges and t-spine trunk rotations are just a few exercises that [are] applicable to the average person's life.
What do you do to relax? Put my phone up, take date nights with my wife, wrestle with the kids, laugh, take long walks, eat good food and have good conversations. I do not ever think I will relax, but this is how I recharge.