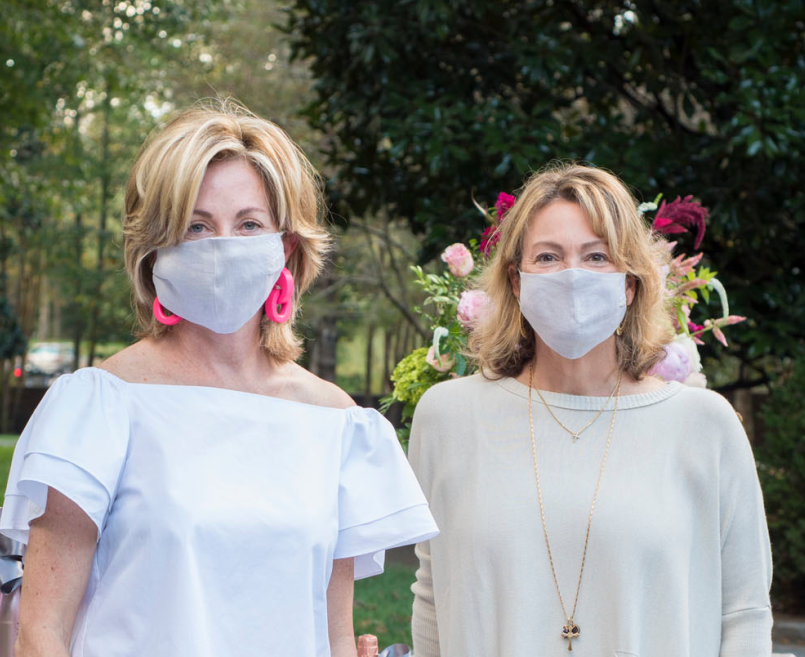 For the first time since February, the Swan Ball's enthusiastic committee gathered together to celebrate the Cheekwood fundraiser and gala. Well, kind of. The white-tie gala was canceled this summer due to COVID-19, but co-chairs Mary Catherine McClellan and Janette Smith are working hard to reimagine the 2021 ball and its ancillary events to bring this prestigious fundraiser back in a safe way. Their out-of-the-box thinking was on display at the drive-thru Committee Kick-Off.
Melanie Baker hosted the clever "party" at the home — or rather, in the driveway — of Elizabeth and Donnie Nichols. One by one, committee members arrived in the safety of their own vehicles and made a quick stop to retrieve their committee packets and some festive goodies without ever leaving their cars. In addition to their official Swan Ball materials, guests received an adorable box of lemon rosemary shortbread cookies, a ribbon-tied bottle of Bottega Rose Gold Prosecco and a custom gray linen Swan Ball mask. 
Magnificent floral arrangements from Jen Solesby Design flanked the gift table, and an eye-catching balloon display from Caitlin Colcolough adorned the mailbox. About 80 committee members dropped by during the 90-minute festivities, and some even brought along friends. Joyce Vise arrived early with her sweet pup, Sugar, and Karyn Frist had two adorable grandkids, fresh from the pool, in the backseat when she made an appearance. "Who shows up to a Swan Ball party in their swimsuit with two of their grandkids?" Karyn joked as she pulled up.
The unconventional event seemed to be a hit among committee members and certainly set the stage for a year of creative ingenuity by Mary Catherine and Janette. With a theme of "Imagine, Reimagine," the 2021 Swan Ball is likely going to look very different than it has in its 59-year history, but this hard-working team seems up to the challenge. Everyone will just have to wait for June 5, 2021, and see.