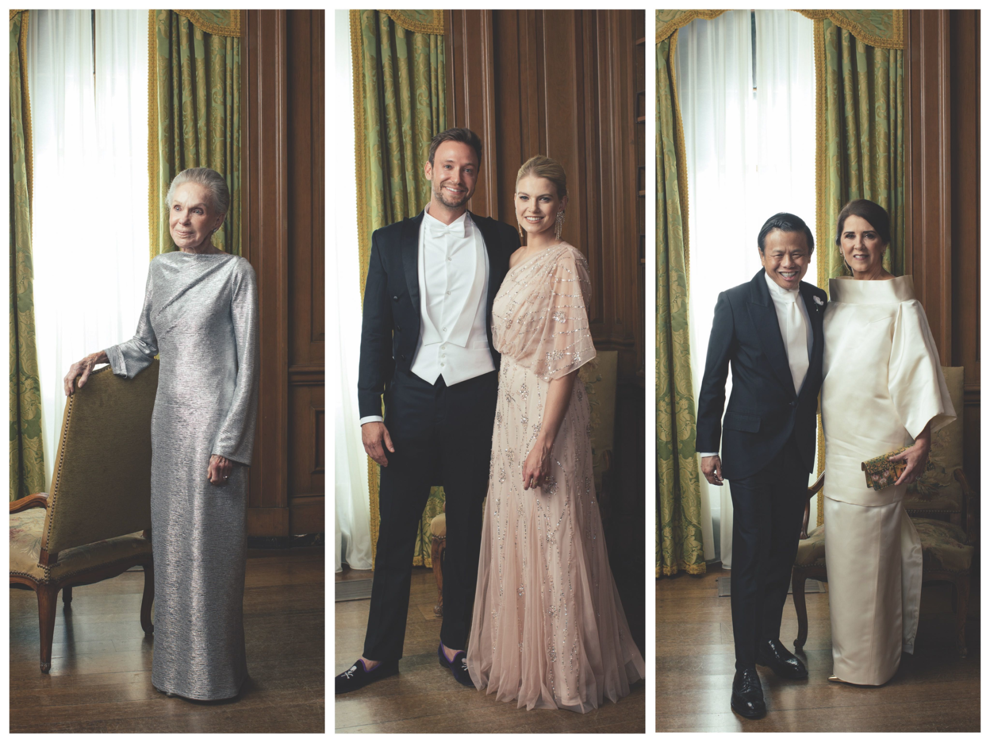 Nashville's social set always looks good, but the city's most fabulous fashionistas pull out all the stops when Swan Ball arrives. The 57th annual white-tie gala was magnificent in every way, and the fashions were no exception. From custom couture gowns (and tuxes) to styles snatched right off the runway, the ladies and gents in attendance dazzled nearly as much as the stunning décor.Our team pulled together some of our favorite fashions from the night and got the behind-the-scenes scoop on these stunning styles. It was nearly impossible to narrow it down, but here are a few of the most show-stopping looks of the night.
A True Original
Janice Elliott Morgan's couture ivory Taroni silk satin tunic with framed neck, kimono sleeves and column skirt was made for her by friend and designer Zang Toi.
Oscar The Great
Oscar de la Renta was a popular designer this year, and it's not hard to see why. Theresa Menefee's lace and tulle stunner with a scalloped neckline is from the Pre-Fall line.
Caped Crusader
Phyllis Fridrich looked regal in her coral silk crepe column gown with a powder capelet and dramatic train by Atelier Caito for Herve Pierre.
A Family Affair
Josephine Darwin immediately fell for this glamorous high-low Viktor&Rolf gown with a ruffle skirt when shopping for her daughter's wedding gown by the designer.
Glitz and Glam
While at Neiman Marcus, Donna LaGasse found this shimmering Mac Duggal gown that combines elegance and glamour with the perfect amount of sparkle.
Shining Bright
Clare Armistead's Ponceau 8 Mirrorball gown by Talbot Runhof originally had a cold shoulder and draped back, but she ordered hers with two long sleeves instead.
A Pop of Color
Johnna Watson stood out from the crowd in this spectacular high-low floral embroidered gown from Monique Lhuillier, perfectly paired with a chartreuse clutch.
Men in Black
Nashville's most dapper restaurateur Max Goldberg made white-tie look good in a bespoke Fior tux from Aaron McGill of Only One Tailoring.
Pretty in Pink
Julie Haley's frilly pink silk jacquard gown looked like vintage, but it was actually from London-based designer Solani, known for her colorful and feminine styles.
Leading the Pack
Jana Davis' scarlet column gown was custom-made by longtime friend Zang Toi, while Ellen Martin opted for a champagne tulle gown from Oscar de la Renta.
Lady Mary
Mary Huddleston channeled Old Hollywood glam with a pleated Jill Stuart gown, accented with her grandmother-in-law's vintage gold necklace draped down her back.
Summer Loving
The silk-organza floral embroidery on Kate Grayken's canary yellow Oscar de la Renta gown took 31 hours to apply, and the dress's long sleeves were removed for her.