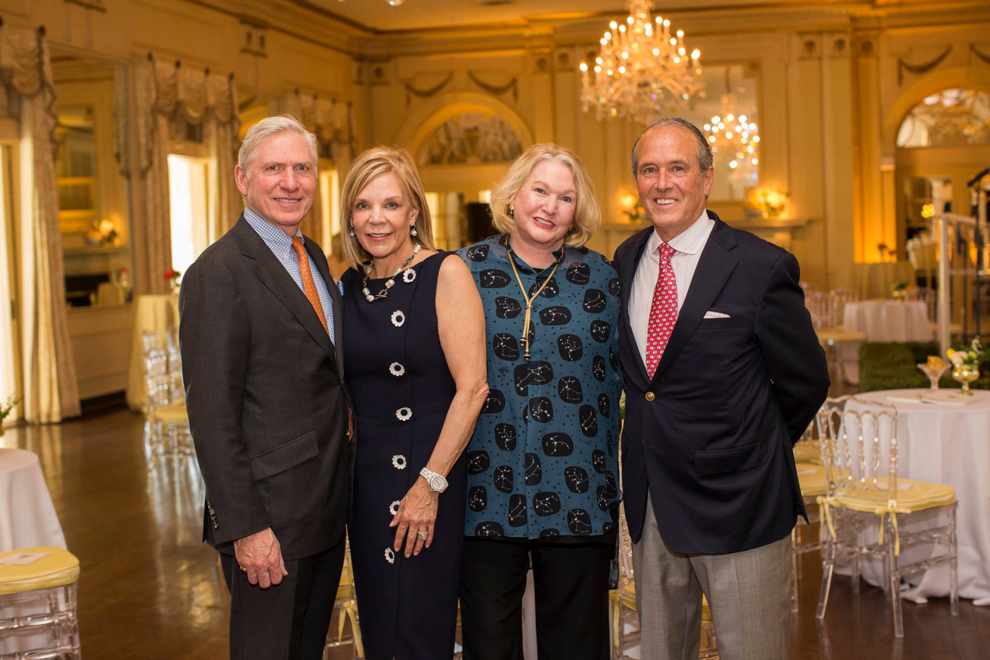 There's one surefire way to guarantee a beautiful, memorable party: put two event experts in charge and let them work their magic. Please Be Seated's Mary Huddleston and AmosEvents' Amos Gott took the reins of the Swan Ball Auction Party, serving as co-chairs for the lively night and transforming the Belle Meade Country Club into a chic spring wonderland.
Soft pastels set the stage for the indoor-outdoor affair. Stunning florals in cream, pale pink and light green hues filled the space, and bowls of lemons added a cheerful pop of color, the perfect complement to the whimsical green and white striped tent walls. Of course, the breathtaking décor paled in comparison to Mary's stunning vibrant green Pucci dress that once belonged to her grandmother-in-law.
The passed hors d'œuvres — lamb and feta meatballs, goat-cheese-stuffed dates with bacon and wild mushroom tartlets to name a few — were nearly as tantalizing as the 78 lots up for grabs in the silent and live auctions. Guests filled the early part of the night bouncing between tables to admire items as diverse as a Zang Toi mink-trimmed wrap (modeled by the gorgeous Brittany Jenkins), portraits from Michael Shane Neal and Lee Baskerville, and spectacular jewelry from John de Jong, King Jewelers and Cindi Earl, among others.
And of course it wouldn't be a Swan Ball Auction Party without trips aplenty. The silent auction boasted 31 domestic and international adventures to diverse locales, including the Dominican Republic, Belize, Tuscany, Croatia, Ireland and Saint Thomas. Auction co-chairs Laura Bowen, Lise Morrow and Susan Weathersby really outdid themselves with the assortment of luxury items up for grabs.
The most coveted lots came out in the live auction, led by Jeff Randall from Stokes Auction Group and Grace Clayton. With 21 packages valued at over $300,000, the live auction got everyone excited. An all-inclusive stay at legendary quail-hunting destination Millpond Plantation and getaways to London and Deer Valley, Utah, proved to be the hottest items. It was only fitting that the auction concluded with a bidding frenzy over a private dinner for 24 at Cheekwood as the beloved botanical gardens is, as always, the belle of this ball.