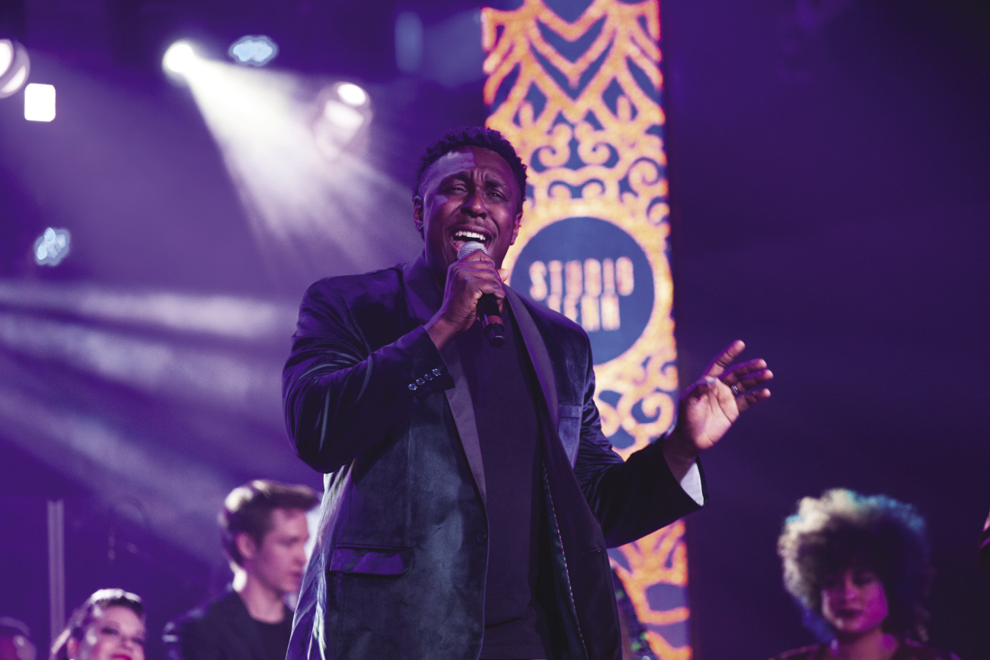 Studio Tenn welcomed an enthusiastic crowd of theater lovers to yet another fabulous One Night Only, the annual charity gala for the Franklin-based theater company. The beautiful fall fundraising dinner was held at The Factory at Franklin — home to Studio Tenn's productions — and was a memorable evening of song and celebration.
During the cocktail hour, guests sipped on a custom cocktail from Gray's on Main, aptly named The Storyteller, that was an updated twist on a classic Old-Fashioned. Franklin fave Puckett's Grocery provided the party's bites, including a hearty meal of whiskey-glazed pork chops, herb-roasted chicken, green beans almondine, garlic mashed potatoes, winter chopped salad and yeast rolls. Dreamed up by Studio Tenn and Signature Events, the fall-inspired décor struck the perfect balance between rustic and modern, including a wooden Studio Tenn backdrop, where guests could pose for photos, and long wooden table runners topped with bunches of autumnal flowers.
As fabulous as the dinner and décor were, the real reason everyone rushes to this event is for the entertainment. Once again, soulful performances were given by an impressive roster of Studio Tenn alumni, like Laura Matula, John-Mark McGaha, Jaimee Paul and Patrick Thomas. Fans can see Patrick gracing the stage again soon at Studio Tenn's Christmas With Patrick Thomas concert coming up in mid-December. One of the more memorable and moving moments of the night was when the theater group partnered with Backlight Productions, a nonprofit arts program for adults with special needs, on a song from Mary Poppins.
The night also carried a big surprise for attendees: the reveal of Studio Tenn's 2020 Legacy Series artist. The show, which will run March 26-29, 2020, at The Franklin Theatre, will celebrate the life and work of Aretha Franklin. The powerhouse soul singer was the perfect choice for the annual production, especially given the strong female characters that have been at the center of Studio Tenn's current season. Guests were no doubt marking the dates on their calendar before leaving One Night Only, counting down the weeks and months until this creative company wows them again.