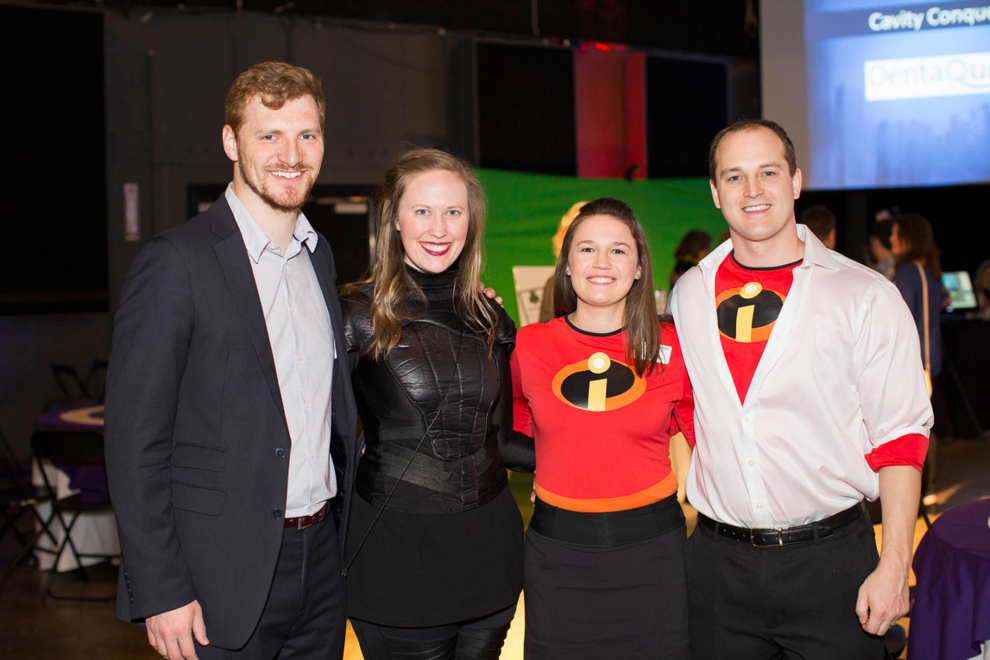 For 25 years, the Interfaith Dental Clinic has been saving smiles by providing affordable dental care for low-income families and the elderly. So when planning its annual themed fundraiser, organizers drew inspiration from another group that protects the public and saves them from harm: superheroes. A league of extraordinary co-chairs — Caleb King, Kathy Hall, Doug Hunter, Raj Kshatri, Latresa Jackson and Russell Mack — provided an action-packed evening to celebrate this milestone year.
Although not one of the Caped Crusaders arrived at Rocketown in a Batmobile, guests wholeheartedly embraced the theme and used supernatural skills to create costumes, makeup and props to emulate their favorite champions. Two masked couples — Bruce Wayne with Vicki Vale in formal attire and a suave Green Hornet with mini-skirted Kato — made dashing additions to the party. More than one Superman, Wonder Woman and Supergirl were spotted; even The Tick made an appearance. But without a doubt, the most popular crime-fighters were The Incredibles. Those trademark red suits were everywhere, proving just how incredible the movie franchise is.
Everyone spent the cocktail hour admiring one another's disguises, guessing who was behind the masks, perusing the silent auction and taking chances for a prize at the Hulk Punch Game. Supervillains Poison Ivy and Harley Quinn passed cleverly named appetizers like Kryptonite Bites (spinach and goat cheese on crostini), and bartenders in capes poured The Joker, a purple-hued cocktail with a kick. From the Aquaman table with seafood options, including seared ahi tuna, to The Dark Knight spread with sweets to dip in dark chocolate, the team at Chef's Market brainstormed with the co-chairs and delivered an imaginative and on-theme menu.
Attendees summoned their inner superheroes for a night of fantasy and fun, but it's the patients of Interfaith Dental Clinic who feel like real superheroes when they regain their smiles. As the Teenage Mutant Ninja Turtles would say, "Cowabunga!"