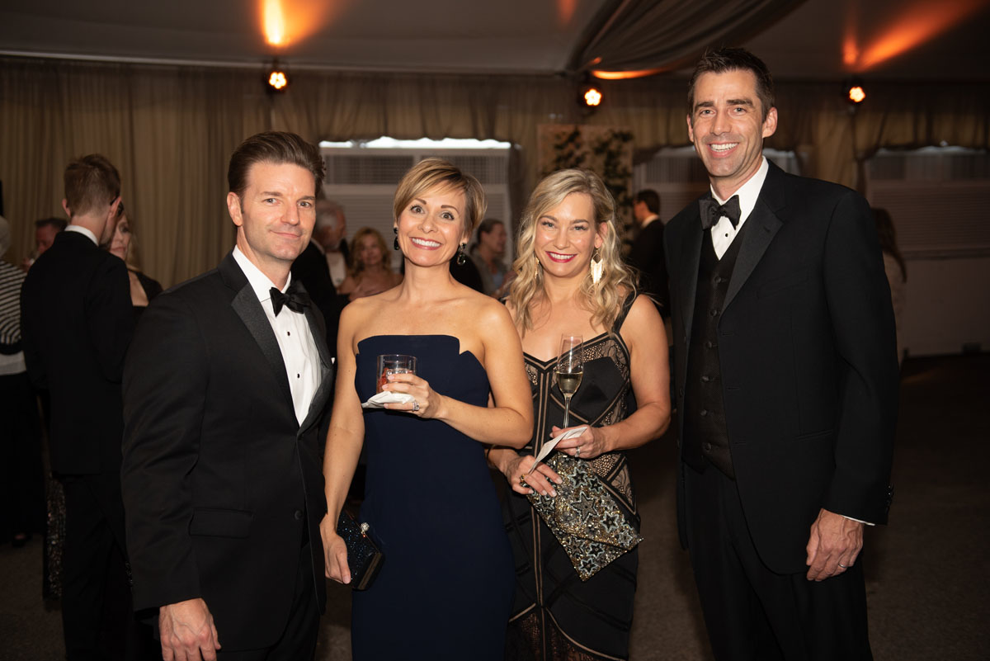 To commemorate the 46th annual Heritage Ball, Franklin's longest-running black-tie gala and fundraiser for the Heritage Foundation, co-chairs Tracy and Bill Frist planned an elegant night of discovery, opulence and glamour, marked by more than a few surprises.
As guests arrived at the Eastern Flank Battlefield Park on an unseasonably warm October evening, the first — and perhaps most welcome — surprise they discovered was that the massive gala tent was air-conditioned. Nearly 900 partygoers stayed cool while browsing the curated silent auction and taking a turn in the Nfocus Portrait Studio. A fall-inspired bourbon specialty cocktail was the perfect accompaniment to the delightful hors d'œuvres from G Catering, including butternut squash macarons and mushroom croquettes.
The next rousing surprise came in the form of Civil War drummers who led guests into the dinner tent when it was time to be seated. Amos Gott of AmosEvents truly outdid himself with the magnificent décor. Crystal chandeliers hung overhead while tables were topped with decadent autumnal floral arrangements and grand golden candelabras.
Throughout dinner, the surprises kept coming — first with a performance from The Red Road, a Native American dance troupe and educational nonprofit, and next with two awe-inspiring songs from the Fisk Jubilee Singers. The inaugural Tracy Frist Legacy Award was presented to documentary filmmaker Dayton Duncan, and Heritage Foundation CEO Bari Beasley announced the Gordon and Shaun Inman Conservatory at Franklin Grove, the latest renovation project for the organization. And still the evening's entertainment and surprises were far from over!
Kix Brooks took the stage to both raise some funds for the Heritage Foundation and to sing a few numbers. In one last very welcome surprise, his pal Reba McEntire joined him onstage for a song, also pledging $10,000 to the Heritage Foundation. While performing, she twirled and danced with Mark Humphreys, much to the delight of the architect who, according to his wife, Emily, has quite a crush on the country singer.
The biggest and best surprise of all, though, was that this year's Heritage Ball raised more money to support historic preservation in Williamson County than any other ball in the past. A welcome surprise, indeed!