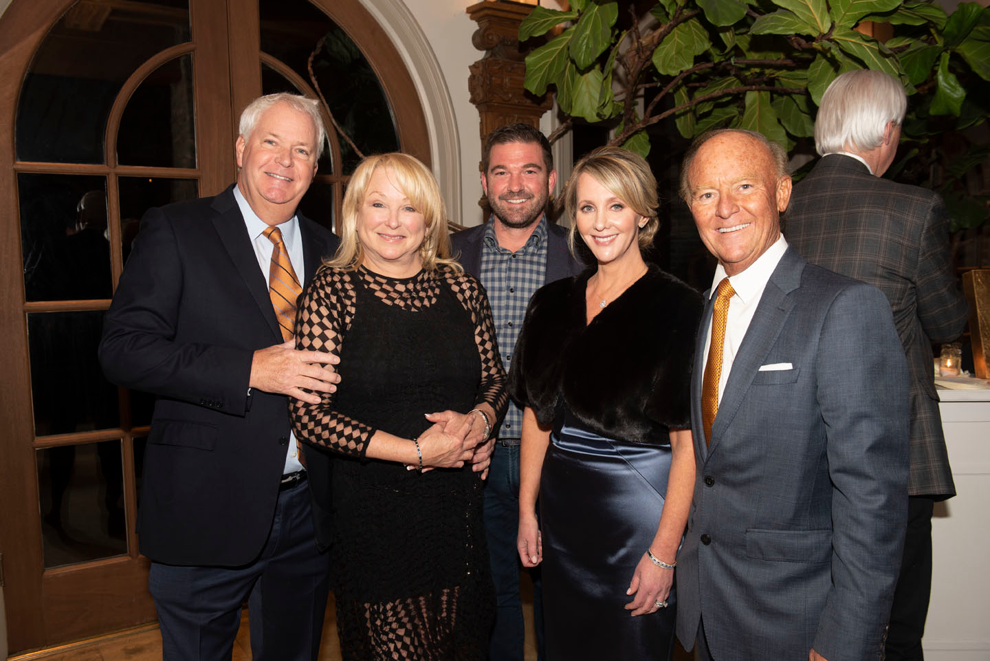 Generous supporters of the Ballet Ball got an inkling of what to expect at the Versailles-inspired gala when they were fêted at an elegant French supper. And there was no more appropriate place to hold the Patrons Party than at the European-style manor of perennial hostess Sylvia Roberts.
Upon entering the stately home, guests picked up a glass of Champagne from a large table in the main hall. A gorgeous and grand floral arrangement from Mark O'Bryan at The Tulip Tree atop the table held orchids, pussy willow, tulips and antique garden roses overflowing from a silver vase. Mark created a similarly stunning arrangement for the dining room, as well as other lush bouquets throughout the house. Event planner Bruce Pittman, who oversaw the evening, added an abundance of candles to complete the memorable setting.
In keeping with the French theme, two ballerinas perched on the stairway looked as if they had recently arrived from Le Petit Trianon. They watched over the lively crowd, occasionally casting sly smiles at ladies admiring the gleaming diamond pieces from Tiffany & Co. that were featured in the silent auction. The only thing that diverted everyone's attention was a brief word of thanks from co-chairs Allison Cotton and Emily Humphreys before dinner.
While there was no Hall of Mirrors in which to dine, guests settled into plush sofas and at tables set around the house after filling their plates from the abundant buffet. The menu from Dani Kates of d.Kates Catering was as Continental as the setting: parmesan-crusted chicken paillard with lemon caper beurre blanc and a variety of roasted vegetables — spicy broccoli, Provençal new potatoes, radishes and baby carrots — and ratatouille stuffed peppers. Of course, no one could resist the crispy baguettes with French butter — or the chocolate Charlotte Russe with Chantilly creme that provided a delightfully sweet end to the elegant evening.