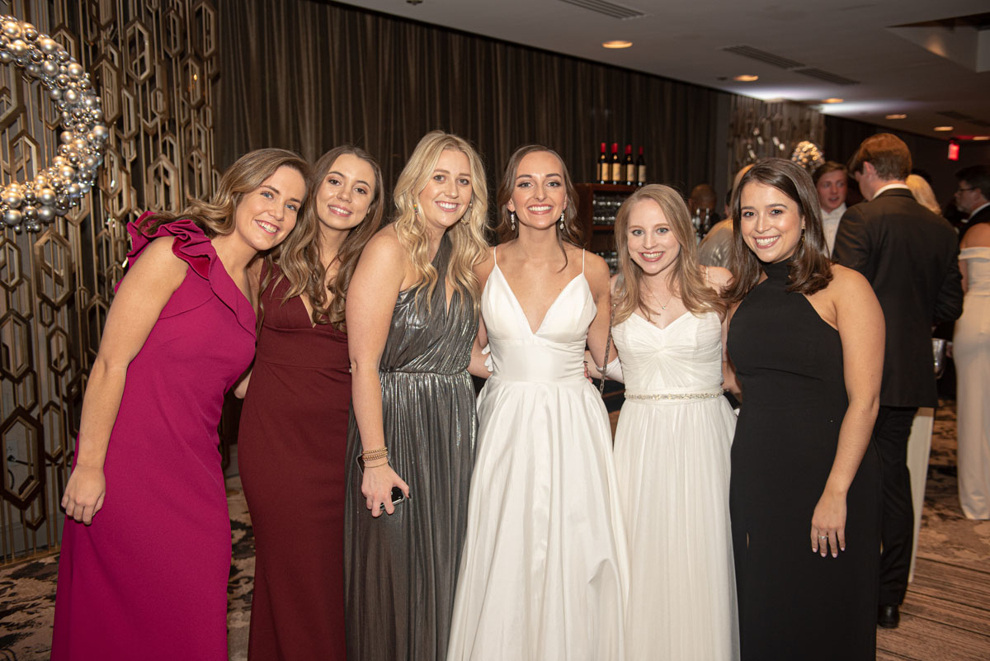 Just as the Thanksgiving holiday is the customary time for big rivalry college football games, it is also a time to celebrate the accomplished young women of Nashville at the Bal d'Hiver, a tradition that dates back 73 years. The Bal, Nashville's oldest charity ball, is hosted by the Nashville alumnae chapter of Kappa Alpha Theta and benefits CASA, Family & Children's Service and Kappa Alpha Theta Foundation.
Loews Vanderbilt Hotel was once again the scene for the 49 members of the court — beautifully attired in white ball gowns and opera-length gloves — and their parents, siblings, cousins and friends. The excitement of the cocktail hour flowed into the ballroom as guests found their places for the presentation. The room, decorated by Amos Gott of AmosEvents, was awash in elegant shades of silver and white.
The ceremony began precisely on time with a welcome from co-chairs Susana Huddleston and Cathy Krumm and the introduction of honorary chair Kim Looney. Master of ceremonies Ann Kloeppel commenced her duties by presenting the two smiling, adorable pages who appeared a bit more serious when handing each girl a bouquet of hydrangeas. Every young woman looked radiant as she stepped onto the stage and curtsied before being escorted down the aisle.
Following the presentation of the debs, everyone enjoyed a delicious meal that included burrata with arugula salad and pan-roasted Chilean sea bass with ricotta gnocchi or hen of the woods mushrooms with petite carrots and farro for the vegetarians. Hardly anyone could resist the dessert of blueberry and bourbon panna cotta. The final formal tradition of the Bal was the father-daughter dance immediately after.
The night closed with a custom much less solemn, yet equally important. As soon as the Atlanta Allstars took to the stage, people jumped out of their seats and were on the floor in no time. As it is every year, it was the perfect way to end the celebration.